Fentanyl, a powerful opioid known for being 30 to 50 times stronger than heroin is being blamed for putting a Texas police officer in the hospital. According to KPRC, a Harris County sergeant felt "light headed" and had to be hospitalized after touching a flyer put on her windshield. The flyer tested positive for Fentanyl.
The flyer laced with Fentanyl seemed to target first responders specifically with headlines that said "Attn: FBI, police, fireman" and "Attn: Police & Fireman."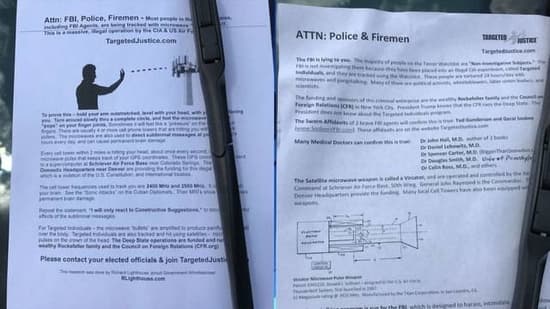 They also had the logo for Targeted Justice printed on them. Targeted Justice is "a group dedicated to successfully forming a class action lawsuit to stop extra judicial, unconstitutional, illegal harassment of innocent people to perpetuate the fraud police state build up," according to its Twitter page.
Why is Fentanyl so dangerous?
"I was shocked because this is unprecedented," Daryl Shorter, an assistant professor of psychiatry at the Baylor College of Medicine who specializes in addiction told the news station. "Fentanyl is a synthetic opioid medication … used to treat very severe pain, post-operative, post-surgical pain. It's similar to morphine, but it's about 50 to 100 times more potent than morphine."
Fentanyl is dangerous because it's difficult to detect. The doses of the opioid are tiny — as small as a grain of salt — and two milligrams is enough to kill most people, according to the U.S. Drug Enforcement Agency. A 10-year-old Florida boy died in 2017 from a Fentanyl and heroin overdose. Officials believe he came into skin contact with the drug while swimming at a public pool.
Harris County Sheriff Ed Gonzalez told KPRC that he's not sure if law enforcement personnel is being targeted with the flyers laced with Fentanyl, but that he — and fellow law enforcement agencies — are on "high alert."
Targeted Justice has denied being involved with the flyers laced with Fentanyl.
#Houston #Flyers #Incident pic.twitter.com/15jJ5dvU3V

— Targeted Justice (@TargetedJustice) June 27, 2018
"We just wanted to get this information out to the public because we don't know if it's an isolated incident," Gonzalez said