We've told you about some amazing moviesand TV series  to stream on Netflix for all occasions. But what about Anime on Netflix?  No one is ever really too old to pour out a big bowl of cereal and sit on the couch for some good old fashioned Saturday morning cartoons. For that reason, we decided to round up some of the best Anime on Netflix that can scratch both your childhood love of cartoons and your love of great TV.
The best Anime on Netflix to watch right now

[Photo Credit: Mainichi Broadcasting System]
Attack on Titan
Years active: 2013 – Present
Seasons to binge: 4
Based on the insanely popular Manga series written and illustrated by Hajime Isayama, the Anime TV series of Attack on Titan takes place in a world under siege by a mysterious race of man-eating giants otherwise known as "Titans". Cities are forced to build walls to keep these powerful giants from devouring their citizens in an epic battle for human survival.
Why you should watch this Anime on Netflix:
Giant naked flesh eating humanoid monsters are hellbent on devouring every living human on the planet. Epic doesn't even begin to describe this show.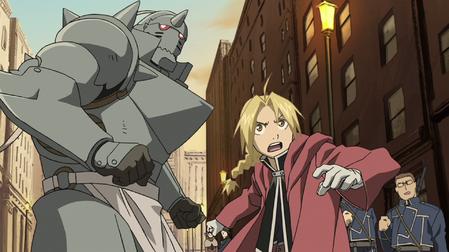 [Photo credit: Netflix]
 
Fullmetal Alchemist: Brotherhood
Years active: 2009 – 2010
Seasons to binge: 5
The second TV adaptation of the famous Manga, Fullmetal Alchemist: Brotherhood is a closer adaptation to the books than the 2003 series. The story follows two brothers named Edward and Alphonse Elric who are raised by their mother Trisha. The brothers learn that their father — who had abandoned them — had been an extremely gifted Alchemist and they begin to learn the skill themselves. After their mother dies, they decide to leave home for the city to pursue this career and Edward is given the distinction of "Fullmetal Alchemist" by the military. In their travels, the brothers find themselves caught in the middle of a government conspiracy involving "The Philosopher's Stone" which can grant humans immortality.
Why you should watch this Anime on Netflix:
Arguably the most celebrated Anime on Netflix, Fullmetal Alchemist is a truly great adventure with some great suspense. Both versions of the show are available to stream on Netflix, but you should check out Brotherhood if you want the most faithful adaptation of the books.
[Photo credit: Netflix]
 
One Punch Man
Years active: 2015 – Present
Seasons to binge: 1
Originally written as a webcomic by the Manga artist ONE, One Punch Man follows the story of the eponymous superhero named Saitama who has grown lethargic of fighting evil-doers as they are no match for his powers.  This starts to change as he befriends other weaker superheroes in the planets S-Class Hero Association in their fight against monsters who threaten the planet.
Why you should watch this Anime on Netflix:
Unlike other action-packed Anime on Netflix, One Punch Man has more of a sense of humor about itself as we follow Saitama through the boredom of being able to punch his way through any fight.
[Photo credit: Netflix]
 
Castlevania
Years active: 2017 – Present
Seasons to binge: 1
Based on the classic arcade game, this original Anime on Netflix follows the story of the powerful vampire Vlad Dracula Tepes and his quest for revenge of the people of Wallachia after burning his wife at the stake. To protect the people of the village, vampire hunter Trevor Belmont assembles a crew to help him defeat the bloodsucking monster.
Why you should watch this Anime on Netflix:
It might be your first instinct to not trust an adaptation of such a classic video game, but this show plays out like a great science fiction movie with character development worthy of Ridley Scott's original Aliens.