Budget-conscious foodies just got 127 places to visit for a gourmet night out.
Proving that you don't need to splash out to have an amazing meal in New York City, the Michelin Guide released its list of Bib Gourmand restaurants for 2018.
For the 13th year, the anonymous inspectors better known for ranking the world's priciest restaurants fanned out to all five boroughs and brought back the best places where you can have two courses and a glass of wine or dessert for $40 or less (before tax and tip).
This year, 14 new entries made it onto the list for New York City. The Bronx's rising culinary scene added two Bib Gourmand-worthy restaurants, bringing its total to seven, while the neighborhood with the biggest gain was Greenwich/West Village, with three new entries. 
Michelin noted a trend of "divine Mexican restaurants" both here in the city, where four of the 14 new entries serve up destination-worthy tacos and modern takes, and nationwide.
Here's the full list of Bib Gourmand restaurants for 2018 by borough (new restaurants are highlighted in bold):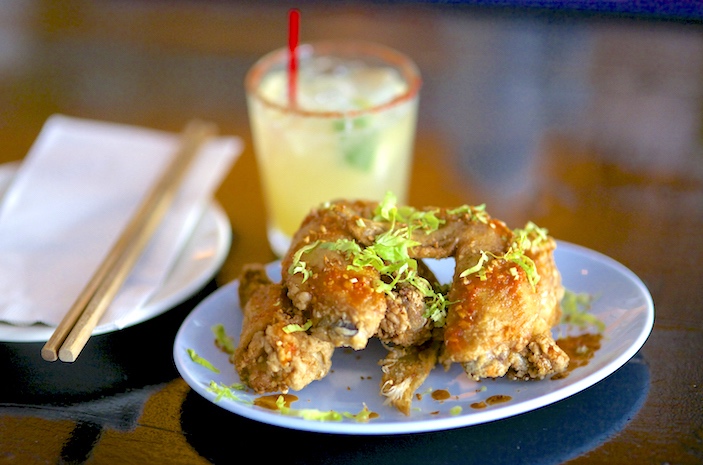 Hah Zheung Gai at Chomp Chomp.
MANHATTAN
Greenwich & West Village:
Atla
Baker & Co.
Chomp Chomp
Cotenna
DOMODOMO
Hao Noodle and Tea
Hecho en Dumbo
High Street on Hudson
Kiin Thai
Lupa
Ribalta
Spotted Pig
Tertulia
Tfor
East Village:
Bar Primi
ChouChou
Donostia
00 + Co
Hunan Bistro
Luzzo's 
MáLà Project
Momofuku Noodle Bar
Momofuku Ssäm Bar
Prune
Soba-Ya
Somtum Der
Supper
Chinatown & Little Italy:
Dim Sum Go Go
New Malaysia
Nyonya 
TriBeCa: Khe-Yo
SoHo & Nolita: 
Ciccio
Rubirosa
Lower East Side:
Congee Village
Katz's
Kiki's
Russ & Daughters Cafe
Gramercy, Flatiron & Union Square:
Atoboy
Pippali
Laut
Turkish Kitchen
Midtown East:
al Bustan
El Parador
HanGawi
Hide-Chan Ramen
Land of Plenty
Mapo Tofu
Norma Gastronomia Siciliana
Sip Sak
Midtown West:
Cho Dang Gol
Don Antonio by Starita
Kung Fu Little Steamed Buns Ramen
Larb Ubol
Szechuan Gourmet
Upper East Side:
Angkor
Beyoglu
J.G. Melon
San Matteo
Uva
Upper West Side:
Miss Mamie's Spoonbread Too
Jin Ramen
Harlem, Morningside & Washington Heights:
J. Restaurant Chez Asta
Oso
Streetbird Rotisserie
Zoma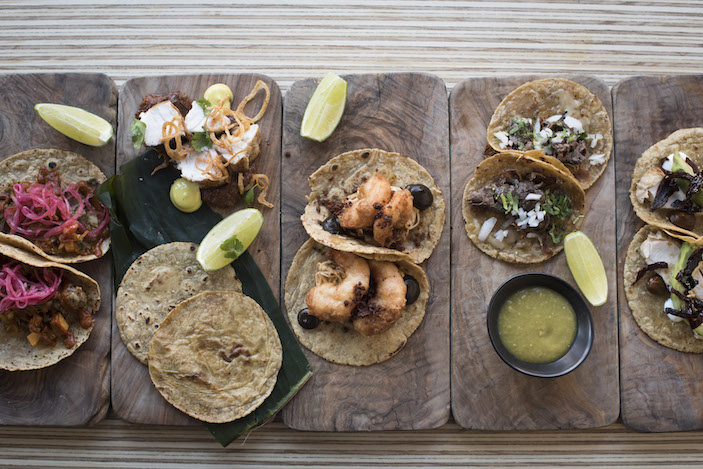 Tacos at Alta Calidad in Park Slope. Credit: Liz Clayman
BROOKLYN
Williamsburg:
Achilles Heel
Egg
Glasserie
Kings County Imperial
Llama Inn
Paulie Gee's
Rider
Rye
Shalom Japan
21 Greenpoint
Xixa
Downtown Brooklyn:
Buttermilk Channel
Frankies 457 Spuntino
Ganso Ramen
Gran Eléctrica
Mile End
Prime Meats
Sottocasa
Vinegar Hill House
Fort Greene & Bushwick:
Bunker
Chavela's
Falansai
Gladys
Miss Ada
Roberta's
Speedy Romeo
Park Slope:
Alta Calidad
Lea
Olmsted
Purple Yam
Sunset Park & Brighton Beach:
East Harbor Seafood Palace
Freek's Mill
The Good Fork
Hometown Bar-B-Que
Pok Pok Ny
Runner & Stone
Tanoreen
QUEENS
Arharn Thai
Casa del Chef Bistro
Dumpling Galaxy (Flushing)
Gregory's 26 Corner Taverna
Hahm Ji Bach
HinoMaru Ramen
Hunan House
Hunan Kitchen
Il Poeta
John Brown Smokehouse (Long Island City)
Mu Ramen
Paet Rio
Sweet Yummy House
Tong Sam Gyup Goo Yi
Uncle Zhou (Elmhurst)
BRONX
El Molcajete
Havana Café
La Morada
Mexicosina
Patron
Tra Di Noi
zero otto nove
STATEN ISLAND
Enoteca Maria
San Rasa
Vida