It's not Independence Day without some rockets' red glare, so you'll want to find a July 4th party with fireworks views. The Macy's 4th of July fireworks display over the East River will be fired off from seven barger — that's two more than 2017 — between East 23th and 40th streets, and will feature 20 new pyrotechnic effects. That's a lot of bombs bursting in air!
This means that once again, Brooklyn Bridge Park is not an option, but plenty of front-row views can be had — and not always for a lot of Hamiltons.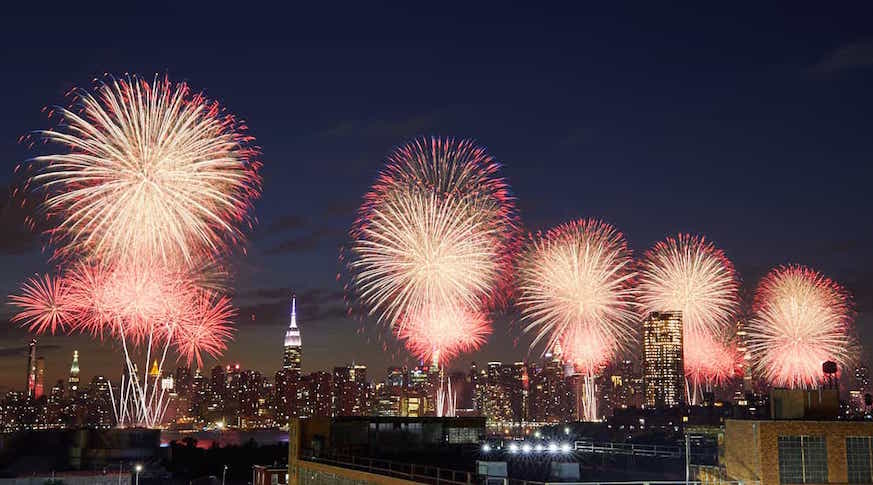 William Vale
Watch the Fourth of July fireworks two ways at Williamsburg's hip William Vale Hotel — both events include a buffet of classic American cookout food like hot dogs and pulled pork in the ticket price, while drinks are pay-as-you-go. The Vale Terrace is the open-air venue on the fourth floor ($75) or dress to impress for Babel's rooftop soiree at Westlight ($100-$150). 6:30-10 p.m., 111 N. 12th St., Brooklyn
Zum Kaboom
The East Village's favorite German beer hall Zum Schneider sets up a beer garden right on the riverside for Zum Kaboom, the closest you'll get without fighting for lawn space in a park. There will be tons of pay-as-you-go cookout food like hot dogs, corn on the cob and potato salad as well as German specialties like nackensteaks and currywurst, along with German and American beer, wine and cider. DJ Volka Racho will be spinning until the show starts. $44, 5-10 p.m., 24-20 FDR Drive at 23rd Street
Northern Territory
One of Brooklyn's best rooftop bars also happens to have unobstructed East River vistas. July 4th specials include boozy cotton candy and red, white and blue drink specials. The best part? Since the Greenpoint bar was founded by Australian immigrants, they're donating $20 from each ticket to the Asylum Seeker Advocacy Project, which works with refugee families who have come to the U.S. fleeing violence. There are no advance tickets, so you'll have to bring $60 cash when the doors open at 4 p.m. Must be 21+, 12 Franklin St.
Brooklyn Barge
The fireworks will be fired off right in front of Greenpoint's seasonal floating bar Brooklyn Barge, which just added frozen drinks to its menu to keep you cool until then. Dig into a family-style barbecue feast with steaks and shrimp, plus Steve's Authentic Key lime pie and a flavored ice or ice cream. Arrive between 5-6:30 p.m. for a complimentary drink, otherwise the bar is pay-as-you-go. Tickets start at $155 for seats on the dock and $225 on the barge, with limited standing room tickets sold day-of. Must be 21+, 79 West St.
The Crown
At 21 floors high, Chinatown's The Crown rooftop bar has enviable unobstructed views in every direction. Though it's south of the action, there's nothing along the East River that rises nearly as tall. The party starts at 4 p.m. with a one-hour vodka open bar, continuing until midnight. Get in for $55 — just be sure to stake out a spot on the northern patio before the action starts. 50 Bowery St.
Elsewhere
Ready to party for eight hours? Bushwick's hot new rooftop Elsewhere hosts PopGun's Fourth of July party with live house, disco and soul DJs from 2-10 p.m. To keep you going, Holy Ground BBQ is serving up pulled pork, brisket and char-grilled veggies. Must be 21+, free before 4 p.m. with RSVP, $15 advance or $20 door, 599 Johnson Ave., Brooklyn
One World Observatory
It doesn't get higher than the city's tallest building with its 100th floor One World Observatory, where you'll have vantage points on both the Macy's Fourth of July fireworks and New Jersey's show over the Hudson River. An open bar and "all-American" buffet are included in your ticket, which start at $250 (wine and beer) or $325 (cocktails). 8-10 p.m., 1 World Trade
Empire State Building
For sky-high views, there's no better spot than the Empire State Building. New this year is a premium open bar and hors d'oeuvres for its viewing party on its iconic 86th floor observation deck. Note that it's standing room only and you're paying a serious premium for that view: $500. After the fireworks, guests are welcome to go even higher to the enclosed 102nd floor. 7:30-10 p.m., 350 Fifth Ave.
Sail right up to the action
Nothing gets you closer to the action than a harbor cruise, provided you're also down for spending four+ hours on the water. Here are your best options:
Liberty Belle: The classic Mississippi riverboat offers three floors of live music with an open bar ($119.50, Pier 36, 6 p.m., 21+)
Audubon Yacht: Enjoy a dinner buffet and open bar with two floors of family-friendly dancing ($169, Pier 15, 5 p.m.)
Empire Cruises: Have a family-friendly outing with open bar and dinner buffet aboard the Timeless ($199, Pier 26, 5 p.m.)
North River Lobster Co: Take a dinner cruise with your own personal lobster feast, standard open bar and DJ ($318, Pier 81, 6 p.m.)
Manhattan by Sail: Help hoist the sails on either the Clipper City or Shearwater before setting out with a full open bar and all-you-can-eat barbecue ($450, 5:30 p.m.)
Schooner Adirondack: Take an old-school sail with unlimited beer, wine and bubbles, paired with hors d'oeuvres ($468, Pier 62, 6:50 p.m.)
Hornblower Esprit: Opt for an ultra-luxurious evening with a six-course dinner and top shelf open bar ($700, Pier 15, 7 p.m.)