With this current heat wave hitting the East Coast, it can feel like your brain is swelling every time you step outside. Even though cities can come alive when the warm weather hits, sometimes you just need to find that perfect swimming spot to bring your body temperature down even for just an afternoon. Here are some of the best water parks on East Coast.
The best water parks on the East Coast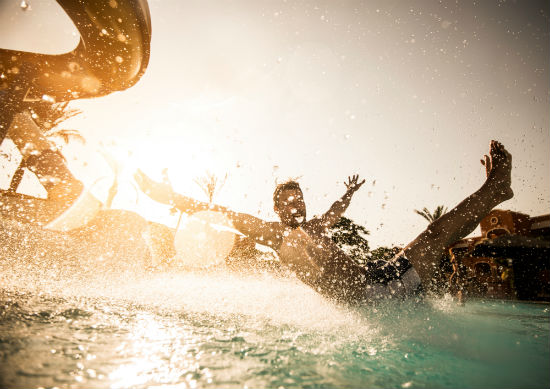 [Photo Credit: iStock]
Enchanted Forest Water Safari 
Old Forge, NY
Located in the North West region of the Adirondack Mountains in the town of Old Forge — Enchanted Forest Water Safari is New York's largest water park with 32 amazing water slides to choose from. When you're done going down slides like "The Shadow" and the "Killermanjaro" (get it?) you can fight back massive man made waves in the one fourth acre sized Tidal Wave Pool. Tickets for adults are $35 while children's passes will cost $30. However, if you are considering traveling up multiple times this Summer — season passes are $95.
Water Wizz
East Wareham, MA
If you've ever seen the movies "The Way Way Back" or "Grown Ups" than you've seen some of what East Wareham, Massachusetts' Water Wizz  water park has to offer. Rest assured, there is soo much more. Slide down in complete darkness with the Pirate's Plunge water slide and take a tube through the winding six story high slide The Canal at Southern New England's largest water park. Tickets are $37 per person but if you want to really enjoy the park in style you can rent a private cabana as your home base for $50 a day or a VIP option for $75 per day.  
Hersheypark
Hershey, PA
Hersheypark in Hershey, Pennsylvania is not only one of the best water parks on the east coast but one of the best theme parks you'll be able to find. Their 11 acre water park is full of fun and surprises including their high-speed open air "Breakers Edge Water Coaster" and their tube-tacular "Coastline Plunge". Access to the entire park — including the water park — will cost $53 for adults and $45 for children and seniors. If you are planning to visit for the weekend, two day passes will be $85 for adults and $66 for children and seniors.  
Pump House Indoor Waterpark 
Jay, VT
Planning a trip up to Jay Peak in Vermont usually revolves around taking advantage of the fresh powder and winding trails of this world renowned ski resort. But what you may not know is that this mountain is also home to one of the best water parks on the East Coast — Pump House Indoor Water Park. Featuring it's massive 65 foot slide "Le Chute" and it's winding "Big River", this indoor park has everything thrill seeking kids and chilled out parents could ask for. Full day adult passes will run you $40 and full day children's passes are $30 so it is definitely worth the drive up north.