The Conners are back on your television screens tonight — without Roseanne Barr.
Its parent show, Roseanne, came back for a reboot in March 2018, with huge ratings. However, that success came to an abrupt halt in May when Barr wrote a series of tweets comparing former White House adviser Valerie Jarrett to an "ape" connected with the Muslim Brotherhood.
Barr claimed she was tweeting while under the influence of Ambien and didn't know Jarrett was black, but the damage was already done and ABC execs cancelled the show's second season.
Soon after, the network announced it would retool the show to focus on the family around Roseanne, calling it The Conners.
"I've always thought the show was about the Conner family," executive producer Tom Werner told Vulture.
"Roseanne was obviously extremely important to the show," he added. "But John Goodman was always equally important. And the children provided a lot of storylines."
But what will The Conners be like without Roseanne?
What is the plot on The Conners?
ABC says that on The Conners, the family is "forced to face the daily struggles of life in Lanford in a way they never have before" after a "sudden turn of events."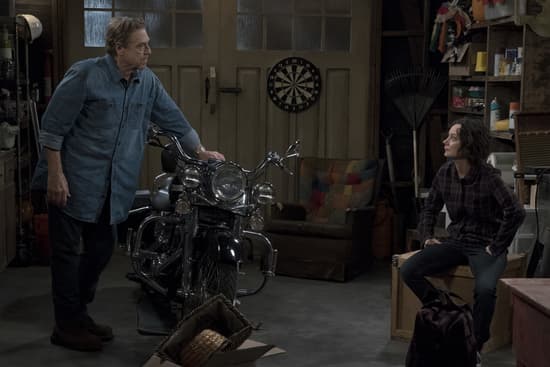 "This iconic family — Dan, Jackie, Darlene, Becky and D.J. — grapples with parenthood, dating, an unexpected pregnancy, financial pressures, aging and in-laws in working-class America," the summary continues. "Through it all, the fights, the coupon cutting, the hand-me-downs, the breakdowns—with love, humor and perseverance, the family prevails."
Goodman recently said that the "sudden turn of events" is Roseanne's death, possibly due to an opiate addiction.
Watch The Conners Trailer
How to watch The Conners premiere
The Conners will premiere on ABC on October 16 at 8 p.m./7 p.m. Central. You can watch it along with other viewers (and maybe even tweet about it) live, or you can opt to watch it another way.
If you're not going to be around a television, you can watch from your laptop, smartphone or tablet with the ABC Live Stream to watch The Conners. Or, you can tune in via the ABC Go app (download through the iTunes Store, Google Play or Amazon.) You can also watch via Hulu Live (but you'll have to pay extra for it).
If you can wait, the show will be available on Hulu starting on Wednesday, October 16.
You're sure to laugh no matter where you watch the show — and it's getting great reviews, even without Roseanne.