We give up a lot of our comforts to totally emmerse ourselves in the exciting hustle and buslte of the big city. One of the biggest of these comfort compromises is giving up our personal space for our claustraphobic commutes on packed trains everyday on our subway systems. We've covered this hellish situation before, but what we haven't talked about is when our fellow subway travelers feel as though wearing bulky backpacks during rush hour is a suitable thing to do.  There just is not enough room and our readers have had enough of putting up with it! Here are some of the best Grumbles we have received about backpacks on the subway. 
Please — no more backpacks on the subway!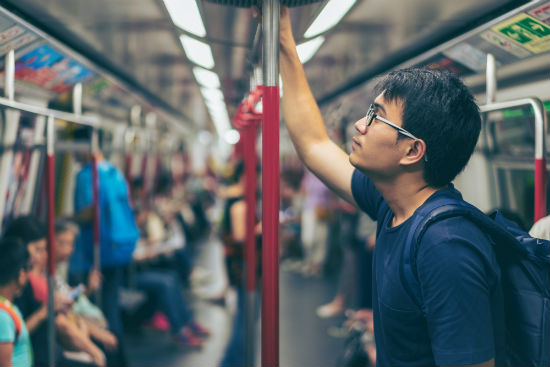 Photo: iStock 
It's just a matter of respect really, if you think about it. It's totally understandable to bring luggage with you on the subway if you traveling, but does your backpack need to be filled to capacity and on your back two and from work?  
No more backpacks on the subway! 
My major grumble is guys who wear backpacks on the subway. First of all, what could possibly be in them? Most of them are gigantic! I can understand carrying a laptop or tablet, but they're flat. What else is filling these backpacks to capacity? A gallon of sanitizer? Six bottles of water? Another flannel shirt? Beard trimmers? Rocks? Look, these guys are mostly commuters, which means that they're not far from their home. Why are they packing for a camping trip? But what really makes me grumble is when they get on a packed train. The backpacks add at least a foot to their girth. And when they turn quickly, they usually wind up hitting me! Ugh!
By James Allocca, Metro US reader  
You know — you could just put your backpack on the floor? How hard can that really be? 
Enough with backpacks on the subway! 
Honestly I don't even care how big the backpack is, that's you and your chiropractor's problem. My problem is this is already a packed train, so take your damn backpack off so more people can fit on. I don't want my backpack on the floor neither, but if anybody is like me I just want to get to my location without waiting for another train due to the current one being filled by imaginary space. *inserts rolls eyes emoji*
By Jessica, Metro US reader 
 
At the end of the day, by not bringing backpacks on the subway, you will respect the space of others around you who are just trying to cope with having strangers breath two inches from their faces after a long hard day at work. 
People need to mind other people's personal space! 
I screamed when I read "the grumble" for today. At first I thought I was dreaming because this has to be the number one thing that drives me nuts on the subway. Second would be people that decide a packed car is the best time to sit with their legs crossed as if they're Sharon Stone. Third would be when a backpack hits me or you ask the person with their legs crossed if they mind, all of sudden I get the look as if I asked them for their unborn child! Thank you for addressing these issues.
Shahcar Blake, Metro New York reader and frequent A train rider 
 
If you have any Grumbles about your commute, remember to send them to grumble@metro.us.