Sarah Harkins just survived a traumatic childbirth in 2015 when, in her out-of-it state, heard her doctor tell her husband that he was going to "go ahead and add in another stitch so we can make sure this is nice and tight," she told Healthline.
The "this" he referred to was her vagina — and adding an extra stitch to sew up vaginal tears and episiotomies post-delivery was not for her benefit, but her husband's.
The husband stitch — or the daddy stitch — is believed to make the vagina "tighter" post-childbirth, essentially making it more sexually pleasurable again. But only for Harkins' husband.
Is The Husband Stitch a real thing?
It's very real, judging from the reaction to the Healthline piece and author Carmen Maria Machado's story "The Husband Stitch."
However, there are no medical studies that show whether or not the perceived benefits are real — and the practice can leave women in pain.
"If a repair is done too tightly it can cause a lot of pain with intercourse afterwards," gynecologist Sheila F. Newman told The Independent, calling the idea of a husband stitch "asinine." She said she's declined to perform the procedure a few times patients requested one post-delivery.
North Carolina mom Angela Sanford experienced extreme pain during sex for five years after giving birth to her first child in 2008.
"I explained and she said, 'This is not right.' I just started crying, saying, 'Can you tell me what's wrong? Because I know something is not right,'" Sanford told Healthline. "And that's the first time I ever heard the term husband stitch."
"He gave you what some people call a husband stitch," Sanford said her midwife told her. "I couldn't connect in my mind why it would be called that. My midwife said, 'They think that some men find it more pleasurable.'"
"My husband has been worried about me and fearful of hurting me," she added. "He would never have asked for this."
Does a husband stitch even do anything?
Episiotomy — or the practice of snipping the skin between her vagina and anus to make a larger opening for childbirth — used to be the norm and was thought to be safer than allowing a tear to happen naturally.
"People were taught in the '50s and '60s that routine episiotomy was good for the woman," Dr. Robert Barbieri, chair of obstetrics and gynecology and reproductive biology at Brigham and Women's Hospital in Boston, wrote in a piece for the Huffington Post. "What they thought is that if they did a routine episiotomy, they'd have a chance to repair it and that during the repair, they could actually create a better perineum than if they hadn't done it. The idea [was] that we could 'tighten things up.'"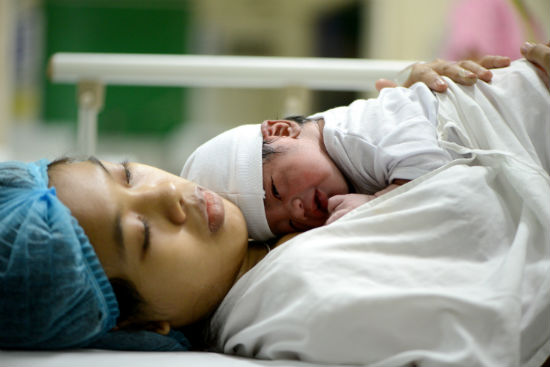 The practice was widely abandoned in the 1980s after new research that recommended using other methods, like massage and cold compresses, to avoid excessive trauma.
"There are still providers who do it routinely and they, for whatever reason, think it's a cleaner and better approach for people, despite all of the research otherwise. They practice how they want to," Stephanie Tillman, CNM, a certified nurse midwife at the University of Illinois at Chicago and blogger at The Feminist Midwife, told Healthline.
"Essentially, it's a form of power over women's bodies to say 'Medical management can do this the right way and your body can't.'"
An extra stitch might make the vaginal opening a little "tighter," but it has no impact on the actual vagina.
The husband stitch actually leaves more damage than it "heals."
"I felt betrayed because something unnecessary was done to my body that I didn't ask for," Sanford told Healthline. "It was a harmful decision made without my consent. That's not what you should get when you are in the hospital to have a baby."