The Obamas are known for their big voices and big biceps. (OK, maybe more people were lusting after Michelle Obama arms than Barack, but they're both fit.) It's true — audacious and athletic, they made their mark on the nation for two terms. 
Cornell McClellan, longtime trainer and fitness consultant for the Obamas, told TMZ back in 2015 that they "love to workout so much, so it makes my job very easy."
McClellan also called Barack an "overachiever" who "believes in raging against death at this point [scary?] … He likes to work hard, he wants to be pushed hard, and I push him hard." As for Barack's six-pack, McClellan told the news site it was still intact.
Similarly, McClellan told Shape that the Obamas "want to inspire the whole country to get active — because it makes for a healthier, more productive nation." And he boasted about Michelle's Let's Move initiative that challenged kids and teens everywhere to get to movin'.
But the big question is this: now that they're "ordinary" civilians, are their workout regimens up to par? 
The Obamas' Trainer Talks About Their Post-White House Workout Routines: 'They Smile More' https://t.co/t6YJZSbwcM

— People (@people) January 29, 2018
In an exclusive interview published Monday afternoon, McClellan told PEOPLE that little has changed — they're still as motivated as ever.
"So my task as their trainer is to find ways to make it tough on them," McClellan, who's worked with the Obama family for over 20 years, explained. "When they say, 'Are you crazy?' I know I'm doing my job."
Want Michelle Obama arms? Here's her current workout regimen
"With [Michelle] and President Obama, we mix it up a lot," he continued later on in the interview. "We do things with weights, with kettlebells, with bands and tubes and TRXs to keep the body guessing."
They have more free time to be active, and Michelle in particular enjoys attending more group workout classes. Her favorite? SoulCycle.
"She's been able to do some of the classes that weren't as convenient when they were in office," McClellan said. "She can do sociable things and get outside." 
The former First Lady used to host bootcamp weekends at the White House, and now, she still likes to stay active with friends.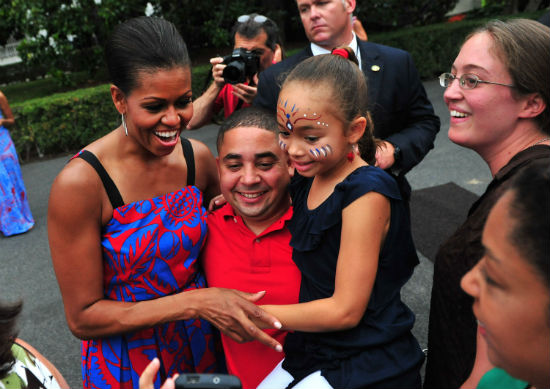 "Our bootcamp weekends were a reminder that if we want to keep taking care of others, we need to take care of ourselves first," she wrote on Instagram back in June. "And even though I'm no longer at the White House, I've continued this tradition and wanted to share some photos. … Whether it's a bootcamp or a walk around the neighborhood, I hope you and your crew can find some time this summer to be healthy together."
McClellan said that Barack works out as much as, if not more than, his wife of over 25 years.
"He really believes in it," the trainer said. "One of the things we say when people complain that they don't have time to work out is, 'The President of the United States works out every day! You've got to find another excuse.'"
The Obamas' workouts, for the most part, haven't changed — except for one thing: according to McClellan, they smile more. 
WATCH: Ellen challenges Michelle Obama to a push-up competition