In case you haven't heard, Kate Middleton gave birth to a baby boy on Monday, April 23 (but, let's be real, you definitely heard). He came in at 8lbs 7oz, and Kate left the Lindo Wing of St. Mary's Hospital seven hours later looking as effortlessly regal as ever. Sure, we appreciated her recovery time and immaculate complexion after the fact. But, right away the world was dying to know one simple question: what is the royal baby's name?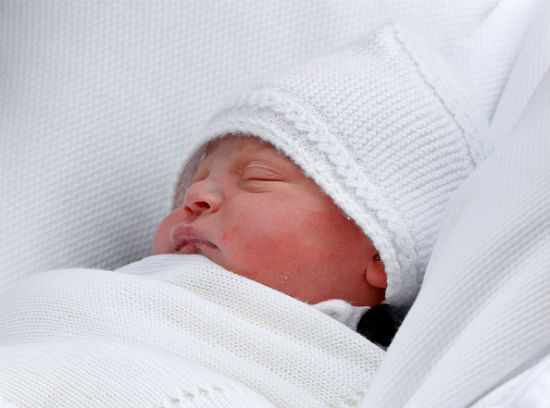 Prince William and Kate waited uncharacteristically long to tell us what they'll be calling their third child. According to Mirror, it took them two days to reveal the names of both Princess Charlotte, 2, and Prince George, 4.
But The Duke and Duchess of Cambridge strayed from tradition, and at the two-day mark, April 25, there was nothing but static. The Kensington Palace Twitter account remained active, but there was no word about the royal baby. None. People were still begging (pleading) the question: what is the royal baby's name?   
What is the royal baby's name? The guesses
Metro staffers were betting on Albert or Arthur. Along with those two, Philip was another popular choice, according to BBC.
The Internet thought Prince William might have dropped a hint on Wednesday. Australian High Commissioner Alexander Downer asked him during an Anzac Day service, "Have you thought of the name Alexander?" He replied, "Well, it's funny you should say that, it's a good name."
But, for real, what is the royal baby's name?
Early Friday morning, the announcement finally came!
The Duke and Duchess of Cambridge are delighted to announce that they have named their son Louis Arthur Charles.

The baby will be known as His Royal Highness Prince Louis of Cambridge. pic.twitter.com/4DUwsLv5JQ

— Kensington Palace (@KensingtonRoyal) April 27, 2018
Well, it's not Albert, Alexander or Philip. And it's not Arthur, either (not exactly). The royal baby — the fifth in line to the throne — has been given the name Louis Arthur Charles.
This isn't just any name. It means "renowned warrior" in French. 
According to CNN, Louis most directly refers to Lord Louis Mountbatten, the uncle of Queen Elizabeth's husband (got that?), who served during World War II and was the last British Viceroy of India. The lord was also reportedly beloved by Prince Charles and acted as his mentor.
Prince Louis has a nice ring to it, and finally we can breathe again. Welcome to the world little royal one!