The Walking Dead midseason finale is almost here, and season 8 isn't holding back any punches.
The post-apocalyptic show isn't shy about making you shed a tear over beloved characters and writers and producers of the show have been clear that absolutely no character, fan favorite or otherwise, is safe in this brutal new world they've created. Though past seasons have seen dips in viewership and favorable reviews, it has never strayed from this policy.
This season, which many critics are calling a return to form for the AMC show, continues or maybe even intensifies that core value. Heading into The Walking Dead midseason finale for season 8, it looks like they may be doubling down.
What to expect from The Walking Dead midseason finale
We'll stay spoiler-free — for now. It's not just The Walking Dead midseason finale trailer that's pushing the idea that someone you care about is going to die. Show regular Katelyn Nacon, who plays the fiercely independent Enid, is telling you to get prepared for a "horrific" episode.
Enid, who just set out with Aaron (played by Ross Marquand) to rid the world of a couple more Saviors, will be featured heavily in The Walking Dead midseason finale. Though the rumors swirling about which character won't make it through the winter break of the show center around Carl, not Enid, she's obviously in danger as well.
Nacon teased to the Independent that we're "going to see a bit of a change" in Enid as she works through who, if anyone, she should emulate in this brutal world and "how to make her actions become reality."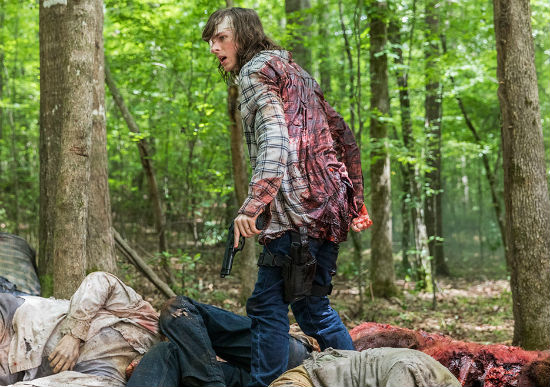 But, really, The Walking Dead midseason finale might devastate you. Nacon, however, wants you to know that it might pay off later on down the road. "There is going to be some tough stuff to come but I feel like it will come with a silver lining," she teased. "There are a lot of horrifying things to come, but also a lot of beautiful things that comes with it, comes because of it."
Watch the trailer for The Walking Dead midseason finale
Check out the trailer for The Walking Dead midseason finale, season 8 episode 8, below:
Who's going to die in The Walking Dead midseason finale?
While nothing is guaranteed in the world of The Walking Dead, it's a safe bet that a big episode in any given season is going to see a thinning of the herd. So why should The Walking Dead midseason finale for the eighth season be any different?
Rumors are flying thick and fast about which character will be the next to go. As you saw in The Walking Dead midseason finale trailer above, Carl declares "All we need to do is survive tonight" — which just seems like asking for trouble for the character. On the other hand, Carl is in the "Old Rick" flash-forward. While that could be revealed to have only been a dream sequence, it follows the timeline of the comics, which feature Carl taking over as the leader in place of Rick.
But in the reality of this post-apocalyptic mess, no one is safe. The characters actively out fighting — like Rick and Enid — certainly aren't safe, but as of the last episode, neither are those who were in the previous safe zone of Alexandria like Carl and Michonne. So that really means that anyone is fair game.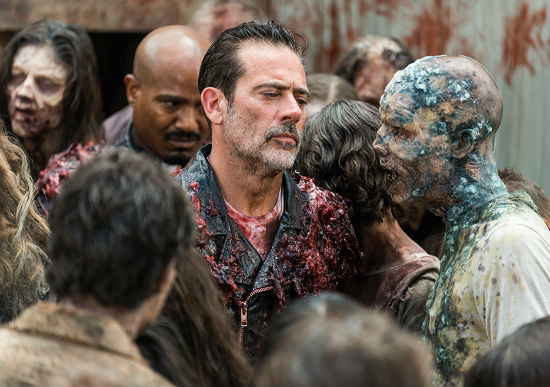 There are two other major theories out there, however, about who will get axed during The Walking Dead midseason finale. The first suggests that Dwight will be killed off at the hands of Negan when his betrayal is finally exposed, either by Eugene or the recorder Eugene was using to record his notes on the tests of his flying machine.
The other theory just might be the most devastating. When fans were talking online about the potential for Carl's death, they cited to flashes of the future: old Rick, but also a scene in which Rick's eyes are really red as if he'd been crying. But maybe it's not over Carl. Maybe it's over Judith. That's right, sweet baby Judith. Fans online have pointed out that the flashes forward in which you likely assumed the little girl was Judith might, in fact, be the baby the gang picked up earlier this season rather than Rick's daughter.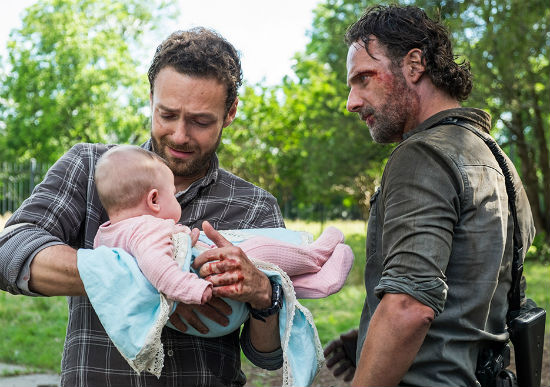 Brace your hearts, folks. We'll have to wait to find out which, if any, theory is right.
When does The Walking Dead midseason finale for season 8 air?
You can catch The Walking Dead season 8 episode 8, also known as the midseason finale, on Sunday, December 10 at 9:00 p.m. EST on AMC.
Which character will kick the bucket? You'll just have to wait to see if it's someone mentioned above — or someone no one ever suspected. But don't worry, there will be a therapeutic episode of The Talking Dead on right after the midseason finale to help you process all your emotions.