Get ready and sharpen your hatchet because The Walking Dead season 8 episode 1 is coming, and things are about to get crazy.
We know: How could they get any crazier than they've been, you're wondering. Oh, sweet naive watcher of the walker series, just you wait and find out. We just hope you aren't too attached to your favorite character because no one's safe.
What to expect from The Walking Dead season 8 episode 1 and beyond
Don't worry, we'll give you a clear signal when we're about to launch into The Walking Dead season 8 spoilers so that those of you who want to feel the full emotional impact of the twists and turns of the season can opt out and skip that section.
Chandler Riggs already gave us a grim idea of what's going to kick off with The Walking Dead season 8 episode 1, though the actor known for playing Rick's son Carl stopped just short of giving actual spoiler. "Season 7 was all about building up and getting everyone ready to fight against Negan, and this season there's going to be lots of explosions, lots of killing, a lot more Negan," he told Triple J, Australia's national radio station.
He's not the only one alluding to the death and destruction to come in the new season, though. Steven Ogg, who plays Simon in the series, got us all biting our nails when he mentioned  in an interview with Comic Book.com that The Walking Dead season 8 will "thin the herd." Gulp.
OK folks, scroll down now if you don't want The Walking Dead season 8 spoilers.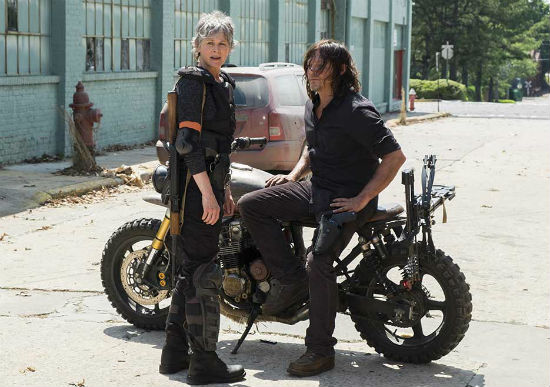 DARYL IS BACK AND MORE DANGEROUS THAN EVER
Two things are certain after Daryl spent half of the seventh season locked in a dungeon as one of Negan's slaves: long-time fans of the show want to see more of him and Norman Reedus' character is pissed. Get ready to see some action from the crossbow-wielding fan favorite in the new season — and maybe a bit too much of it.
"He's just got revenge on his mind this year," Norman Reedus teased to Entertainment Weekly about what's going on in his character's head. "He's ready to kill everybody, no matter what the group says, no matter what anybody says. He's just like, 'Nah, screw it. Everybody dies.' He's very focused on revenge."
"Season 8 feels like our old show again," Reedus told the publication, also revealing that the gang will be fighting all together again this year after being apart for so long. So tell your friends who fell out of watching the series last season that it's time to jump back in.
RICK IS READY TO DIE IN ORDER TO TAKE DOWN NEGAN
Andrew Lincoln, who brings life to leader Rick, acknowledged the basically broken version of his character fans saw in season 7 when he spoke at New York Comic Con, teasing a 180 turn in the upcoming season. "You saw him in the beginning of the scene last season on his knees, but he's a completely inverted Rick," Lincoln said.
"I think he's ready for battle," the actor explained. "I've always said that Rick is very much like a shark. He needs to keep moving, otherwise he dies. Giving him something to do with his grief and pain is essential. Kicking Negan's ass is as good a reason as any." And we're not talking about being ready to fight up to a certain point. At least, not anymore, even if that was typical for the Rick of past seasons.
"He's a man who's willing to die. He's free for all intents and purposes," Lincoln concluded.
BUT HE PROBABLY WON'T DIE — YET
Rick might be willing to lay it all on the line to overthrow Negan, but that doesn't mean this is the season that will take him down. Still, you should know that Rick is going to die. That's right, the main character of this AMC show is not safe, and creator Robert Kirkman confirmed as much recently.
That doesn't mean there's done torturing you with the possibility, though. "No-one is safe. Hopefully there have been points where you go, 'Is this it? Is this where Rick dies?' And he doesn't," Kirkman explains. "One day, the moment will come where you go, 'Oh my god, it is!'," he added, confirming one of fans' greatest fears. "It could happen any time between now and 50 years from now."
ALL-OUT WAR WILL COME WITH SURPRISING DEATHS
Have someone in mind you think will bite it next? Well, maybe start looking at the characters you thought were safe instead. "There are some big deaths this season, but I think they'll possibly catch people by surprise," showrunner Scott M. Gimple told Entertainment Weekly. (Just don't take Daryl, OK guys?)
AND IT'LL MAKE SEASON 7 LOOK TAME
Thinning the herd, lots of killing — both ways to describe what's going to go down in season 8, but one actor took it one step further, revealing the brutality that might even make long-time fans turn their eyes from the TV screen.
"It's a f**king in-your-face, action-packed IV of adrenaline," according to Austin Amelio (who brings life to Saviors double agent Dwight). "Season seven was the ramp-up and now this is the blastoff. The stuff that's happening is insane." If season 7, which — need we remind you?! —  included Glenn and Abraham getting beaten to pulp with a barbed wire-wrapped baseball bat in front of their closest friends, was just "the ramp-up," we're in for some serious violence.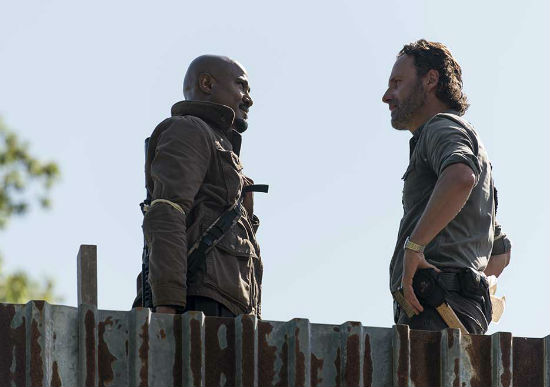 AARON MIGHT LOSE IT AND BECOME A KILLING MACHINE
We already know there will be "surprising" deaths coming in the new season, and if the premiere of the last season was any indicator, one of them might just happen in The Walking Dead season 8 episode 1. Ross Marquand, who plays Aaron in the show, might have teased one of those deaths when he talked with Entertainment Weekly about how he's hoping his character will evolve.
The key comes from the source material. "I want him to find his darkness, because one of the great things that I remember reading in the comics was that Aaron has this switch," Marquand said. "There's a really pivotal thing that happens in the comics, and after that, he really goes to this dark place and becomes sort of this kind of berserker-mode warrior, and that's what I want for him."
That "really pivot thing" in the comics is the death of his boyfriend, Eric, which happens during a raid lead by Rick on one of the outposts of Negan's Saviors. "He's been nice for too long. He needs to stop getting beat up, and he needs to start throwing down," Marquand concluded.
POTENTIAL SPOILERS FROM THE COMICS
The All-Out War arc spans two entire volumes of the comics. Though the creative team behind AMC's The Walking Dead have proven they're not afraid to break from the original — or, you know, make up characters completely — there is definitely overlap, which means the comics might hold potential The Walking Dead season 8 spoilers.
Rick offers Negan a truce before unleashing hell. It could happen. It happens in the comics. It's also not out of line for Lincoln's character to avoid bloodshed when possible. Even if it does happen in season 8, we're guessing it's going to go exactly as it did in the comics: Negan laughs it off. Of course.
Rick's actual plan is and always has been walkers. In the comics, Rick knew Negan wouldn't accept his peace offer. No brainer, that one. His real plan all along was attracting a horde of walkers through the sounds of gunshots. It wouldn't be the first time the show has used a huge pack of the biters during a massive shakeup. Alexandria, anyone?
Rick will take Negan prisoner instead of killing him. You know what they say about good writing, right? You don't introduce a pistol to the plot if it isn't going to be used? Well in this case, it might just be a jail cell. In the comics, Negan believes Dwight kills Rick — but Dwight's actually on Team Rick and it's all a ruse. When Rick shows back up, Dwight reveals his true colors and Rick throws Negan in a jail cell in Alexandria. Though a lot of this has yet to unfold — if it even will — in the TV show, the jail cell in question was already made by Morgan. It sits ready and waiting for a new occupant.
We have to say goodbye to Shiva. This one looks like it's really happening. In the comics, Shiva sacrifices herself battling a group of walkers in order to save her owner Ezekiel. In the Comic-Con trailer for The Walking Dead season 8, you see the same setup: Shiva, Ezekiel and others surrounded by a pack of walkers just before Shiva pounces on one.
Watch it for yourself and see whether you think this The Walking Dead season 8 spoiler is going to come true in the AMC version:
The Walking Dead season 8 episode 1 sneak peek
So now that we know that Rick is going to die at some point down the road, the sneak peek of The Walking Dead season 8 episode 1 feels all the more important. Post to the show's Facebook page, the scene sees Chandler Riggs' Carl at a gas station, confronting a person out of frame who just won't stop talking. But, more significantly, Digital Spy points out the parallels between this scene and the season 1 opener featuring Rick. (There's a couple to scene-to-scene correlations.) Is the sneak peek an allusion to Carl replacing Rick as the leader of the pack? You'll have to wait and see.
Watch a clip of The Walking Dead season 8 episode 1, untitled "Mercy," below:
So, when does The Walking Dead season 8 episode 1 start?
You can catch The Walking Dead season 8 episode 1, and all the violence it kicks off, starting Sunday, October 22 at 9:00 p.m. EST on AMC. Might we strongly suggest some kind of stress-relieving snack to work out your anxiety during the premiere? Looks like you're going to need it, and you don't want to end up biting your nails the whole time.
Can I watch The Walking Dead season 8 episode 1 online?
If you sign in with your cable provider, you can watch the season 8 premiere of The Walking Dead on the AMC live stream. We've told you once and we'll tell you a hundred more times: Start the process well before the air time of The Walking Dead season 8 episode 1 so that you don't miss even a minute of the action-packed premiere.