Electronic music used to mean dingy warehouses at the edge of town where your only entertainment besides the music was waving around glow sticks. While there's nothing wrong with a classic concept, Elrow parties are the opposite of all of that, winning so many fans all over Europe that it's finally time for them to make a second home in New York.
"Honestly, there are almost no similarities of any kind between Elrow and an EDM concert," says Juan Arnau Jr., Elrow's CEO and co-founder. "What we do is we create an immersive experience for the fans. You're always in the middle of a show, there are all kinds of shenanigans happening all around you, and you really feel like you are the show yourself."
In New York terms, the best way to describe an Elrow show is the dance and artistry at House of Yes meets the immersive environment of a BBQ Films party, with the production values of Electric Zoo. To put it in Ibiza terms, where it's in charge of Saturday nights all this summer, Elrow is "a festival, a circus, a parade, a show, a fair all rolled into one."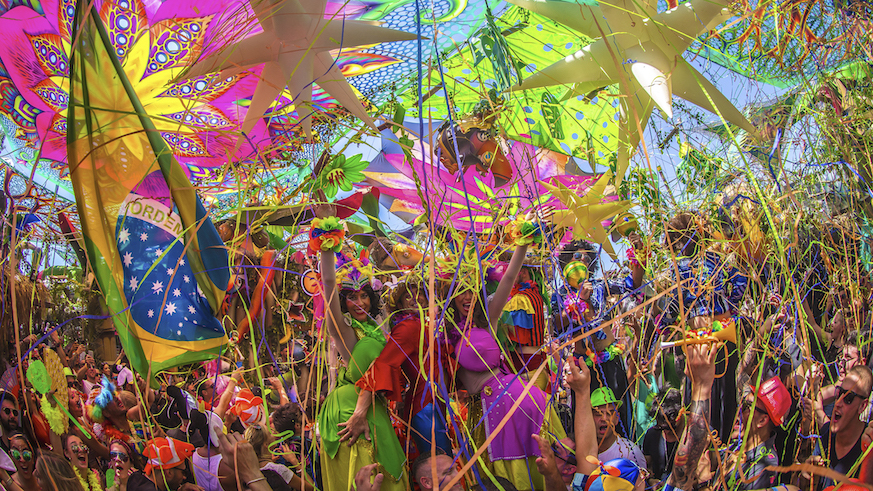 Their track record says it all: Elrow's first show in New York was in December 2016 at the 1,100-capacity Flash Factory in Manhattan, which sold out in advance. Last summer, they took over an entire stage at Electric Zoo. This Saturday, July 28, will be their fifth, taking over the palm tree oasis that is Brooklyn Mirage with Eats Everything, Patrick Topping, Will Clarke, Technasia and more playing back-to-back for a crowd of over 5,000 in a marathon 10-hour party themed (appropriately) The Rowlympic Games. After skipping over the Las Vegas in the fall, they'll be back at Avant Gardner on Nov. 24.
"The reason why we have been growing here so well is because of New York fans, they've been welcoming us better than we could have imagined," says Arnau. "In return, we've spared no money, and we have produced the shows in a way we would do with attendance of 10,000. We intend to stay in the city for a very long time and keep doing bigger and better shows."
What makes Elrow different?
Elrow started in Barcelona in 2010, when Juan Arnau and his sister Cruz Arnau — scions of a century-old party-planning empire — were looking to start a concert event that wasn't about the artists but the people in the audience. "We produce a show where we want everyone to have the most fun," he says. "It's not about one single DJ or lineup."
The word "immersive" gets thrown around a lot, but the lines between reality and fantasy really do blur at Elrow parties. Famous for its production values, Elrow fills its venues to the brim with art and entertainment well beyond the talent onstage. Walls become a gossamer mesh of fabrics and geometric rainbow webs. Neon dragons parade through the crowd. Aerialists and stilt walkers perform impossible feats of agility, while costumed performers make you question whether you're still in Kansas anymore, Toto?
"There's a massive creative process behind it," says Arnau. "We produce our own decor, we have very large teams of creative people who put it all together. It's endless hours of really hard work."
There's not just always something new to see — Elrow is famous for its tactile elements, handing out hats and masks and other props, dropping confetti on joyful revelers and letting the crowd bounce around inflatable toys. "This isn't anything like a club show, this isn't anything like an EDM concert — the fan is the most important piece for us," he says. "We want people to smile. It isn't close your eyes and move to the beat: You look up and you see the unimaginable."
The positive vibe carries through to booking artists who create "uplifting dance music," as Arnau describes it. The back-to-back, or b2b format where two DJs switch off songs during the entire set, has worked well for Elrow, which also experiments with mashing up diverse artists: For the April b2b show, Elrow brought together Thomas Jack and Steve Roller, two artist whose fanbases don't overlap much.
With all that, it's no wonder Elrow has been put in charge of Saturday nights in Ibiza all summer long. So get a ticket — while you can still get in.
Elrow's Rowlympic Games go down Saturday, July 28 from 6:30 p.m.-4:30 a.m. at Brooklyn Mirage, 140 Stewart Ave. Tickets are $64.99-$99.99, ticketfly.com.