For 200 years, Madame Tussauds has been known for creating wax sculptures of famous people — not exactly the place where you were expecting to step into our digital future. But just as it's given visitors a way to escort J.Lo down the Oscars red carpet, it's now home the next level of living the dream: hyper-reality.
That's what immersive entertainment company The Void calls its new virtual reality experience Ghostbusters Dimension, created in partnership with Sony Pictures and now open at Madame Tussauds New York. You and up to three teammates gear up in the Ghostbusters' signature proton packs, VR helmets and wireless rifles that look right out of "Tron" to exorcise an NYC apartment building of spectral menaces ranging from cute and small to very big and angry.
"We saw a real early beta of 'Ghostbusters Dimension,' and it took a 10th of a second to realize, 'Wow, we've gotta do this as quick as possible,'" says Eric Fluet, head of marketing and sales at Madame Tussauds. The museum also created a walk-through experience featuring new "Ghostbusters" sets and, of course, its four leading ladies. "It truly feels like you're actually in the movie."
The list of what makes "Dimension" unique is, in one word, endless. We asked James Jensen, co-founder and chief visionary officer at The Void, for a peek behind the curtain.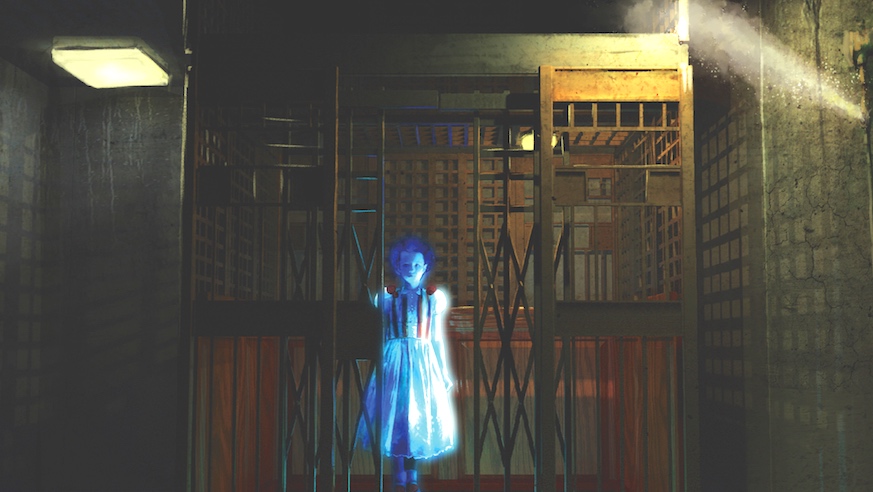 The realest virtual reality
Right now, there are no other virtual reality experiences available to the public. You're either trying them out at tech conventions or shelling out hundreds of dollars for a VR headset like the Oculus Rift. Even then, there are limitations: Most headsets confine you to a chair or, in the case of HTC's Vive, a small cube to keep you from walking into walls or worse.
In "Dimension," players can walk anywhere within the rooms, seeing, hearing and interacting with teammates rendered as Ghostbuster avatars — which is entirely new to the virtual reality world. "There is a huge difference between having a solitary experience and sharing it with your friends," he says. "If you went through 'Ghostbusters' by yourself, it would be OK. You'd go, 'Oh, that's neat,' but there's nobody to share it with."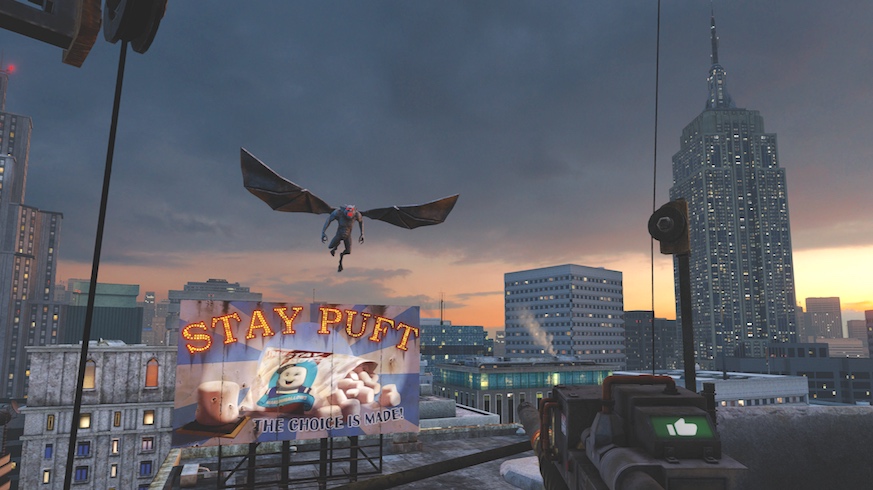 The ghosts can see you, too
"We define hyper-reality as mapping a virtual, digital world over a physical structure world," Jensen says. "Dimension" is an intelligent set of four rooms filled with real objects like a chair, sink and elevator grates, and effects like shaking floors, wind, heat, water, smells and more, all to make the experience as believable as possible. Just don't compare it to a 4-D theater.
"In a 4-D theater, they just chuck stuff at you because it lines up with the [movie]," Jensen explains, "whereas in this, you choose to do something and that effect happens to you. The stage is aware of you, and so are all the ghosts." Tip: Try talking to them!
RELATED: Captain America gets a statue in Brooklyn, at the moment he deserves it least
Ultimately, the game has to work at an instinctual level, Jensen says. There's no substitute for needing to touch things to get familiar with a space, so The Void's goal is to evolve the actual room enough so that you can just walk into it, no equipment necessary — in short, "Dimension" visitors are standing on the rudimentary version of the "Star Trek" holodeck.
"If you can think about what [the stage] will be like in 20 years, what we're creating now, it's gonna be this living, breathing, AI machine that is anticipating your moves and then presenting arguments that will convince you that what you're seeing is happening," Jensen says.
Making the virtual world feel real
The proton pack is actually a computer strapped to you by a vest that's also working to make the virtual world more real. Jensen points out that it's fairly easy to trick the mind into believing what you're seeing — indeed, when the visor goes down and the world switches from the "Dimension" ready room into a shabby hallway, you believe it immediately.
The next step is to trick your body by giving it real objects — and real consequences when, say, you have a paranormal encounter. "That's something we do that nobody's ever done before: Our haptic vest is programmed to be directional," Jensen says. "So when ghosts pass through you, they pass through you in the correct direction." So if one sneaks up behind you, that's where the vest vibrates first. (Note to the easily scared: "Dimension" is an "Ooh!" rather than "Aah!" experience.)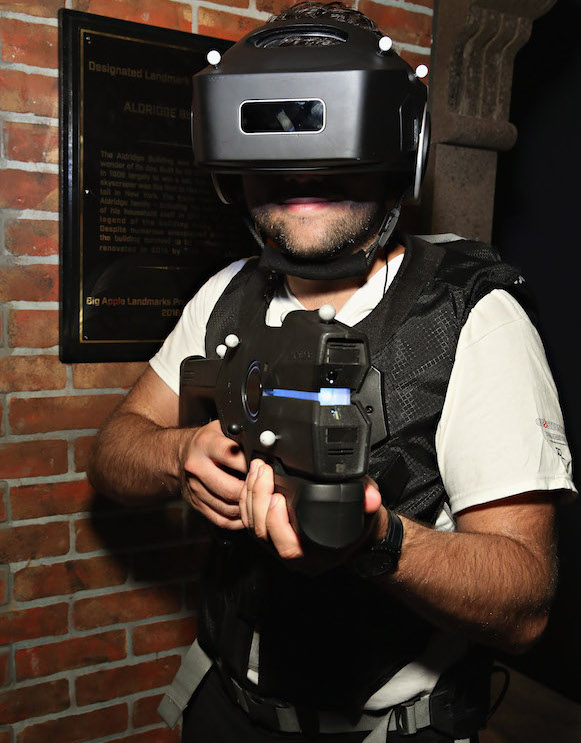 It's totally intuitive
There are no controls to master in "Dimensions," and even a motion sick-prone teammate never felt dizzy in the experience. As long as you're over 48 inches tall and can carry the proton pack, you're qualified to bust some ghosts. "There's no barrier to entry for the average person to come and experience the best we have to offer in hyper-reality experiences," Jensen says.
The stage also eliminates the worry of colliding with a real world object, or going for a virtual one and ruining the experience — or getting into trouble.
"We learned a lot of lessons about when you present fake objects and when you present real objects," he says. "Like, when you scare people, you want to make sure they have real objects to go to."
RELATED: The Intrepid's Starfleet Academy tests your character, not 'Star Trek' knowledge
An attendant also shadows players inside "Dimension," in part to move things along but also to deal with any possible glitches and to keep players safe. No spoilers, but the vertigo from the ledge of a 30-story building is real even in the virtual world, but just in case you want to test it, there's a real drop, too.
"There's things that aren't there, but we're really good at directing people," he says. (Fun fact: The Void's chief operating officer, Curtis Hickman, is a former magician who has designed illusions for Criss Angel among others.) "I like to say that's our intellectual property."
The next phase
"Dimension" is still a work in progress. The Void learns more with every player, and its technology is also advancing. All of the hardware is continually upgraded. Stage effects are also being refined, and a software update is coming "pretty soon," with the next one addressing one of the inconsistencies in "Dimension": Your body isn't visible to you, just your teammates.
"Our new update will actually allow you to see your hands and interact with ghosts and objects inside the experience," Jensen hints. So start planning your punchlines for when you clock that gargoyle with a right hook rather than a proton beam.