Product recalls have been in the news a lot lately (aka, Ritz and Goldfish crackers as well as romaine lettuce found in major food chains like Trader Joe's and McDonald's). These were issued due to fear of Salmonella and Cyclospora. Late last week, an almond milk recall was implemented not because of parasite contamination, but due to an unlikely ingredient: cow's milk.
On August 2, Blue Diamond's parent company, Hood, announced an almond milk recall of Vanilla Almond Breeze for the potential presence of dairy — an ingredient that isn't supposed to be in Blue Diamond cartons (hence the almond in "almond milk").
"HP Hood LLC is voluntarily recalling a limited number of half-gallon (1.89 L) cartons of refrigerated Vanilla Almond Breeze almond milk because the product may contain milk, an allergen not listed on the label," states a news release regarding this milk recall, which was posted to the FDA and Blue Diamond websites.
The statement noted that the product is safe to consume unless you're allergic to milk: "People who have an allergy or severe sensitivity to milk run the risk of serious or life-threatening allergic reaction if they consume these products."
Here's what you need to know about the affected products.
Milk recall: Which Blue Diamond almond milk products were affected?
The almond milk recall applied to half-gallon cartons of refrigerated Vanilla Almond Breeze with a use-by date of September 2, 2018 and UPC code 41570 05621.
View specific product details below.
To identify the affected product, consumers should look for the stamped information printed as:

USE BY: SEP 02 18 (07:36 – 20:48) H5 L1 51-4109

USE BY: SEP 02 18 (07:36 – 20:48) H5 L2 51-4109

USE BY: SEP 02 18 (07:36 – 20:48) H6 L1 51-4109

USE BY: SEP 02 18 (07:36 – 20:48) H6 L2 51-4109
The cartons affected by this almond milk recall look like the below image.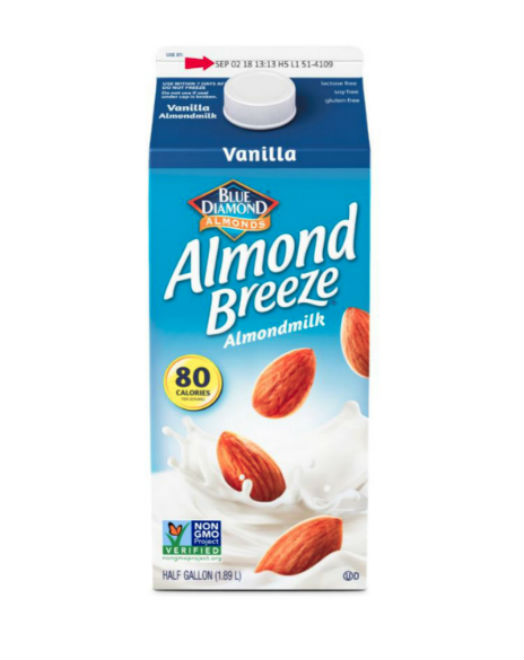 About 145,254 half-gallon cartons were shipped to 28 states:
AL, AR, CT, FL, GA, IA, IL, IN, KY, LA, MD, ME, MI, MN, MO, MS, NC, NE, NJ, NY, OH, OK, PA, SC, TN, TX, VA and WI.
According to a statement released by Hood on the Blue Diamond website, consumers who purchased products affected by this milk recall may return them for a "full refund or exchange." You can also visit bluediamond.com to complete a web form.
CNN reported that a "single reported allergic reaction did not require medical treatment or hospitalization."
Hood was not available for immediate comment.