Released in 1989, but partly set in 2015, 'Back To The Future: Part II' had an awful lot of fun trying to figure out what the world was going to be like in 30 years time. They got eerily right with some predictions, as they tipped the Chicago Cubs to end the curse of the Billy Goat in 2015, when in reality it occurred in 2016.
One of the little Easter Egg jokes in 'Back To The Future: Part II' that was completely wrong, though, saw the film predicting that Princess Diana would indeed be Queen Diana in 2015, and that she'd be visiting Washington. This little reference was hidden in plain sight to the left hand side of the USA Today cover from October 22, 2015, and you can see it for yourself below.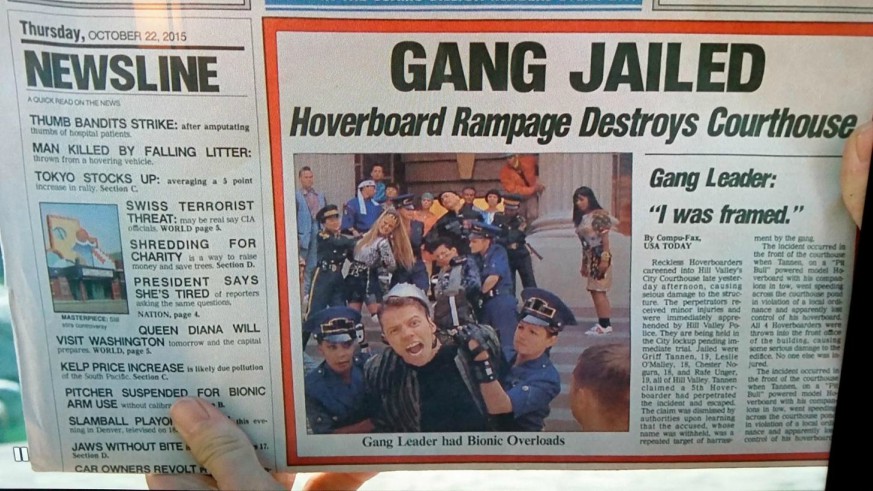 While 'Back To The Future: Part II's' prophecies that we'd have flying cars, hoverboards and a grand total of 19 'Jaws' films were embarrassingly wide of the mark, the prediction that Princess Diana would ultimately become Queen Diana seemed a safe bet back in 1989, as she'd been married to the heir of the throne Prince Charles for just 8 years.
But not only did the pair's marriage end in divorce in 1996, but a little over 3 years later Princess Diana was also tragically killed in a car accident in Paris on August 31, 1997. The 20th anniversary of her untimely passing has been marked with a hoard of tributes to the beloved royal, who was often referred to as the People's Princess.
There's another reason why 'Back To The Future: Part II' decided to include this reference to Princess Diana. She attended the world premiere of 'Back To The Future' back in 1985. Clearly Princess Diana left quite an impression on screenwriter Bob Gale, because as well as the above headline Café 80's also serves a dish entitled, 'Princess Di Spud Cake' for $3.