Update, 7/20/18: Theresa Lund has been placed on leave by the Harvard Humanitatian Initiative, where she was the executive director, in the wake of a video in which Lund asks a neighbor who was with her biracial daugther if they live in the "affordable units" around Harvard University.
"The Harvard Humanitarian Initiative is an organization that promotes and defends humanitarian principles of service, equity, and justice. Our core values of integrity, collaboration, and respect for universal human rights are the foundation of all we do," wrote Michael VanRooyen, HHI director, in a Facebook post on Thursday. "It is within this context that I have been viewing the events of July 14th involving Theresa Lund. I wish to make clear that HHI does not condone her conduct during the exchange with Alyson Laliberte and her family."
VanRooyen said that Lund will be "on-leave, effective immediately" and that HHI will impliment additional training for all its staff to "address implicit and explicit bias, pursue opportunities to promote diversity and inclusion within our workplace, and continue our efforts to serve those affected by war, crisis, and disaster."
Previously, 7/17/18:
Joining the internet denizens Permit Patty and BBQ Becky is another white woman receiving criticism after a viral video: Theresa Lund, who has been dubbed by the internet Sidewalk Susie.
In the video, posted to Facebook on July 14 and picked up by the Boston Globe and other outlets this week, Lund is shown asking a neighbor with a biracial daughter if they live in one of the "affordable units," rather than in university housing.
"Y'all here is another Permit Patty trying to kick me off my own property because she's having a hard time getting her kids to take a nap at 3:30 in the afternoon on a Saturday," Alyson Laliberte, the neighbor with whom Lund was speaking, wrote on Facebook.
"I'm outside enjoying the afternoon with my daughter when this woman came downstairs and asked me if I would move so her kids can nap," Laliberte wrote. "Mind you it's midday and we weren't even being loud at all drawing with chalk. She followed me around and harassed me trying to get my information and apartment number as if she had a right to know."
When the video begins, Laliberte can be heard saying "Did I swear at you?"
"I didn't swear at you," Lund responds.
"You just swore," Laliberte says.
"You heard me wrong," says Lund.
After a little more back and forth, Lund turns to the daughter, who is out of frame, and says, "You are a sweetheart. I'm sorry that I'm arguing with your mommy. She's not being very nice."
Later on in the video, Lund says that she is sitting with Laliberte because Laliberte is preventing Lund's children from sleeping.
"Are you in one of the affordable units, or are you in one of the Harvard units?" Lund asks. Laliberte responds, "Mind your business."
Laliberte described the interaction on Facebook as "totally discriminating and racist of her.. or maybe it was because my daughter is biracial who knows."
"If she really did not want to be disturbed she would own a one family house instead of deciding on moving into a condominium with a bunch of neighbors," Laliberte added. "I've lived in this complex for 15 years. Not one other person complained about my daughter and I."
Who is Theresa Lund?
Theresa Lund is the executive director of the Harvard Humanitarian Initiative, a humanitarian crisis research center based at the Department of Global Health and Population within the Harvard T.H. Chan School of Public Health.
According to the HHI website, Lund has more than 15 years of experience in academic leadership and research positions "working to advance our understanding of complex global issues."
After the video gained attention, people across the internet called out what they saw as hypocrisy in Lund's actions.
"Obviously there's something wrong with her life. What a humanitarian," one person wrote on Twitter.
"You might want to reconsider the hiring of this dreadful woman," another said, directing their comment to the HHI Twitter account. "Are you aware that she harassed her neighbors? She is hardly a Harvard Humanitarian."
Lund has since apologized. In an emailed statement to the Globe, Lund said she was "terribly sorry" and that her behavior was "inappropriate and wrong."
"I want to be accountable for my actions in a situation where I fell far short of my values and what I expect of myself," Lund said, per the Globe. "This clearly wasn't my best moment, and I have work to do to more consistently be my best self."
Sidewalk Susie, Permit Patty, BBQ Becky…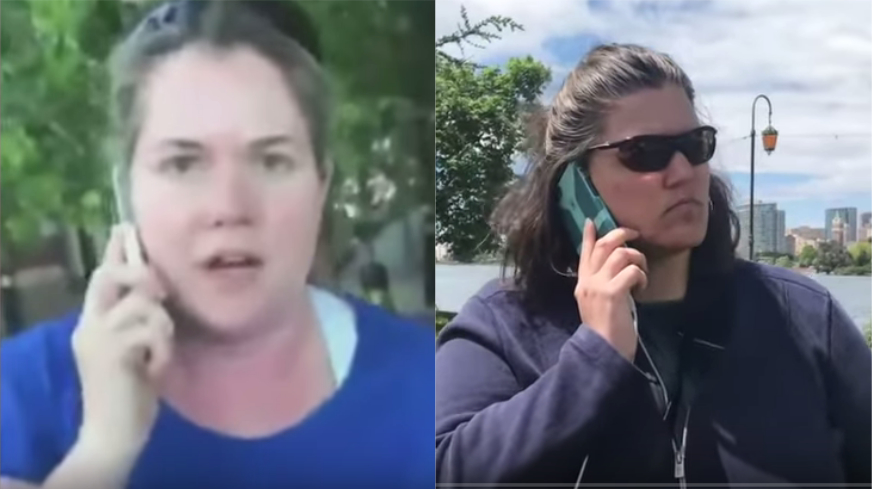 This video of is just one of a slew of videos that have surfaced and spread like wildfire on the internet in which white people are seen harassing black people for what some have dubbed simply "living while black."
Though Laliberte is not black, her daughter is biracial, which she noted in her Facebook post. Theresa Lund was quickly identified after many saw the video. 
Theresa Lund is now joining a growing list of people called out by the internet for their actions, and receiving a subsequent internet moniker, like Permit Patty or BBQ Becky.
Permit Patty refers to a white woman who was seen saying that she was calling the police on a black teenager selling water — without a permit, the woman claimed — on a sidewalk in San Francisco. It was later made public that the woman, Alison Ettel, had a cannabis company geared toward dogs, despite the fact that cannabis is not regulated or approved for use on animals. San Francisco-area dispensaries promised to no longer carry the line and Ettel resigned as CEO.
Early in July, a white man nicknamed by some as Pool Patrol Paul called police on a black woman he claimed did not have proper identification to use the community pool, though she had a keycard to get in the gate. That man, Adam Bloom, has since lost his job and his position on his local Homeowners Association board.
One of the most viral videos was of the woman dubbed BBQ Becky a.k.a. Jennifer Schulte, who was captured calling the police on a group of black people barbecuing at a park in Oakland. The men said that barbecuing in that area was allowed, while Schulte disagreed. The image of her on the phone decked out in her sunglasses quickly became a meme.