The wrath of hurricane season is upon us and after a few years of relative calm when it comes coastal storms, Mother Nature dealt two blows in the form of Hurricane Harvey and Hurricane Irma, reminding the East Coast exactly what she can do.
More than 100 people have died as a result of the two powerful hurricanes that also brought massive flooding, destruction and devastation in their wake.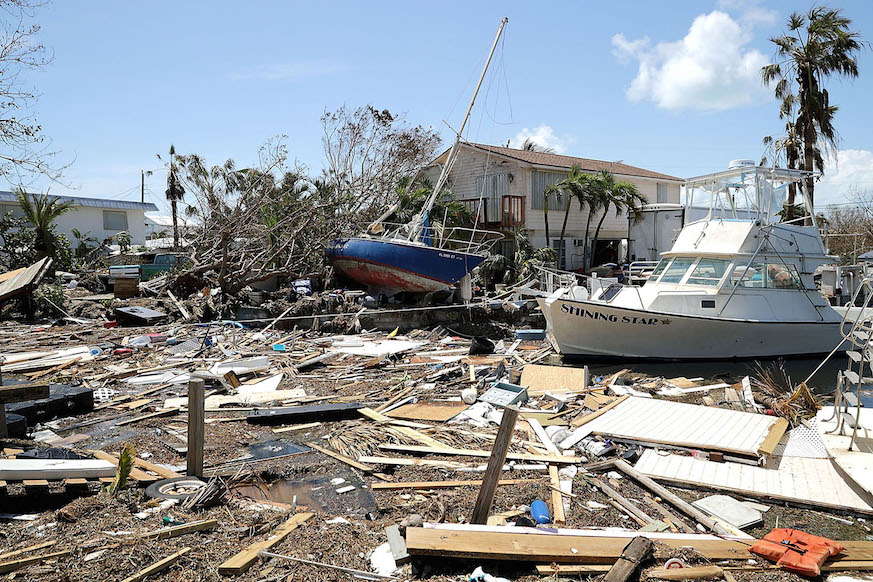 Hurricane Katrina, 2005
This massive Category 5 hurricane struck Florida and the central Gulf Coast, bringing with it a catastrophic storm surge that penetrated more than six miles inland and devastated coastal areas, especially in New Orleans, Louisiana.
More than 1,800 people lost their lives in Hurricane Katrina, more than 1,500 in New Orleans alone after the 80 percent of the city was flooded. It took more than six weeks to clear out New Orleans and at more than $200 billion in damage, it is remembered as the costliest storm in United States history.
Galveston Hurricane, 1900
The deadliest hurricane in U.S. history hit the upper coast of Texas with wind gusts topping 120 mph was the Galveston Hurricane of 1900.
The Category 4 hurricane brought storm surges higher than 20 feet and killed an estimated 8,000 to 12,000 people, mostly in the Galveston area. More than 3,000 homes were lost and the damage topped $30 million.
Miami Hurricane, 1926
This mid-September storm is remembered as another of the nation's costliest. A total 372 people died in the Miami Hurricane of 1926, but damages were estimated at $105 million, which would be about $100 billion in today's dollars.
Hurricane Andrew, 1992
This small Category 5 storm struck southeastern Florida at full force before moving on to pummel south-central Louisiana as a Category 3 storm. The intense winds from Hurricane Andrew damaged for destroyed about 127,000 homes and cost the region about $26.5 billion to clean up.
Hurricane Camille, 1969
Striking the Mississippi Gulf Coast in mid-August so hard, Hurricane Camille destroyed wind-measuring instruments, Hurricane Camille caused a storm surge so high it wouldn't be topped until Hurricane Katrina came along more than 30 years later. More than 140 people died in the storm.
Southeast Florida/Lake Okeechobee Hurricane, 1928
This gigantic Category 5 made landfall near West Palm Beach where its 145-mph winds decimated more than 1,700 area homes and flooded the area around Lake Okeechobee under 10 to 15 feet of water. At least 2,500 to 3,000 people drowned in the Lake Okeechobee Hurricane of 1928.
Labor Day Hurricane, 1935
This hurricane is remembered as having one of the most incredible transformations of any storm on record. Over the course of one day, the Labor Day Hurricane of 1935 transformed from a very small Category 1 storm over Andros Island in the Bahamas to a furious Category 5 when it hit the Florida Keys the next day, making landfall with winds in excess of 185 mph and a storm surge hitting 20 feet.
Four-hundred and eight people died.
Superstorm Sandy, 2012
This massive hurricane, characterized by its destructive storm surge damaged or destroyed more than 650,000 houses and killed 72 with is high winds and catastrophic flooding. The worst damage was concentrated in New York and New Jersey, though Sandy hit 24 states, including the entire eastern seaboard from Florida to Maine and spread west across the Appalachian Mountains toward Michigan.
Hurricane Sandy cut millions of from power and caused an estimated $65 billion in damage.
Hurricane of 1938
This unexpected Hurricane of 1938 struck the northeast on Sept. 15, 1938, with wind gusts in excess of 180 miles per hour. Much of the impact was concentrated around Long Island and southern New England, where storm surges completely engulfed Fire Island, destroyed more than 150 homes in Westhampton and killed 256 people. Damage exceeded $306 million.
Hurricane Charley, 2004
In 2004, Hurricane Charley became the strongest storm to strike the United States in more than a decade. Charley ripped through Florida, pummeling cities from Punta Gorda to Port Charlottes and fueling an EF1 tornado that spiraled through Daytona Beach. Hurricane Charley made landfall a second time in Myrtle Beach, South Carolina and tracked into southeast Virginia before mellowing out.
The storm caused an estimated $15 billion in damage and was directly responsible for 10 deaths.