Whether you prefer your elixir stirred with a wand or heated with a Bunsen burner, smokey like a cauldron or bubbling out of a beaker, we've rounded up a list of otherworldly establishments that will enchant and mystify you. Teleport, apparate, or fall down the rabbit hole into to these fantastical bars.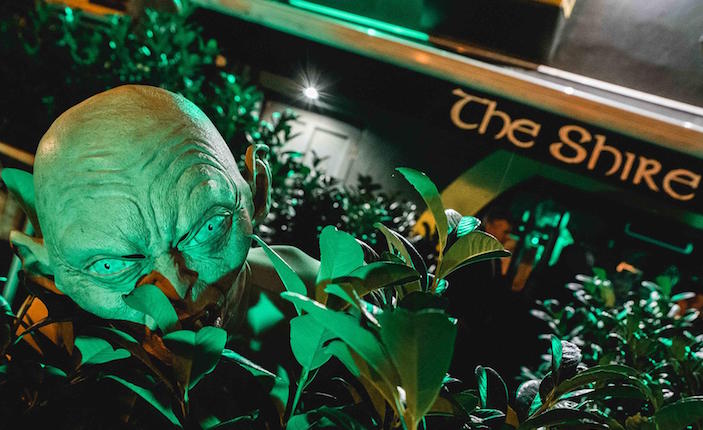 The Shire
Merriment abounds at this Hobbit-friendly establishment in Killarney, Ireland. Arrive at the Prancing Pony Inn, wander (if you dare) through Mordor, and end up at this Green Dragon-esque den, yet beware a roaming Smeagol as you down a pint of Bilbo's Beer or sip a Middle Earth Mojito.
Beetle House
Creep into an eccentric world of misfits (with locations in New York and Los Angeles) and rub elbows with Edward Scissorhands and Willy Wonka while downing a smoking Beetle Juice concoction.
The Croft Institute
Lab coats and goggles are advised at this Melbourne laneway bar, modeled after an old-school science lab. Yes, you can drink the stuff inside the beaker. For a further dose of high school nostalgia, visit the bar's other floors and settle into the bleachers surrounding the gymnasium, or dance to a DJ on the basketball court.
Scum and Villainy Cantina
Hop in your star-cruiser and head to Tatooine for a Rebel IPA or a Chosen One cocktail at Scum and Villainy Cantina in Hollywood. Just be sure to leave your Droids at the door.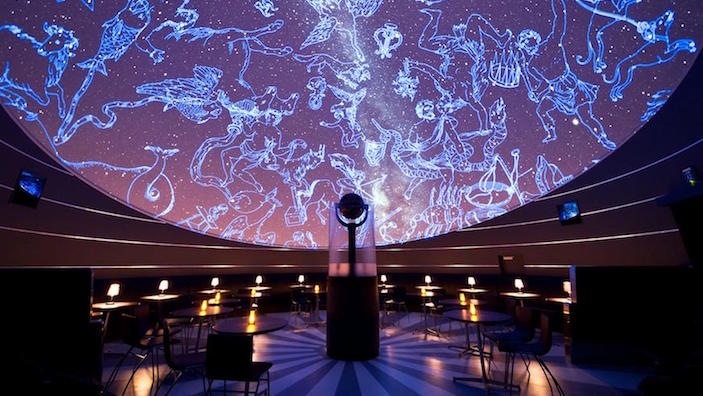 Planetarium Bar
See stars no matter how much you drink at Tokyo's dark and cozy Planetarium Bar. An emcee announces the names of constellations making your boozy cosmic journey a tad more educational.
The Lockhart
Choose from a wide selection of potions and elixirs at The Lockhart, with two locations in Montreal and Toronto. Conjure up a Patronus, or just get a little tipsy — Better Beer (served with a toasted marshmallow) or Gin Weasley cocktails will put a spell on you.
Unicorn & Narwhal
If the carnival of color doesn't overload your senses, enchant your taste buds at these two fantastical watering holes in Seattle, serving magical beverages like the Mystical Mermaid cocktail or a shot of Rainbow Brite.
The Magic Castle
Do you know the secret password? (Neither do we—please tell us if you find out.) This private magician's clubhouse in a Hollywood mansion is invite-only; if you can find your way in through the secret door, prepare to be amazed.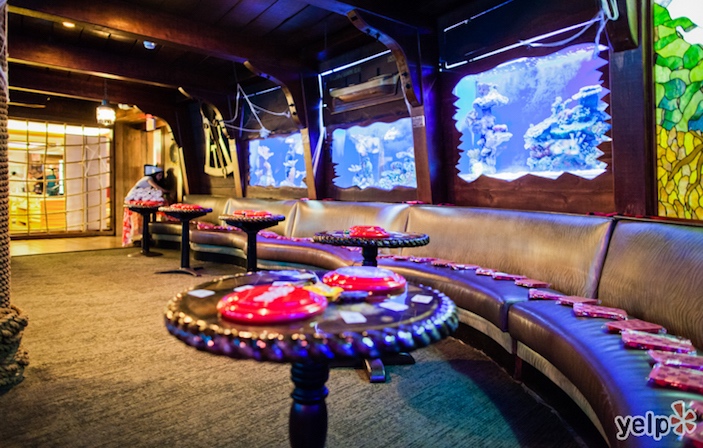 Wreck Bar
Go where the mer-people are and visit the home of Medusirena the fire-eating mermaid and her swimming sirens as you imbibe a tropical cocktail at this Fort Lauderdale getaway "under the sea."
Storm Crow Tavern
Cthulu presides over this house in Vancouver, British Columbia, where gamers roll the dice and release the Kraken on their opponents (also the name of a cocktail here).
Viscosity
Nerd alert: Australia's mixologists have gotten cocktails down to a science at this Queensland spot. Mesmerizing neon drinks (they call them "fantasy cocktails") like the Snowglobe Trotter and the Nuclear Fallout will have you wishing you'd taken notes during chemistry class. Does anyone need a lab partner?