Fewer millionaires may be calling New York home, but that doesn't mean the city is any less expensive. Still, there are areas that are more expensive than others, and unsurprisingly, most of those areas are in Manhattan.
In Manhattan, rents for studio and one-bedroom apartments increased an average of 1 percent month-over-month, according to the Citi Habitats August 2017 rental market report, while the cost of two-bedrooms rose "by a marginal amount."
The average monthly rental price in August for a studio in Manhattan was $2,363, according to the report, and $3,193 for a one-bedroom. Two-bedrooms averaged $4,069 and three-bedrooms $5,420.
That's across the board in Manhattan, but broken down, different areas of the borough see different rents. The most expensive Manhattan neighborhood for renters in August was SoHo/Tribeca, according to Citi Habitats, where the median rent of all apartments was $5,100, studios were $2,990 and one-bedrooms averaged $4,336.
The second costliest neighborhood went to Gramercy/Flatiron, which has a median rent of $4,500 overall, with studios going for $2,741 and one-bedrooms averaging $3,693.
Though it may be easy to classify all of New York as "the most expensive," cost is relative, and the cheapest Manhattan rents were found in Washington Heights, where the median rent was $2,200 in August. There, studios averaged $1,550 and one-bedrooms $1,815.
Just below 96th Street, the Lower East Side was the least expensive area, with a median overall rent of $3,200 and studios and one-bedrooms averaging $2,150 and $3,350 respectively.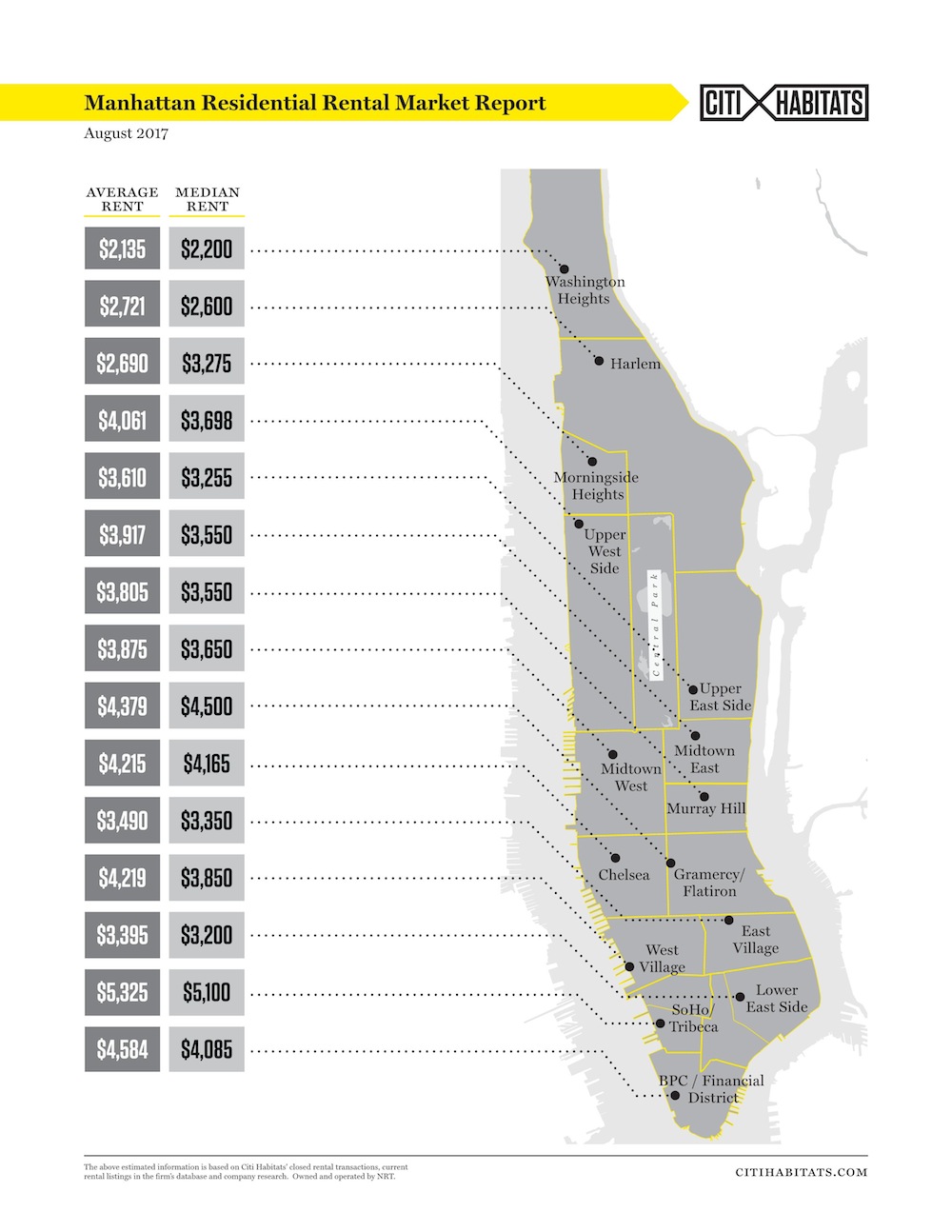 The Citi Habitats report looked at Brooklyn as well, where the cost of a studio rose 1 percent from July. However, the rent for one- and two-bedrooms fell 1 percent in August, the report found.
The most expensive area of Brooklyn was DUMBO, which had a median rent of $4,500 overall in August. DUMBO studios averaged $2,823 and one-bedrooms were at $4,094.
The least expensive place to rent in Brooklyn went to Bed-Stuy, where the median August rent was $2,500 overall. There, the average for studios was $1,885 and for one-bedrooms, $2,185. Bushwick followed close behind as the second cheapest area with a median rent of $2,625 overall, a $1,822 average for studios and a $2,170 average for one-bedrooms.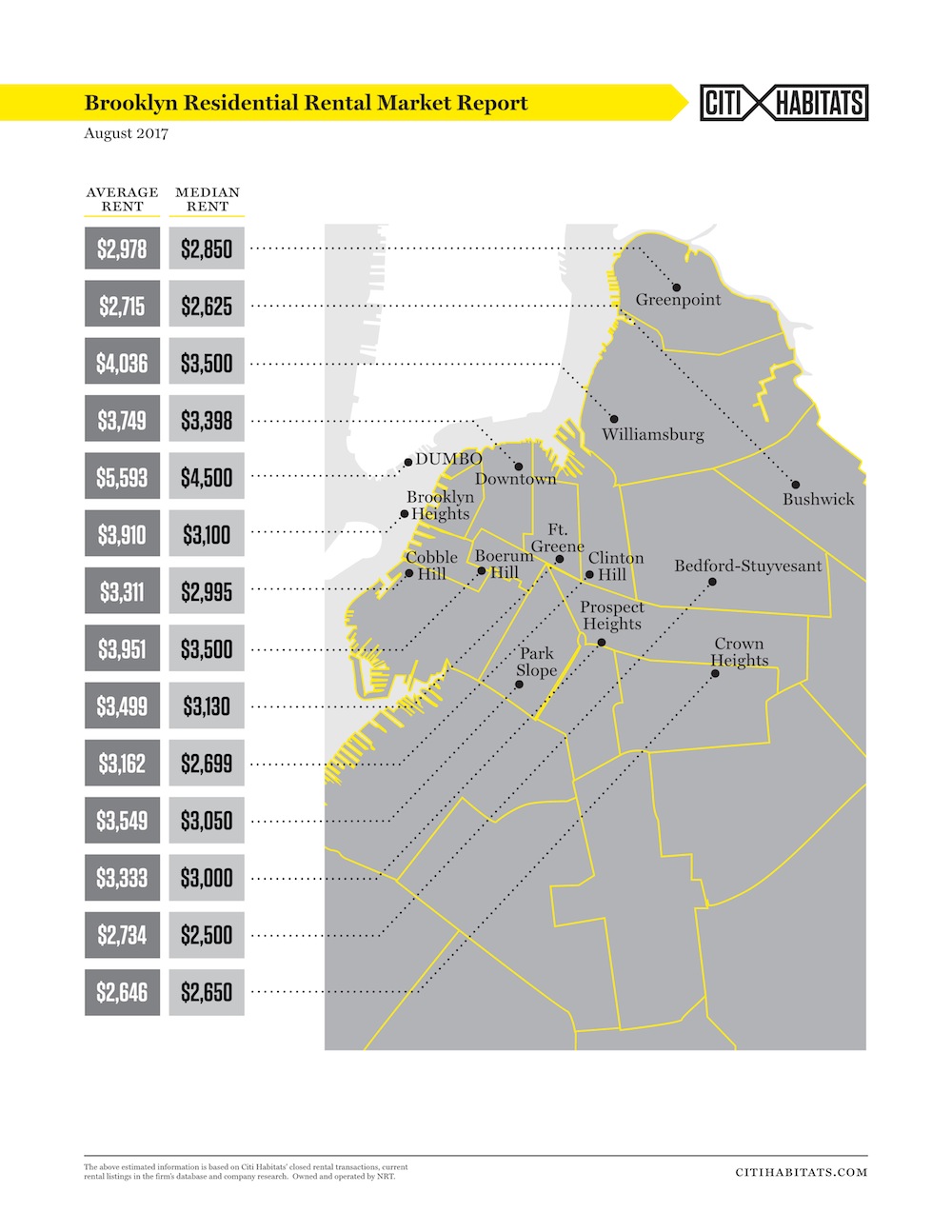 Overall, rents in Manhattan and Brooklyn remained stable, according to Citi Habitats. There was also a slight change in vacancy rates — in Manhattan, the vacancy rate fell to $1.78 percent from July's 1.84 percent. Still, Citi Habitats notes, the rate for August 2017 is higher than last year's, which was 1.73 percent.
Since the market is pretty competitive, Citi Habitats looked at landlord-paid concessions. More than 30 percent of the rental transactions brokered by Citi Habitats offered a free month's rent and/or no broker fee. That's compared to only 24 percent of such transactions in July.
In August 2016, only 19 percent of leases offered an incentive, according to the real estate site.
"August is traditionally the busiest month for rentals, and in a competitive market like this one, landlords were smart to ratchet up the use of incentives to drive traffic to their properties," said Gary Malin, president of Citi Habitats, in a statement. 
"Apartment seekers are increasingly flexible as to what neighborhoods they will live in — but in terms of the apartments themselves, more selective," he added. "With a lot of new product out there, they are savvy comparison shoppers.  Tenants are not willing to overpay for a prime location, and have come to expect a good deal."