FESTIVALS & GATHERINGS

Ardmore Annual Easter Egg Hunt
March 31, 10 a.m.
Shauffele Plaza
10 E. Lancaster Ave., Ardmore
ardmoreshops.com
Free

The Ardmore Business Association hosts this meet-and-greet event with the Easter Bunny at the plaza, followed by an Easter-egg hunt for the kids. A special reception is held after at Jack McShea's Pub.

Easter Promenade
April 1, 12:30 p.m.
South Street Headhouse District
southstreet.com
Pay as you go

The 87th annual Easter Promenade parades down South Street as thousands gather for live music from the Philadelphia Freedom Band, appearances from Easter bunnies and a costume contest for all ages—and even pets. Dozens of South Street eateries will be open for brunch before and after.

FOOD & DRINK

Fairmount Bunny Hop
March 29, 6 p.m.
Various locations
$10
A tradition now in its 20th year, the Fairmount community clusters together for a bunny bar hop—to Belgian Café, Bishops Collar, Jack's Firehouse and beyond. Stop at any of the locations to purchase a $10 set of bunny ears; part of proceeds are donated to various charities.

Hungry Pigeon Passover
March 30
743 S. Fourth St.
hungrypigeon.com
$45

Those craving a no-muss, no-fuss evening out of the kitchen can head to Hungry Pigeon on the first night of Passover. The meal includes smoked salmon, latkes, pickled egg salad, matzo ball soup, beef brisket, potato kugel and salad—with a flourless chocolate cake for after. Basically, all the essentials.

The Brewer's Plate
March 30, 7:30 p.m.
The Kimmel Center
300 S. Broad St.
brewersplate.com
$77

The 14th annual Brewer's Plate festival, a beer-and-food pairing event for "locavores," showcases beers from breweries like Victory and foods from Bru, Southgate and more. Held inside spacious Commonwealth Plaza.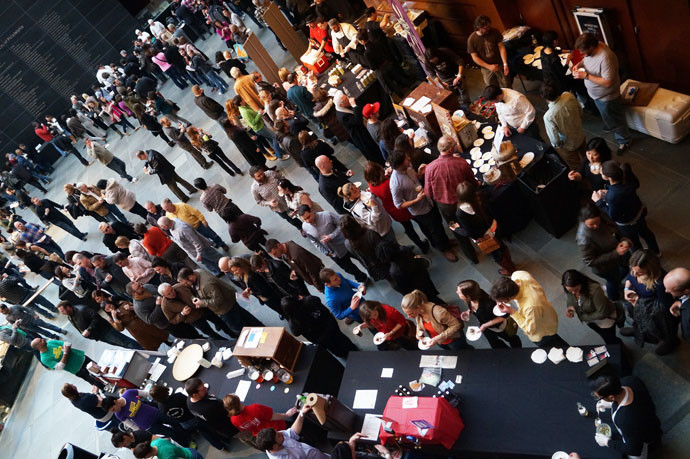 The Twisted Tail Easter Brunch
April 1, 10 a.m.
The Twisted Tail
509 S. Second St.
thetwistedtail.com
$48

The Southern-influenced restaurant, bar and music venue serves brunch buffet-style, with a station for carved porchetta and lamb, omelets and waffles—plus, pastries, smoked salmon, shrimp cocktail and other holiday delights. Kids eat for $25.

Russet Easter Brunch
April 1, 11 a.m.
Russet
1521 Spruce St.
russetphilly.com
Various prices

Hot cross buns are a starter for this indulgent and thoughtful two-course Easter brunch, consisting of first-course options like carrot sformato with double-smoked bacon, pea tendril pesto and pickled shallots, and, as one option for the second course, ham with red-eye gravy, heirloom bean ragout, rainbow chard and loc tran egg. First-course prices start at $10; second-course prices at $15. Alcohol is BYO.

MUSEUMS

Game Masters: The Exhibition
March 31
The Franklin Institute
222 N. 20th St.
fi.edu
$23

This spring/summer exhibition, up through Sept. 3, features a chronological history of video games' evolution as a media art—everything from Pac-Man to Donkey Kong, Sonic the Hedgehog to Mario, detailed through concept art and exclusive interviews. More than 100 video games will be playable, with indies—including Philly staples like Cipher Prime—getting lots of love as the exhibition goes on.

MUSIC

John Prine Tribute
March 31, 7 p.m.
World Café Live
3025 Walnut St.
worldcafelive.com
$10

This collection of folk performers celebrate the music of John Prine, an everyman singer-songwriter who blended folk and country to make two dozen albums since the 1970s—best known for his sharp social commentary in songwriting. Celebrating his music is Butch Zito, a regular in the Austin music scene, alongside his six-piece "Prine Time" band.

THEATER

School of Rock Masterclass
March 30, 4:30 p.m.
Music Theatre Philly
1201 Spruce St.
musictheatrephilly.com
$30

Broadway "School of Rock" Dance Captain Kara Haller leads a one-time-only master class, offering the chance to learn the dance moves from a member of the national tour. Attendees will also be able to ask questions during a Q&A session after.

ART

Moore College of Art & Design Student Show
Through April 14, 11 a.m.
20th Street and the Parkway
thegalleriesatmoore.org
Free

Moore College of Art & Design students show their best works in the galleries—a spring exhibition featuring first-years through third-years, animation works and fashion pieces. The exhibit, opening on Saturday, is open to the public.

LGBT

Thrive Art Exhibit
March 31, 5 p.m.
GALAEI
149 W. Susquehanna Ave.
galaei.org
Donation suggested

To recognize and celebrate Transgender Day of Visibility, an international day to raise awareness of challenges trans people still face, the Trans Equity Project hosts this art-focused exhibit that tackles themes of transmisogyny and an overarching "#TransThriving" theme that highlights achievements in the past year. Light refreshments will be served.

Queer Performances of Color
March 31, 8 p.m.
William Way Community Center
1315 Spruce St.
waygay.org
$10

An inclusive showcase of talent, focusing on queer persons of color, this collection of performance artists includes Dante Alexander, Jaeda and Selene Rose is hosted by Mae Rose and features a guest speech from Jezabelle von Jane. Show up anticipating lots of burlesque spectacle and dance magic.

COMEDY

Ali Siddiq
March 29, 8 p.m.
Punch Line Philly
33 E. Laurel St.
alisiddiq.com
$18.50

Texas-native Ali Siddiq is the winner of Comedy Central's "Up Next" competition and a world-traveling standup act. He's since appeared on HBO's "Def Comedy Jam" and recently debuted the Comedy Central special "It's Bigger Than These Bars," in which Siddiq visits Texas' Bell County Jail for a standup performance.

Greg Proops
March 30, 7:30 p.m.
Helium Comedy Club
2031 Sansom St.
Philadelphia-heliumcomedy.com
$22

Known for his never-know-what-you're-gonna-get live podcast "The Smartest Man in the World," recorded from all around the world, Greg Proops performs a standup set that is truly one-of-a-kind every time. By no coincidence, he's also known for his appearances on the improv staple "Whose Line is It Anyway?"