Like Willy Wonka's last golden ticket, or the only remaining member of an endangered species, the last Blockbuster video store a precious thing. It represents an era before films were easily streamed through computer screens and mobile devices — at any time, anywhere — when we had to take road trips to purchase our next movie venture.
Admittedly, I only remember visiting Blockbuster on a few occasions as a kid — and by the time I could drive, I didn't need to head over to any store to rent a movie. The latest and greatest was right at my fingertips.
There were about 9,000 existing Blockbuster stores in 2004. In 2011, Blockbuster became part of DISH to transition into the On Demand streaming sphere. And by 2013, the last corporate-owned stores shut down. Then, all but one of the privately owned locations closed their doors as of July 2018. Basically, the sole surviving Blockbuster is a big deal.
The last Blockbuster is located in Bend, Oregon. (Note: if you look on the Blockbuster site, you'll see a few stores listed under the locations tab but, aside from the Bend location, those are no longer running.)
Sandi Harding has worked at the last Blockbuster since 2004, telling NBC News, "The social interaction you get — face-to-face talking to people, not having your nose in your phones — I think that's what you find coming into a Blockbuster store."
Though Blockbuster may be a thing of the past, this lone location is holding on.
In honor of this last Blockbuster, 10 Barrel Brewing Company is creating a beer fittingly called "The Last Blockbuster."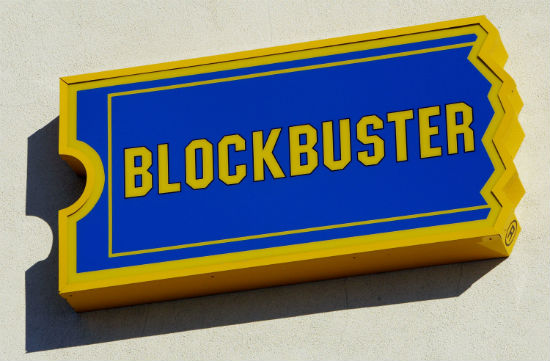 The beer honoring the last Blockbuster on Earth
This Blockbuster beer is a Sinistor Black Ale with nuances of red licorice, a 10 Barrel Brewing spokesperson tells Metro. It has a "light body, smooth finish and hints of nostalgia with a 5.7% ABV."
"The Last Blockbuster beer pairs perfectly with buttery theater popcorn and your favorite movie-sized chocolate…" Chris Cox, cofounder of 10 Barrel Brewing, explained to Business Insider.
Cox, who opened 10 Barrel Brewing in Bend with brother Jeremy Cox and Garrett Wales, further tells us, "We're stoked to share the home of the last-standing Blockbuster."
The Last Blockbuster will debut on September 21 at a block party in Bend.
"Join 10 Barrel and Blockbuster on Friday, September 21st to celebrate the last still-standing Blockbuster store in America, where an exclusive, limited-time-only beer – The Last Blockbuster – will be officially released," the Facebook event states. "Come to the block party to taste the new beer, grab a bite to eat, and watch some hits on the big screen – with beer in hand, of course."
The Last Blockbuster will be served for a limited time in all six 10 Barrel pub locations (three in Oregon and one in San Diego, Denver and Boise, Idaho). The beer will not be available online as of now.
"Blockbuster is a cultural icon and we couldn't be more excited to celebrate over three decades of movie fandom with them," Cox says.
Though this beer is only around until supplies last, the Bend Blockbuster — the last of an era — isn't going anywhere.