After any sort of disaster, communication is key. Emergency management officials need to reach federal or local agencies to start disaster recovery efforts and learn what areas need what services right away. And, of course, people want to call and check in on family and friends.
But the nature of a disaster often dismantles the methods of communication. After Hurricane Maria made landfall on Puerto Rico in September, the majority of the island's power and telecommunications systems were destroyed, hampering disaster recovery. 
With more than 91 percent of cell towers and most of the 2,400 miles of electricity transmission lines downed by the storm, Puerto Rico was practically cut off from the rest of the world.
But one innovation prevented Puerto Rico from being completely cut off: an inflatable satellite antenna that can fit inside a backpack, so it can be set up anywhere without large, expensive equipment or the need for roadways to be cleared first.
One such antenna was recently set up inside the New York Stock Exchange. Nearly four feet tall when fully inflated, the device takes just 20 minutes to set up once removed from the backpack and weighs less than 50 pounds.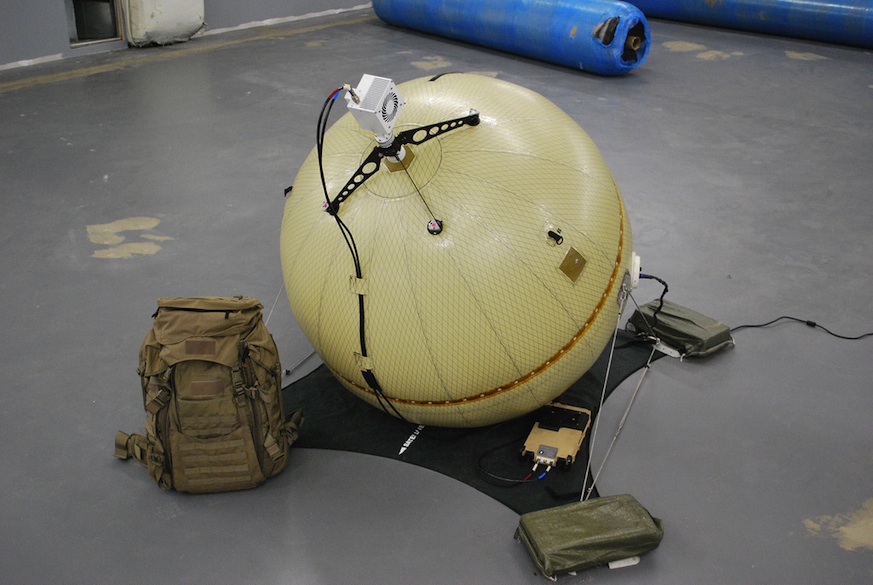 This innovation, comes from Cubic, a corporation with subsidiaries in the global defense and transportation markets — the latter arm of the company is behind the MTA's forthcoming app and subway payment updates. Specifically, this antenna is from it's GATR Technologies division.
"Radar antennas have been used in the military for quite some while now and we're looking at things like what happened last year, where you had disasters both in Houston and down in Florida and again in Puerto Rico, and how we could get all those centers to communicate together so that relief operations will be more efficient," said Paul Garzon from GATR.
The GATR antenna was able to maintain cell phone signals and Wi-Fi hotspots for people in Puerto Rico. Since that storm, GATR has been working on even more developments to the system to speed up disaster recovery, like "unified video" software and tools to clarify those video images in the case of cloud cover or rain, so you can really see what's happening in the field.
"So imagine in a situation, we've got drones going up there and those drones are delivering video to your staff," Garzon said. "You can see where the flooding is, you can see what roads are impassable and then you can share this with folks perhaps in Texas or in Washington DC with FEMA operations centers."
This isn't reserved for hurricane recovery, either, or limited to aid an island like Puerto Rico.
"It can work anywhere," Garzon said, and in a world where more intense storms might come more frequently — in New York City alone, experts predict the future will bring "Sandy-like storms" every 20 years, despite the 2012 disaster initially being dubbed a "once-in-a-lifetime" event — it might have to.