If tuning into the news lately makes you want to bite Donald Trump's head off, there's finally a solution.
Sure, we could tell you to ring your rep or start a letter writing campaign, but IT'SUGAR has a sweeter idea: literally bite Donald Trump's head off! (After all, venting your anger on social media will only get you banned from the Trump Twitter account.)
The shops, which are literal candy lands, are now stocked with 3D-printed Donald Trump gummies. And before you think a gummy is a poor substitute for "chewing out" a real person, you should know that IT'SUGAR went above and beyond conjure the Commander in Chief in candy form. The gummies are orange, feature Trump's signature comb-over and preternaturally puckered lips and come with a warning stamped on the package: "may leave a bad taste in your mouth."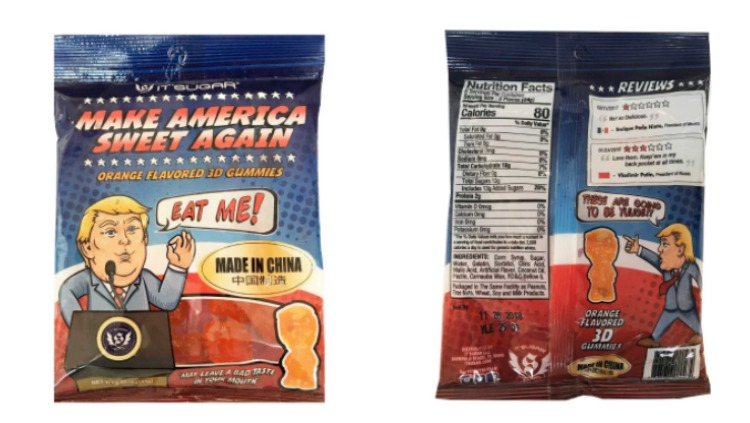 This sweet solution to both stress eating and anger management also comes with reviews — in case you weren't sold on the "fittingly big-headed, small-handed and oddly orange" edibles. "Love them," writes Vladimir Putin in fake feedback on the back of the package, "Keep 'em in my back pocket at all times." A final tongue-in-cheek label declares that the gummies are made in China, even though they'll "make America sweet again."
So whether you need a little pick-me-up because of dread over the threat of nuclear war with North Korea, fear over the effects of climate change, or disdain for The Donald's "eat me" attitude, you can tuck into a dish of the Don and trust that it'll be sweeter than any press conference he's ever given. A three-pack of bags will only set you back $12.99 at IT'SUGAR locations.
Just think, maybe a handful of sugar will help the presidency go down. Can't hurt to try.