For the serious Champagne fans, there's a new pop-up bar that's as passionate about bubbly as you.
On select nights this April and May, The Gallery on the 65th floor of Rockefeller Center will be transformed into a fizzy wonderland called Bubble Bar, dedicated to Champagne and cocktails made with Champagne and food made with Champagne — just assume any Champagne-related dream can come true here.
Because bubbly is best enjoyed with a little sparkle, the bar is hung with gold lanterns and floating candles, with arrangements of jasmine and orchids by Elias Panago of Floralies Events, all with panoramic south-facing views of Midtown starring the Empire State Building. Spring can take its sweet time out there — the vibe in here is always in bloom.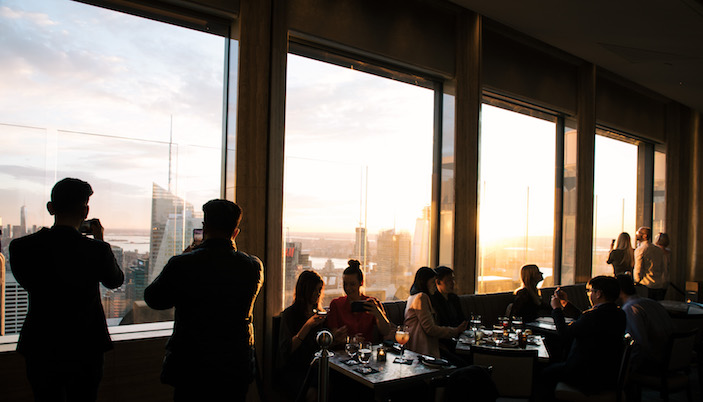 This isn't just a casual themed bar, either. Bubble Bar aims to "revolutionize the way we think about the celebratory drink." Because let's be honest — when you're partying, you're probably not too concerned with what's in your glass as long as it's topped off. From being confined to celebrations and mixed with fruit juices on bottomless brunch menus, champagne is due for a chance to really shine.  
You'll be in some experienced hands for this adventure. The Gallery is part of the iconic Rainbow Room, long a hotspot for the glitziest celebrations with over 10 million glasses of Champagne poured since 1934, so they know what they're doing.
The 15 varieties of Champagnes are priced by the glass, from a $19 Michel Genet Blanc de Blanc to $110 for Moët et Chandon. There's also a cocktail menu of six bubbly-infused drinks like Let's Get Fizzical (Tequila Corralejo Reposado, Gardet Brut Rosé NV, crème de violette, lime, jalapeño, rosemary) and The Gatsby Garden (Allaire Vodka, Lillet Blanc, Carpano Bianco, Nicolas Feuillatte Brut Réserve NV, cucumber, orange bitters).
And because Champagne is, according to the experts, the ideal drink for pairing with food, a full menu of savory items including lobster Cobb salad and triple-cooked fries with Champagne bearnaise sauce. For dessert, there's an array of Tipsy Treats: the Rainbow Float, a wonder we can only guess at called the Champagne Dessert Garden, and a roasted banana soufflé with Champagne sorbet. We weren't kidding about those Champagne dreams.
Bubble Bar is open April 17, 23, 24 and 30, and May 11, 18 and 25. Doors open at 5 p.m.; make a reservation online or by calling 212-632-5000.