We're expecting the highest voter turnout in almost 50 years next Tuesday. However, in the 2016 election, a reported 15 million registered voters didn't make it to the polls due to lack of transportation.
Despite the fact that dislike of candidates or campaign points was the most common reason voters didn't head to the polls, according to Pew Research, getting a ride to polling stations has proven to be a barrier for American who don't have access to public transportation or simply can't afford it.
In the same Pew Research study, three percent of registered voters who didn't vote said "transportation problems" were to blame. And, 29 percent of registered youth voters surveyed by SPAE cited this issue as one of the reasons they didn't vote in the 2016 election.
To address the voter turnout problem caused by a lack of transportation options, Lyft will offer 50 percent off rides to polling locations on November 6. It's part of Lyft's Ride to Vote campaign, which you can read more about on Metro.
The company has installed a mural in NYC made of unused ballots, to remind residents to vote and to promote their solution.
"Fifteen million people cited transportation issues as the reason they did not vote in the last election. We wanted to visually convey the weight of that statistic while spreading the word that we want to make it easier for people to get to the polls this year," Lyft VP, Creative Director Jesse McMillin tells Metro.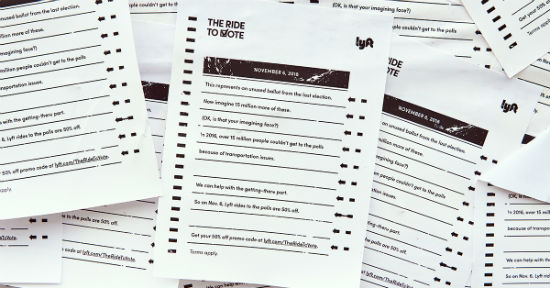 "The concept was conceived entirely by our in-house creative team, and all design and copy were done in-house as well," he explains. "This is the first election mural we have produced. Understanding the role transportation has played in people being able to vote drove our team to think of creative ways to ensure that more people could get to polls this year."
Production of this voter turnout piece was done by The Participation Agency, and artist Sam Norval was commissioned for its creation.
Find the Lyft mural advocating for better voter turnout
This Lyft mural is now on the Lower East Side at the corner of Chrystie and Rivington St. It's the only election-focused mural by Lyft across the country and will remain intact until Wednesday, November 7.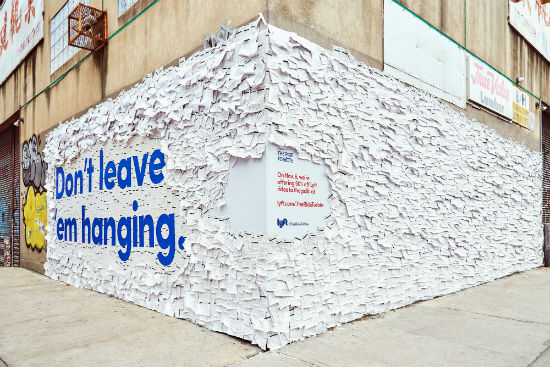 On the mural, reads "Don't leave 'em hanging," and a message on one wall reminds voters of the discounted rides Lyft is offering on Election Day. 
"We were inspired by the visual history of political signage and loved the idea of putting paint, or in this case ballots, to the wall," McMillin says, "and New York felt like the right place to display this piece." 
One LES resident says she thinks the mural is a great idea. "We have a lot of messaging all around about voting and how important it is [so] it's refreshing to see something different. Seeing the actual ballots makes it personal, like every ballot was meant for a different person that never showed."
"I think for people on the fence about voting, which I definitely am not, it could remind them that they can get cheaper transportation and make a concrete difference," she continues.
Come November 6, "we want to help people in New York City and across the nation exercise their right to vote," McMillin concludes, adding that Lyft is excited to help make voters' voices heard.