GIFs are more than dancing bananas and internet punchlines.
To celebrate their 30th anniversary — yes! it's really been around for that long — Giphy, the web's largest directory of GIFs, wants to make you a believer that GIFs are fine art. So they're lunching a pop-up exhibit called "Time_Frame" to celebrate the invention of the format on June 15, 1987.
"We wanted to take the GIF out of the computer and put it in a real space and allow people start thinking of it in a new light," says Jess Gilliam, creative director at Giphy.
Taking place June 17-22 at Gallery 151, the free week-long art show will feature the work of 30 artists; for some, it's even their first-ever commission, while others have been creating GIFs since 1996.
To bring the looping images into the real world, Giphy is using techniques like projections and virtual reality, physical installations and lenticular prints ("it's basically a print that has multiple frames within it, and as you shift your physical position, you see an animation within the print," explains Ari Spool, community curator at Giphy.) Many of the artists will take part in panels being held throughout the exhibition.
"What we've done here is curate 30 artists from the past, present and what we consider to be the future of the GIF," Spool explains. "These artists are doing all sorts of different types of work," from hand-drawn to 3D animation, as well as programmers who create software to build their images like Kevin Burg and Jamie Beck's cinemagraphs, in which only a small part of an image is animated.
"People are going to see a lot of beautiful images that people might not necessarily recognize as being what we've traditionally referred to as a GIF," adds Gilliam. "But they will immediately recognize them as pieces of artwork and being challenging and beautiful in the way that you would recognize artwork at any other art gallery."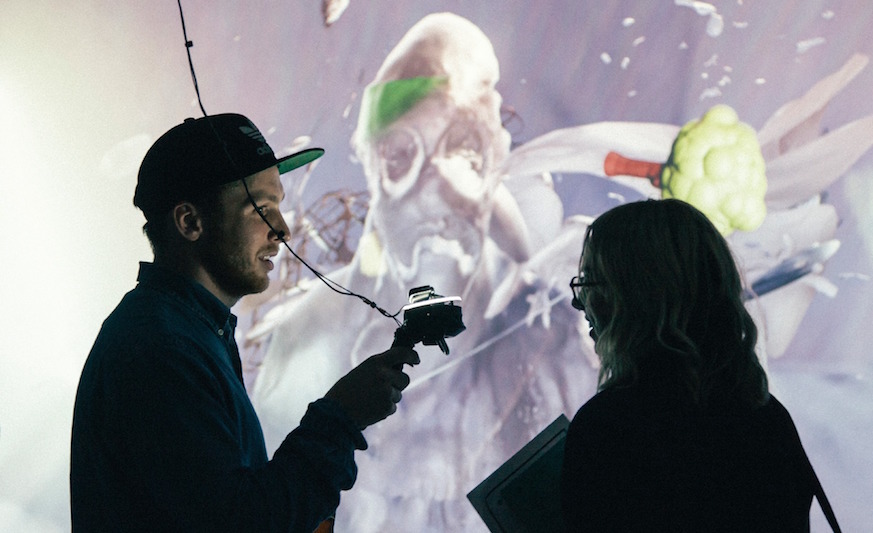 Since this is a birthday celebration, "Time_Frame" will also include an interactive timeline of the GIF's history — and let's just say the phrase "you've come a long way, baby" has rarely been more accurate.
Short for graphic interchange format, GIFs were the first method of compression that allowed images to be embedded into webpages. It actually started as the opposite of art as the original internet cookie, a single transparent pixel that tracked visitor numbers.
It wasn't until two years later that animation and the signature loop became possible, and it took another five years after that in 1994 before the first web browser came along that could support it (RIP, Netscape).
A patent dispute in 1999 put the format in limbo until 2007, when GIFs came roaring back as the official language of the meme machine that is Tumblr, and aren't likely to disappear again.
If you can't make it to the exhibit, Giphy has also launched historyofthegif.com, an interactive timeline with artist interviews and tons of links to OG GIFs.
"People now communicate using pictures, because words have always been imperfect and images are a little bit better, right?" says Spool. "What was an expression format is now a communication format."
As for what makes a successful GIF? "It all comes back down to the loop, that's the magical quality about the GIF," says Gilliam. "It takes on new meaning the more that you watch it."