Velvet Buzzsaw is arguably Netflix's craziest and most outrageous film yet. 
Set in Miami, it revolves around several members of the art world at first being entranced by the paintings of a recently deceased artist.
Even though he never wanted his deeply intimate work to ever be made public or sold, those that have stumbled upon the pieces start to try and promote them.That's when the paintings start to murder them in increasingly grisly and gruesome ways. 
Toni Collette is part of Velvet Buzzsaw's incredible ensemble, which also includes Jake Gyllenhaal, Rene Russo, Zawe Ashton, Tom Sturridge, Natalia Dyer, David Diggs, Billy Magnussen, and John Malkovich, and she recently emailed her thoughts on starring in Dan Gilroy's satirical thriller.
Toni Collette on Velvet Buzzsaw
What was your initial response to the script?
It was unusual, smart, funny, dark. But never didactic in its tone. I can't wait to see it because it could have gone many different ways. The script was beautifully ambiguous in its tone so it was fun to play scenes in several different ways. I think audiences appreciate levity in horror. Everyone gets a chance to come up for air. 
What did Dan Gilroy say he wanted to achieve with the film?
He was always very clear about keeping, even seemingly heightened moments, very grounded and realistic. Given some of the characters and the world it is set in, it was clarifying to hear him say that. 
How would you describe your character?
Gretchen is hard working and idealistic about art but she'd crawl over you to get what she wants. She's incredibly ambitious, has no responsibilities beyond her career and is rather pretentious. 
Is she unsympathetic? 
Everyone has vulnerabilities in life. There is always a balance of positive and negative qualities. Gretchen is kind of a nightmare and she was particularly fun to play. But I think she's ultimately lonely. That was always sobering and lingering in the back of my mind. 
What specific part of the art/creative world do you feel like Velvet Buzzsaw is satirizing?
A perceived sense of power. What art is worth. How an artist becomes desirable and collectible. Creative expression versus appreciation. 
WARNING: MAJOR SPOILERS for Velvet Buzzsaw are below this picture.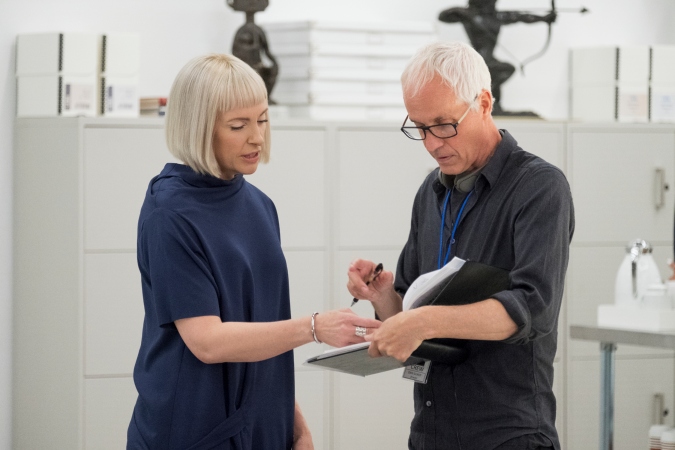 What was the most exciting element of shooting your death scene?
I think perhaps just the escalation of it. 
How did you get into that head space?
It's extreme! So it was just a matter of jumping in, really. 
You can read writer and director Dan Gilroy's comments on Velvet Buzzsaw here.
Velvet Buzzsaw is available on Netflix now.