General Mills is bringing back the version of Trix cereal that turned eating breakfast — the most important meal of the day — into something we wanted to do. Fruity shapes are making their highly anticipated return thanks to the thousands of Trix eaters who wrote in. 
Trix cereal launched in 1954 as pastel-colored, ball-shaped corn puffs.
See an early Trix commercial below:
Trix fruity shapes, flavored and colored artificially, debuted in 1991. These shapes lasted until 2006, according to a General Mills news release, when the cereal returned to its original round form introduced over half a century ago.
Then, in 2015, the company announced it would eliminate artificial flavors and colors from its cereals. Due to limitations on natural food coloring, General Mills had to remove blue and green puffs from Trix, which left red, yellow, orange and purple.
"Trix is known for color, so this hit Trix pretty hard," Kate Gallagher, a General Mills cereal developer, said at the time.
After two years without the vibrant Trix cereal, the company brought back colorful hues in 2017.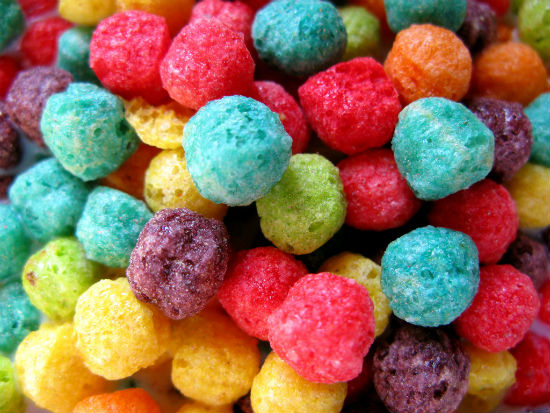 Consumers, though, wanted more.
Many consumers have asked for those to come back as well. Stay tuned.

— General Mills (@GeneralMills) September 25, 2017
General Mills says it received over 20,000 requests to resurrect Trix fruity shapes in the past 18 months alone. Now, they're listening.
"After bringing back the bright colors our fans have not stopped telling us what they want next," Scott Baldwin, director of marketing for General Mills Cereal, said in a company blog post.
"We have heard from an overwhelming number of Trix fans who have been calling, emailing and reaching out on social media telling us that they want fruity shapes back," he continued. "Kids of the 90s can rejoice, their fruity shapes are back in Trix."
Trix cereal: Trix fruity shapes return
Trix fruity shapes for the six flavors — Raspberry red, Lemony Lemon, Orangey orange, Wildberry blue, Grapity purple and watermelon — are reportedly here to stay, and a General Mills spokesperson confirmed to Metro that they're a "permanent product."
"Trix is fortified with 12 vitamins and minerals and made from whole grain," the spokesperson tells us when asked about what artificial flavoring does to the nutritional value of the cereal. "It's also a good source of calcium."
The natural version will remain on shelves, as it did when Trix brought back the bright puffs last year.   
"I've always loved the shapes a million times better," one Instagram user commented on the company's post about the Trix cereal news. "I want my kids to love them too!!!"
One user simply — and accurately — commented, "CHILDHOOD."
According to Food & Wine, the Trix cereal, fruity shapes and all, hits major U.S. retailers this month. It will be available in three box sizes ranging in cost from $3.52 to $4.59, as well as one larger 35-ounce bag for $5.98. This too was confirmed by the General Mills spokesperson.
"Trix cereal is beloved by our fans, and we heard loud and clear that they wanted to see the iconic shapes back in their bowls," Baldwin said in a news release. "When Trix launched in 1954, it was the first fruit-flavored cereal that was colorful and fun. We're excited to continue that legacy, bringing an extra dose of joy to breakfast."