Poor Tiffany Trump.
President Trump's is-she-or-isn't-she-estranged daughter turned 24 on Friday, and her father, stepmother and half-siblings didn't wish her a happy birthday on social media.
Newsweek notes that the president has tweeted birthday messages to other family members, and even government agencies, since his term began. He has sent birthday wishes to Ivanka, Melania and Donald Trump Jr. — and the U.S Coast Guard, Navy, Air Force and Army.
Tiffany, Trump's second-youngest child whose mother is Marla Maples, has been subject to other indignities since her father took office, ranging from a missing comma to reports of dirty dealings surrounding her inheritance.
In January, he tweeted "At 9:00 P.M. @CNN, of all places, is doing a Special Report on my daughter, Ivanka. Considering it is CNN, can't imagine it will be great!" The comma placement suggested Ivanka was his only daughter.
Last month, tapes that surfaced from "The Howard Stern Show" on which Donald Trump suggested that Ivanka and Donald Jr. were trying to "bump" Tiffany out of her share of the Trump estate.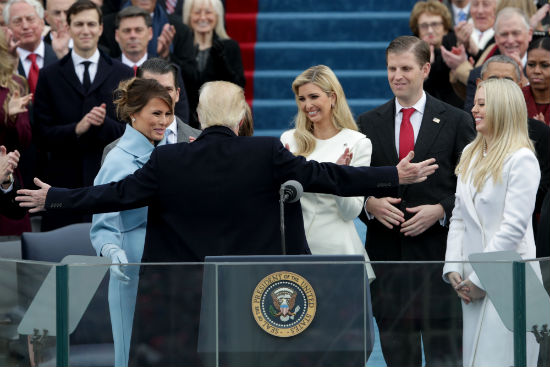 On Election Day, Trump told Fox News that he was proud of Tiffany to a "lesser extent" than his other children. "I'm very proud, because Don and Eric and Ivanka and — you know, to a lesser extent 'cause she just got out of school, out of college — but, uh, Tiffany, who has also been so terrific. They work so hard," he said.
Aside from exercising a new discretion about personal matters, over the weekend the president used Twitter to brag that health-care stocks had fallen since his executive order terminating key Obamacare subsidies.
"Health Insurance stocks, which have gone through the roof during the ObamaCare years, plunged yesterday after I ended their Dems windfall!" the president tweeted.
Trump also hailed his order to allow insurers to sell lower-cost, sparser-coverage plans. "Very proud of my Executive Order which will allow greatly expanded access and far lower costs for HealthCare. Millions of people benefit!" he tweeted.
The Congressional Budget Office estimated last week that ending the subsidies would lead to 1 million more people becoming uninsured and would add $194 billion to the federal deficit over 10 years.