Early this morning, President Trump left White House grounds to fly to Dallas where he'll be attending the NRA's annual conference. This is the fourth consecutive year he's speaking at the event. There's good news for people who want to tune in: you can live stream Trump's NRA convention speech today around 1:45 ET p.m., 12:45 p.m. local time.
Going to Dallas (the GREAT State of Texas) today. Leaving soon!

— Donald J. Trump (@realDonaldTrump) May 4, 2018
Following the February Parkland shooting, Trump clashed with the NRA. He scolded Republican Sen. Pat Toomey (PA), who was working on a bill to strengthen background checks but left out a proposal to raise the gun purchase age to 21, for being "afraid of the NRA." Trump boasted that the NRA had less control over him. 
"When he does tough talk like, 'I'm not afraid of the NRA' … it says more about his persona, his image and his core supporters love that," said Robert Denton, head of the department of communication at Virginia Tech, according to NPR.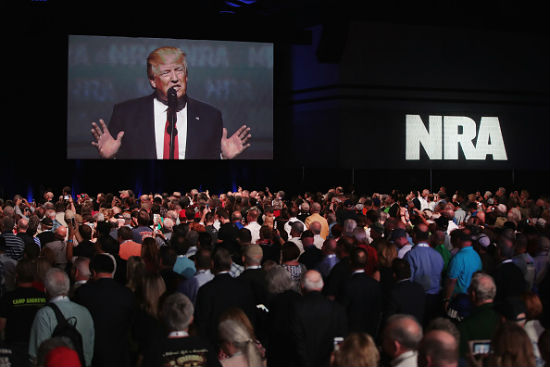 Parkland survivor and activist David Hogg called the president out for going through with the NRA convention speech: "It's kind of hypocritical of him to go there after saying so many politicians bow to the NRA and are owned by them."
Sarah Huckabee Sanders said this week that Trump felt it was necessary to attend because safety is a "big priority," reported The Associated Press.
"We also support the Second Amendment, and strongly support it, and don't see there to be a problem with speaking at the National Rifle Association's meeting," Sanders added.
Trump's NRA convention speech: how to live stream
If you aren't near a TV to watch Trump's NRA convention speech on a major network, you can live stream his highly anticipated remarks on YouTube. Or, simply click on the YouTube video we've provided below.
Like last year's NRA convention in Atlanta, gun are banned while Trump speaks — as they are when Mike Pence makes remarks. The NRA noted that the arena is "under the jurisdiction of the U.S. Secret Service" and included a full list of prohibited items on its website.
Again, Trump's NRA convention speech is slated to begin around 1:45 p.m. ET (some local sources have reported that he'll begin at 2:00 p.m. ET, but just to be safe, we recommend tuning in at 1:45). Pence will speak at 1:30 p.m. ET. Get those eyes and ears ready.