Finally, we can answer the question that has been burning in the collective minds of the American people: Yes. That Ben Affleck tattoo — you know, the one on his back? With the phoenix rising from the ashes? — is the real thing.
The Justice League actor brazenly bared his dad bod, including said tattoo that he previously claimed wasn't real, while training alongside his Triple Frontier co stars, hotties Charlie Hunnam, Garrett Hedlund and Oscar Isaac. They were working out on the beach, looking great, Baywatch style, baring their bodies for our gleeful objectification. Sounds chill.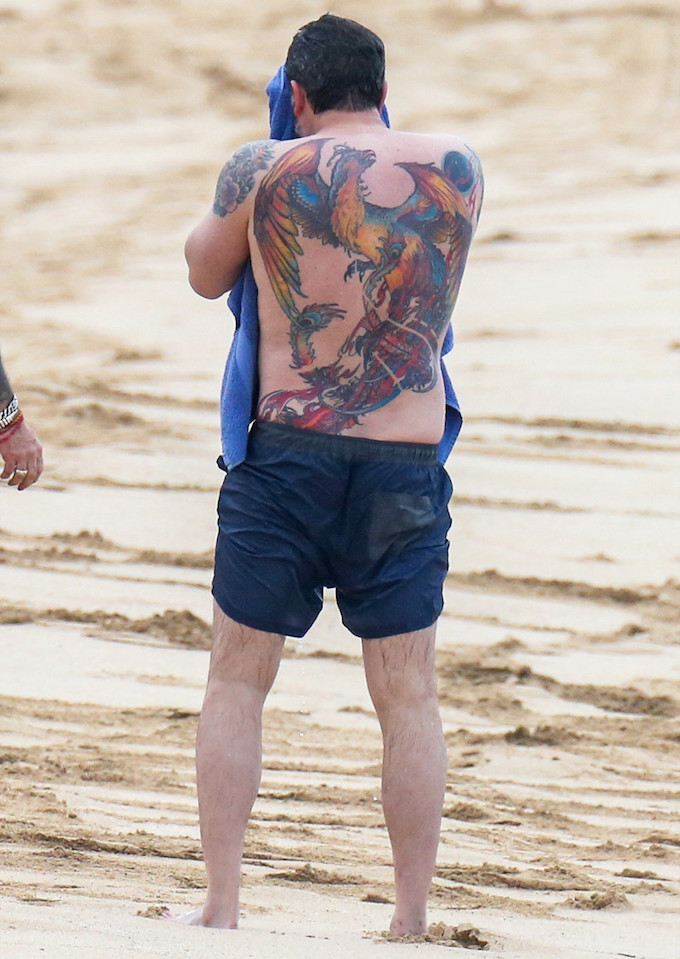 Us Weekly / TID / BACKGRID
The somewhat atrocious tattoo — which just screams midlife crisis, if we're honest — made its first appearance in December 2015, when Affleck was on the set of Live by Night. He reportedly got the tattoo to symbolize rebirth after Jennifer Garner filed for divorce after 10 years of marriage.
Although a source told Us Weekly that Affleck had gotten the tattoo in the comfort of his home, the 45-year-old denied it was permanent, explaining that it was for a movie. "I actually do have a number of tattoos … but I try to have them in places where you don't have to do a lot of cover up," he told Extra TV's Mario Lopez. "They get sort of addictive, tattoos, after awhile." Not sure why he had to lie, but OK!
Ultimately, though, Garner had the best take on it, telling Vanity Fair in February 2016, "You know what we would say in my hometown about that? 'Bless his heart.' A phoenix rising from the ashes. Am I the ashes in this scenario? I take umbrage. I refuse to be the ashes." Yas, queen.
There's no telling what on-the-nose tattoo Affleck will opt for next, but here's hoping it's less of a massive, misguided and frankly hideous statement piece. We all make mistakes, my dude!