While promoting her upcoming Netflix series The Umbrella Academy on The Late Show with Stephen Colbert, actress Ellen Page took on Vice President Mike Pence.
Page, who came out as gay in 2014, married dancer and choreographer Emma Portner back in January of 2018. So while she was especially fired up about climate change and its more immediate effects on the marginalized peoples of her native Canada, she was also angry about the racist, homophobic attack against Empire actor Jussie Smollett.
Ellen Page delivers a fiery speech on Colbert
"He has hurt LGBTQ people so badly as the governor of Indiana," she said of Pence. "I think the thing we need to know […] in terms of connecting the dots, in terms of what happened the other day to [Jussie Smollett]. Connect the dots. This is what happens. If you are in a position of power and you hate people, and you want to cause suffering to them… You go through the trouble, you spend your career trying to cause suffering. What do you think is going to happen?"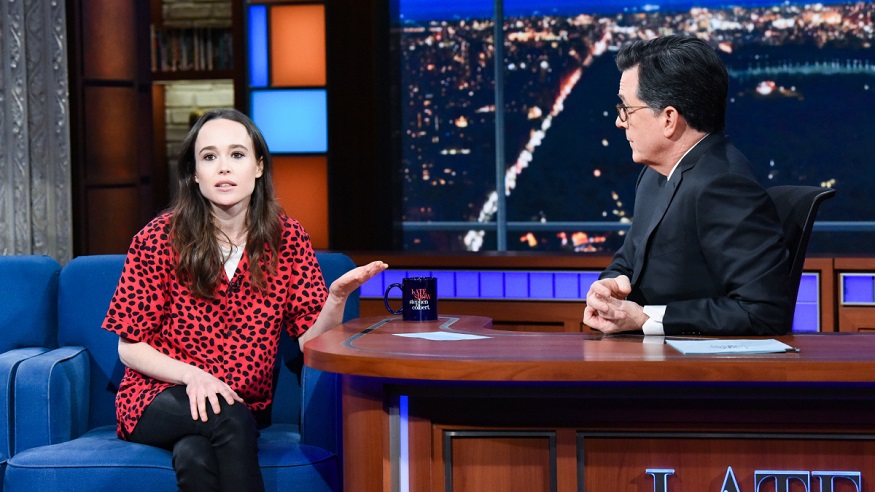 As Colbert and The Late Show studio audience listened on in complete silence, Page continued.
"Kids are going to be abused and they're going to kill themselves," she said. "People are going to be beaten on the street. I have traveled the world and I have met the most marginalized people you can meet. I am lucky to have this time and this privilege to say this. This needs to f*cking stop."
Page became very emotional by the end, but both her words and her pose were enough to stir a rousing cheer from the audience and many agreeable nods from Colbert. The moment also generated plenty of reactions on social media, where Page was commended for speaking out and Colbert was applauded for giving her the space to do so.
Twitter reactions to Ellen Page's comments
I felt this https://t.co/2ijljD1gH7

— Janelle Monáe, Cindi (@JanelleMonae) February 1, 2019
Ellen Page is my fucking hero. https://t.co/e3NtFguaE9

— Anthony Oliveira (@meakoopa) February 1, 2019
A thing I love so much about Colbert is how often he lets his female guests just occupy quiet.

When Gaga talked about PTSD.
When Ellen Page is collecting her thoughts here.

He just sits with the quiet which men rarely do IRL let alone on network television which hates silence https://t.co/yUBkM86bql

— Julie S. Lalonde (@JulieSLalonde) February 1, 2019
Love this lady. She walks the walk. Thank you Ms Page. https://t.co/bIAWsGcgNC

— Kathy Griffin (@kathygriffin) February 1, 2019
Watch what Ellen Page had to say