This weekend will mark "Mystic Mac" Conor McGregor's return to the Ultimate Fighting Championship ring after his loss to equally controversial boxing champion Floyd Mayweather last summer. This detour into the world of boxing was ultimately a disapointment for fans of both mixed martial arts and the "sweet science", as many called it a cash grab for both fighters. Now, McGregor will return back to the sport that made him one of the most captivating athletes in sports today as he steps into the ring for UFC 229: Conor McGregor vs Khabib Nurmagomedov this weekend in Las Vegas. 
While McGregor is as infamous in the sport for his offstage antics and braggadocious attitude, he has been able to back up his actions in the ring for the most part with an impressive record of 21-3-0. While many fighters try to work their way back into a sport after a period of absence, this seems like it is not the case for McGregor. His oppenent, Nurmagomedov, is one of the fiercest fighters in the sport with an astounding record of 26-0-0. It might be time for McGregor to put up or be figurativly shut up by a sport the sport that kept moving after he decided to leave. 
While the fight will cost you $69.99 to order through pay-per-view, we figured we would round up some of the best places to watch Conor McGregor vs Khabib Nurmagomedov in NYC without having to cram into your tiny apartment. But first … 
When is Conor McGregor vs Khabib Nurmagomedov?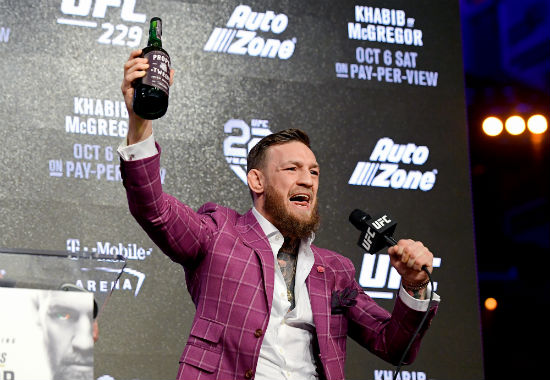 Conor McGregor raising his new signature whiskey Proper No. 12 during the Conor McGregor vs Khabib Nurmagomedov press conference. Photo: Getty Images.
Conor McGregor vs Khabib Nurmagomedov will take place on Saturday October 6th after — true to any big money UFC fight — nine undercard fights preceeding the main event. 
Some of the notable fights that will be taking place before Conor McGregor vs Khabib Nurmagomedov will be the lightweight bout between Tony Ferguson (23-3-0) and Anthony Pettis (21-7-0) , and the light heavyweight match betwee Ovince Saint Preux (23-11-0) and Dominick Reyes (9-0-0).  The whole night will kick off at 8pm. 
Conor McGregor vs Khabib Nurmagomedov: Where to watch UFC 229 in NYC 
Treadwell Park 
Where: Three Locations: Downtown: 301 South End Avenue. Midtown: 508 West 42nd Street. Upper East Side: 1125 1st Avenue.
How much: FREE 
How can you argue with being able to watch Conor McGregor vs Khabib Nurmagomedov for absolutely free? Most bars will make you pay at least some sort of cover charge in order to watch such a high-profile fight, but not Treadwell Park. Instead you can enjoy save your money for beers, cocktails, and fried chicken as you watch these two fighters pummel each other on Treadwell's massive screens. And if the fight doesn't live up to the hype, you can always go play some pinball! 
Check here for more information. 
Kent Ale House 
Where: 51 Kent Avenue, Brooklyn 
How much: $20 entry. $100 for open bar.
Kent Ale House along Kent Ave in Williamsburg, Brooklyn will be hosting a Conor McGregor vs Khabib Nurmagomedov for those who wont mind drinking their fill during the fight. While $20 will get you through the door to see the fight, $100 will give you a reserved seats for the night and an open bar from 10pm to 1am with a basket of apps for every two guests. 
Check here for more information. 
Harborside Atrium
Where: 210 Hudson Street, Jersey City 
How much: $25 per person
While it may not be located directly in the heart of the city, the short train ride to Jersey City's Harborside will be one of the destinations to check out Conor McGregor vs Khabib Nurmagomedov. The massive bar boardwalk food court and events space will be going for all out for an event including a DJ, a cigar room, giveaways, a surprise UFC signing, a photo booth, delicious food vendors, and bartenders mixing up special cocktails. The event will also have a giant bouncy boxing ring that will let you challenge your friends for bragging rights as well as some prizes throughout the night. 
Check here for more information.