The midseason finale of Scandal certainly left us with a lot of questions, but that's classic Shonda Rhimes writing for you. Sometimes we're OK sitting with them until the series returns from its winter break and sometimes they leave us desperate for answers — like this season of the hit ABC political drama. C'mon, Shonda, did Scandal kill off Quinn? We're dying to know.
Let's break down what we know going into the midseason premiere, which airs tonight, Thursday, January 11 at 9:00 p.m. on ABC. (You can check out a full recap of the Scandal season 7 midseason finale here if you want a blow-by-blow.)
Why are we asking did Scandal kill off Quinn?
The episode was full of twists and turns and plenty of action — hello, it's Scandal after all — but much of that time centered around a power play between Olivia Pope and her father, each trying to call each other's bluff. That's all well and good, and we've come to expect a roller coaster of this familial relationship, but this time Quinn's life hangs in the balance.
You see, Rowan kidnapped Quinn. We know, yawn. Pretty boring reveal in the grand scheme of Scandal plots. But then it gets tricky. Does Olivia just let Rowan kill Quinn, which would magically make her own problems sort of disappear? Or does she take out her own father?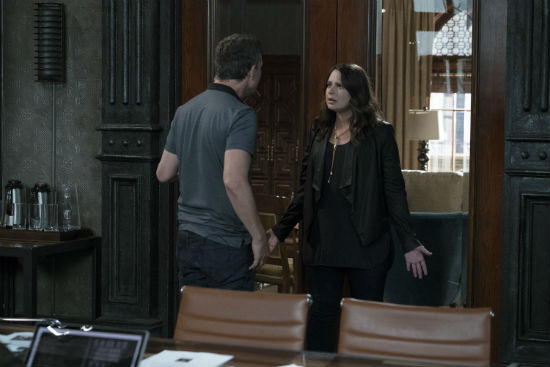 In the end, Olivia sort of picks the later, attempting to convince Rowan she's going to have him killed. Rowan assumes she's going to call in a hit on Quinn instead. When Olivia corrects her dear old dad, Rowan storms off to dispatch Quinn himself. But, will he really?
What Shonda Rhimes and Katie Lowes have to say
Both the show creator and the actress who brough (brings?) life to the character Quinn took to Twitter shortly after the midseason finale aired and seemed to hint that yes, indeed, Quinn really is gone for good. Shonda's post-episode tweet told fans "you know we had to go all out," which seems to say that yes, she did go there and kill off a main character. It is, as she reminds her fans and Twitter followers "the final season you guys."
It's the final season you guys, you know we had to go all out. We are happy that @KatieQLowes can have this time with her baby. #scandalfinalseason

— shonda rhimes (@shondarhimes) November 17, 2017
If that doesn't scream Quinn is really, truly gone to you, maybe Katie Lowes' tweets do. The actress shot off a series of tweets that all seemed to add up to a final goodbye, though it's plausible they're just a short farewell before a break for some much needed time with her newborn. Read through the tweets below and decide for yourself:
Thank you to the @ScandalWriters @shondarhimes for this time with my baby. And for Quinn. #Scandal

— Katie Lowes (@KatieQLowes) November 17, 2017
Can't even tell you how much I miss my #Scandal Fam. @darbysofficial @guillermodiazyo @kerrywashington @georgenewbern @tonygoldwyn @CorneliusSJr @jscandalp @BellamyYoung @JoshMalina @scottkfoley @JOEtheMORTON

— Katie Lowes (@KatieQLowes) November 17, 2017
…and most of all. You #gladiators. Thank you. Love you. Thank you. #Scandal

— Katie Lowes (@KatieQLowes) November 17, 2017
Love you Foley https://t.co/2yGtyprzVS

— Katie Lowes (@KatieQLowes) November 17, 2017
#scandalsister for life https://t.co/6L1DRlNrsU

— Katie Lowes (@KatieQLowes) November 17, 2017
So did Scandal kill off Quinn?
We saw Rowan storm away. We saw him fire a shot, and we hear Quinn scream, but the two weren't overtly put together, and that's where Rhimes — crafty cliffhanger queen that she is — left us hanging for a couple weeks.
Now that the midseason premiere has come and gone, we're still sort of scratching our heads and wondering aloud: did Scandal kill off Quinn? It sure looks like it. The latest episode showed Rowan placing a woman's body in a car, followed by it exploding. But, the thing is here, we were never shown the woman's face. And it's not unheard of for Shonda Rhimes to do a complete fake out with us this way.
The rest of the episode sure does try to convince Scandal fans that the Shondaland creation did indeed kill off Quinn. There's a charred body and Quinn's DNA, which is found in the car on a piece of her clothing. There's a lot of the other characters trying to deal with the loss of Quinn in their own particular ways. They even put the ashed of Quinn (or "Quinn") into bullets and fire them off as tribute.
Abby and David do find a flash drive left behind by Quinn. Is it mysterious? Sure. Is it definitive proof that the woman placed in the car was Quinn? Frustratingly, no. One thing's for sure: Charlie sure is convinced that Quinn's dead and that Rowan had a big hand in it. The episode ends with his hands wrapped around Rowan's throat. But, did Scandal kill of Quinn, really and truly? Annoyingly, we're still left with questions and no real answers.