Updated May 17, 2018, 5:00 p.m.: This morning, Meghan Markle released a statement through Kensington Palace on her dad's royal wedding absence. Thomas underwent heart surgery yesterday and will not be making the trip overseas to walk his daughter down the aisle. He'd been wishy-washy about attending after it was revealed that he'd staged paparazzi photos to better his image. 
"Sadly, my father will not be attending our wedding," the statement begins. "I have always cared for my father and hope he can be given the space he needs to focus on his health. I would like to thank everyone who has offered generous messages of support. Please know how much Harry and I look forward to sharing our special day with you on Saturday."
A statement from Ms. Meghan Markle: pic.twitter.com/TjBNarmuBU

— Kensington Palace (@KensingtonRoyal) May 17, 2018
The show must go on — and remember, you'll need to get up early to stream the wedding. Check out Metro's guide for all the ways to watch this weekend.  
Updated May 16, 2018, 9:15 a.m.: According to reports, Meghan Markle's dad — who has been back and forth about walking his daughter down the aisle at the royal wedding this Saturday — has officially declared that, despite earlier statements, he can't make it to the ceremony. Thomas told TMZ yesterday that he checked himself back into the hospital after complications with a heart attack last week. He then stated that he'll be undergoing heart surgery today in which the doctors "will go in and clear blockage, repair damage and put a stent where it is needed," so he won't be making the trip after all.
Updated May 15, 2018, 12:30 p.m.: Despite reports that Meghan Markle's dad backed out of walking her down the aisle due to drama surrounding staged paparazzi photos, he's now telling TMZ that he might actually follow through with it. Markle reportedly tried contacting him yesterday to express her love.
"I hate the idea of missing one of the greatest moments in history and walking my daughter down the aisle," Thomas, who's currently back in the hosptial after last week's heart attack, told the site. If his doctors release him, the man says he'll "risk his health" for his daughter's big day and make the trip overseas. Stay tuned to see if he's at the royal wedding.
Updated May 15, 2018, 9 a.m.: Meghan Markle's dad, Thomas, reportedly won't be walking the bride-to-be down the aisle this Saturday at the royal wedding. TMZ revealed that the man staged a series of photos with the paparazzi — him getting fitted for the suit he planned to wear to the ceremony, looking through pictures of his daughter and Prince Harry and reading a book on Great Britain — to improve his image. 
Markle's half-sister, Samantha, has admitted responsibility for setting up the staged photos. Thomas also reportedly suffered a heart attack last week, and checked himself out of the hospital in order to attend the royal wedding. However, due to embarrassment over the staged photos — which he said he agreed to take part in for money — he's decided not to travel overseas for Markle's big day.
A Kensington Palace spokesperson released the following statement: "This is a deeply personal moment for Ms. Markle in the days before her wedding. She and Prince Harry ask again for understanding and respect to be extended to Mr. Markle in this difficult situation."
Original, May 4, 2018: The royal wedding is nearly two weeks away — and if you find yourself humming "Bridal Chorus" (aka "Here Comes the Bride") between subway stops, you're not alone. There's just something about it all — the grace and rooted tradition juxtaposed with the freshness and barrier-breaking presence that Prince Harry and his bride-to-be bring as a couple — that makes the event exciting, noteworthy and, more importantly, newsworthy. And who will be walking the former "Suits" star down the aisle? Meghan Markle's dad, Thomas Markle, despite earlier speculation over whether or not he'd get the invite.
In a fiery open letter published exclusively on In Touch's website this week, Markle's half-brother, Thomas Markle Jr., berated her for not inviting him and the rest of his family to the ceremony. "It's very apparent that her tiny bit of Hollywood fame has gone to her head, changing her into a jaded, shallow, conceited woman, that will make a joke of you and the Royal family heritage," he wrote to Prince Harry. "Not to mention, to top it all off, she doesn't invite her own family … Her own father didn't get an invite, whom should be walking her down the aisle." 
Today we have provided an update on the Wedding of Prince Harry and Ms. Meghan Markle.

Read the full statement here: https://t.co/bhrPnJtrNm

— Kensington Palace (@KensingtonRoyal) May 4, 2018
But, the Kensington Palace posted an update on Twitter this morning about the royal wedding, confirming that Markle's father did get an invite and is in fact walking her down the aisle. "Mr. Markle will walk his daughter down the aisle of St George's Chapel," the update read.
About Meghan Markle's dad
Thomas Markle, in his early 70s, divorced from Markle's mom after nine years of marriage, though Markle reportedly remained close with him. He built a career as a lighting director for TV shows such as "General Hospital" and "Married With Children." The Sun reported that he won a Daytime Emmy Award in 2011 for his work on "General Hospital."
Royal wedding: Meghan Markle's dad will walk his daughter down the aisle when she marries Harry https://t.co/LswqQVECFq pic.twitter.com/sYMu4MOYVM

— ESNONTV (@esnontv1) May 4, 2018
He reportedly filed for bankruptcy in California last year (though he was discharged in September, according to The Mirror). The bride-to-be's half-sister, Samantha Grant, who also doesn't appear to be invited to the royal wedding, said in an interview regarding Markle's engagment photos, "If you can spend $75,000 on a dress, you can spend $75,000 on your dad." 
Thomas Markle currently lives in a "cliff-top house" overlooking the Pacific Ocean in northern Mexico's Rosarito Beach area. He will meet Prince Harry in person for the first time when he makes the trip to the U.K. for his daughter's big day.  
Meghan Markle's dad is going, but what about her mom?
Markle's mom, therapist and yoga instructor Doria Ragland, will be attending the royal wedding as well and will travel with her daughter to Windsor Castle the day of the ceremony. PEOPLE reported that she has met Prince Harry a few times. She was with the couple at the Invictus Games' closing ceremony last September.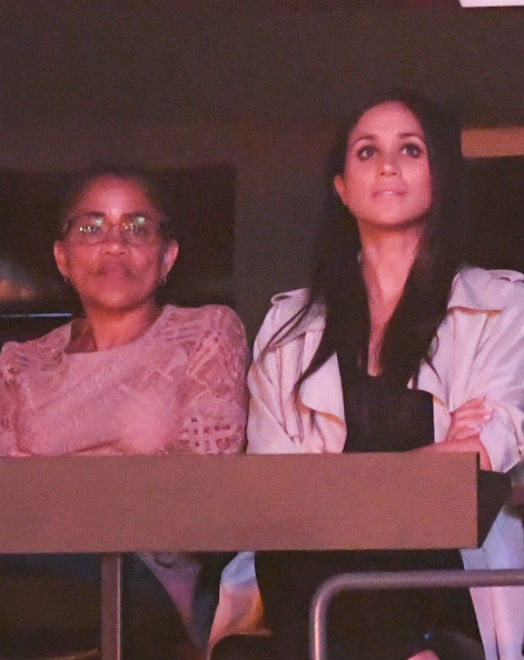 "Ms. Markle is delighted to have her parents by her side on this important and happy occasion," the Kensington Palace update read. Here comes the royal bride.