Whether you would put the unofficial New York City holiday decidedly in the naughty or nice category, SantaCon 2017 is almost upon us and city residents should get prepared.
We hope you already rented your Santa costume for SantaCon 2017, otherwise you might want to start planning on some other Christmas-themed costume — go-tos every year include Will Ferrell's get up from Elf, Rudolph, Mrs. Claus and, yep, even Christmas trees. Although it will probably put you out of the running for best costume in your group of revelers, ugly Christmas sweaters will be awarded participation points in a pinch.
Once you have that figured out, it's time to tackle the second component of SantaCon: the drinking. And, well, the rules that have sprung up because of some bad behavior in past years.
But, wait, what is SantaCon?
SantaCon is an unofficial gathering of people dressed up like Santa, naturally. But then these people, all dressed up like the jolliest and nicest man of them all, get a little naughty. They go on a bar crawl. Think that means it happens in the evening? Think again.
Although we're talking specifically about SantaCon in NYC, there are other SantaCon events across the United States. Cities like San Francisco, Boston, Cincinnati, Hoboken, Seattle and Chicago each have a SantaCon of some size, whether large or small.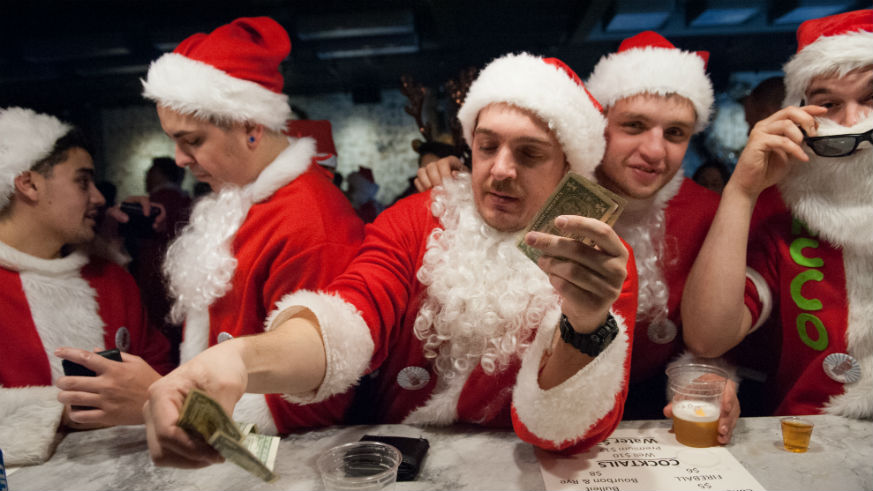 Although many New York City residents, especially those in Murray Hill and Kips Bay, might know it as the day that there are a lot of drunk Santas clogging up the sidewalks, the site for the event describes it as "a charitable, non-commercial, non-political, nonsensical Santa Claus convention that happens once a year to spread absurdist joy." Whether or not you agree with the "joy" part of their statement, we think everyone can agree to the "absurdist" aspect.
When is SantaCon 2017, and what time does it start?
SantaCon 2017 kicks off on Saturday, December 9 at 10:00 a.m., but further details are yet to be announced. (EDIT: The starting point for SantaCon 2017 has been announced and is included below along with the SantaCon 2017 route.) That's right, Santa's keeping these secrets close for now. The official site for the event tells eager participants that they can sign up for alerts about SantaCon 2017 by texting "Follow Santa" to 40404. You can also get updates on their Facebook page.
SantaCon 2017 route
UPDATE: Santa has finally shared what he's been planning for SantaCon 2017. The starting point for this year's Santa Con will be the steps of the Farley Post Office at 8th Avenue and 33rd Street at 10:00 a.m. sharp. You'll then proceed through the SantaCon 2017 route, and you can see a map of that below:
You'll find a complete list of all the clubs and bars participating in SantaCon 2017 on the official SantaCon website here.
EARLIER: Sorry, would-be Santas. This one's another secret, for now. The official SantaCon 2017 route will be rolling out in the days leading up to the event. The fastest way to hear about them is to get updates directly from the group holding it. Again, if you want these updates, or want one person in your group to stay updated and relay the message, text "Follow Santa" to 40404.
You can get an idea of what the SantaCon 2017 route will probably be like by checking out last year's. The group shared a photo to their Instagram account of all the bars participating through the GeoSwap app last year, seen below:
The bars and venues participating will be announced a couple days prior to SantaCon 2017 — check back to Metro for a full list of the places participating — but you'll have to wait until the night before to find out where exactly the whole day of Santa shenanigans is going to kick off.
Although some outlets are reporting that the event will be starting at 23rd Street and Broadway Pedestrian Plaza, The Flatiron Building, this has yet to be confirmed by the organization and everything on their website says the starting point will be announced the night of Friday, December 8.
Are there rules to SantaCon in NYC?
Other than your standard city-wide rules about alcohol consumption, the group organizing SantaCon 2017 does, in fact, have rules for their event. Just five, and they all read the same way: They don't want you to "f*uck with" kids, cops, New York City, bar staff, or Santa's Charity Mission.
Despite the rocky reputation the event has earned over the years, the website for SantaCon 2017 has a pretty lengthy guide to what is deemed acceptable. It includes just about everything most people assume it doesn't, from making sure you don't vomit in public places to bringing cash and tipping bar staff well after being respectful during your time in their establishment.
Even if you plan on being a nice rather than a naughty Santa, make sure to steer clear of the bars and venues in lower Manhattan posting signs against SantaCon 2017. In past years, bars have posted simple — and sometimes hostile signs — to keep revelers away, like the one below.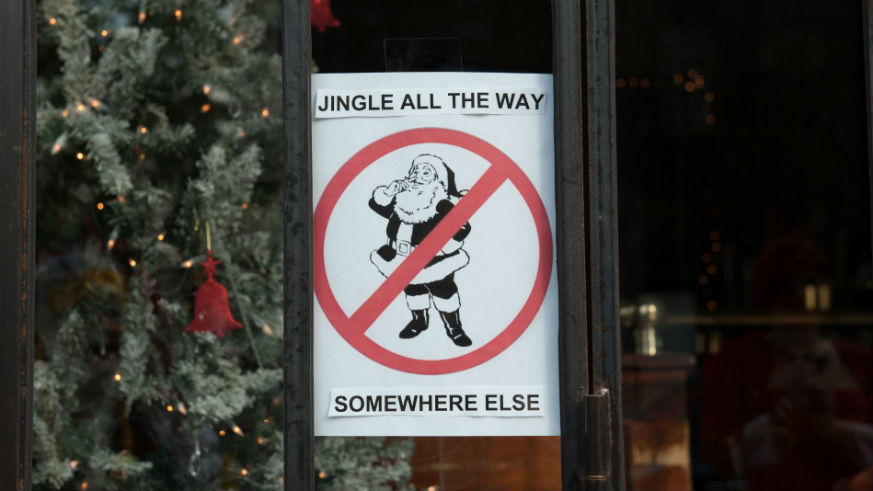 SantaCon 2017 tickets
Don't be fooled by scams claiming to be for SantaCon 2017. The official group has warned that other places have claimed to be selling tickets to the event. SantaCon in NYC is for charity, and the only thing the group asks you to do in order to participate, other than follow their rules, is to give $10 to charity through their website.
If making the donation somehow gets off the list you're checking twice, elves will be on-hand at the start of SantaCon 2017 to collect your donation. And you're bringing cash anyway to pay your nice bartenders, right? If you made your donation online, make sure to bring a confirmation of your donation or get in the giving spirit and offer up some money again for good measure.
Anything else I need for SantaCon 2017?
If you want to enjoy the Santa extravaganza to maximum potential, you might want to check out the group's guide to dirty carols. After all, you don't want to be the only one left out in the cold if someone strikes up a round of "Cannabis Is Coming To Town."
Ready for SantaCon 2017?