Update: March 15, 6:02 PM — Page Six reports that Vanessa Trump filed for divorce lte Thursday in Manhattan Supreme Court. She filed for an uncontested proceeding — which means she's not expecting a legal battle over custody or assets. 
Donald J. Trump, Jr., and his wife, Vanessa Trump, may or may not be on the outs.
It depends on who you ask. Sources that are close to the couple have confirmed to Page Six that the pair are struggling through marital problems. Said sources don't mention whether the fact that Trump, Jr., is the actual worst was one of the aforementioned problems.
Although the sources say that divorce proceedings have yet to be initiated, they insist that DTJ and Vanessa have been living separate lives. "The problems have been there for a long time," one of the sources says. "The couple had hoped to stay together during the president's time in office, but it is getting harder to resolve their issues. He's never there."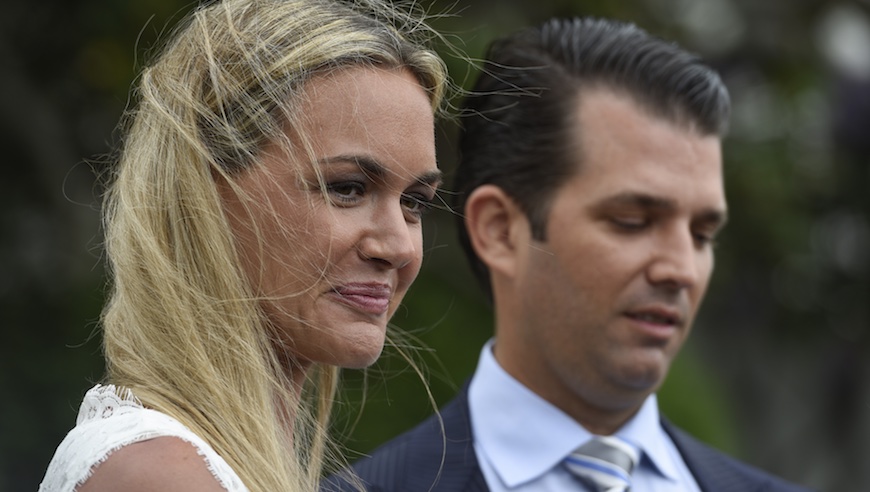 A separate source added, "While they are not legally separated, I cannot deny there are issues. There are a lot of intricate things that go on in a marriage; Don and Vanessa are focused on their family [and] they are trying to do this quietly and privately, and when they have something to say on the record, they will do so. This has nothing to do with politics — this is a personal matter between two people."
The couple has been married since 2005 and share five children. They were recently in the news when Vanessa was taken to the hospital as a precaution after opening a threatening letter addressed to Don Junior that contained a white powder. The NYPD later ruled the substance as non-hazardous.
It is our most sincere hope that Vanessa has come to her senses and will perhaps entertain the idea of leaving DJT and the rest of the Trumps. Get that money, V! Get that money and run.