CBD, the anxiety-soothing compound found in cannabis, is everywhere, turning up in lattes, cocktails and gourmet dankquets. Vegan dessert shop Sweets by Chloe tested the demand for a CBD-laced Daily Hit Brownie on 4/20 this year, and the treat was such a success the brand is launching 25 new CBD-infused goodies under the brand name Feelz By Chloe.
The Feelz By Chloe menu spans the entire dessert case of plant-based goodies. You'll find pastries like Rainbowey Ooey Gooey Cinnamoney Rolls, Suga Cinnamoney Espressoey Cookey and Chocolatey Leafy Browney, plus cupcakes, Rice Krispie treats, granola, mini pies, push-pops, whoopie pies, Funfetti babka, popcorn, drinks like bubble tea and coffees, and dog bones, all infused with various doses of CBD.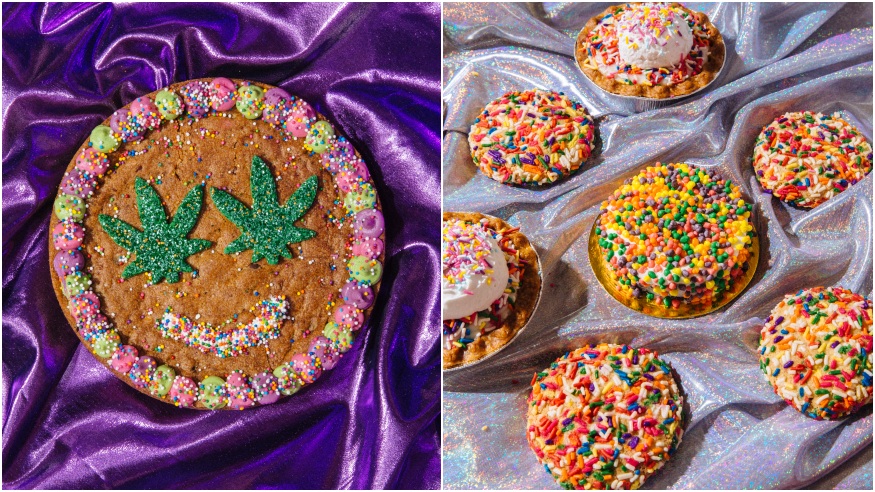 The line launches on Sept. 27 at NYC's two Sweets By Chloe locations — 185 Bleecker St. in Greenwich Village and the new Seaport District shop at 181 Front St. — before expanding to By Chloe's 13 locations worldwide. To celebrate, both locations are getting a psychedelic makeover inspired by the '70s. Designed by Samantha Wasser, the co-founder and creative director of By Chloe, the Feelz By Chloe stores are meant to feel like the "glam den of your dreams" packed with moody kitsch, memorabilia and plenty of sparkle. The shops will also host a CBD boutique with other edibles like Pot D'Huile Olive Oil and Soul Addict Butter, as well as items like Dedcool Cannabis Chapstick.
The Feelz By Chloe makeover will last from Thursday, Sept. 27 through Sunday, Oct. 14. Then on Oct. 15, select Feelz by Chloe goodies will be available at all By Chloe locations for six weeks.
Feelz By Chloe uses CBD oil derived from hemp
Feelz By Chloe's treats are the first to use a new CBD oil created by Toast, which started out as a marijuana cigarette brand (not here, as recreational marijuana in NYC remains illegal for now) and is expanding into hemp-based CBD products. Though both hemp and marijuana are cannabis plants, they're cultivated differently so hemp has very little (if any) of the hallucinogenic compound THC, which makes it legal to grow.
CBD is short for cannabidiol, the cannabis extract responsible for helping you relax mentally and physically with no hallucinogenic properties (that's THC). As a supplement, it's been readily available for years and is said to reduce inflammation, ease mild pain and help with anxiety and insomnia. Scientific studies are still pending — a seizure medication with CBD as an ingredient was only approved for use by the FDA this June, and CBD still needs to be reclassified by the Drug Enforcement Agency.
The real question is, will the mellowing effects of CBD counteract the sugar rush? You'll just have to try them yourself to find out.