Butter on the popcorn, gelatin in the candy, cheese and bacon sprinkled on everything — concession stand food is pretty much a non-starter for vegans. But dinner and a movie doesn't have to be when Alamo Drafthouse Brooklyn launches a vegan menu on June 5.
Driven by "extremely high demand," according to the company, the new in-theater menu includes a burger made with Beyond Meat ($16 though sadly, there's no vegan cheese), avocado toast, a new quinoa bowl and Alamo's take on Crispy Buffalo Cauliflower, including vegan ranch dressing. The four new items join the Southwestern Tofu Quinoa Bowl, which was already on the menu.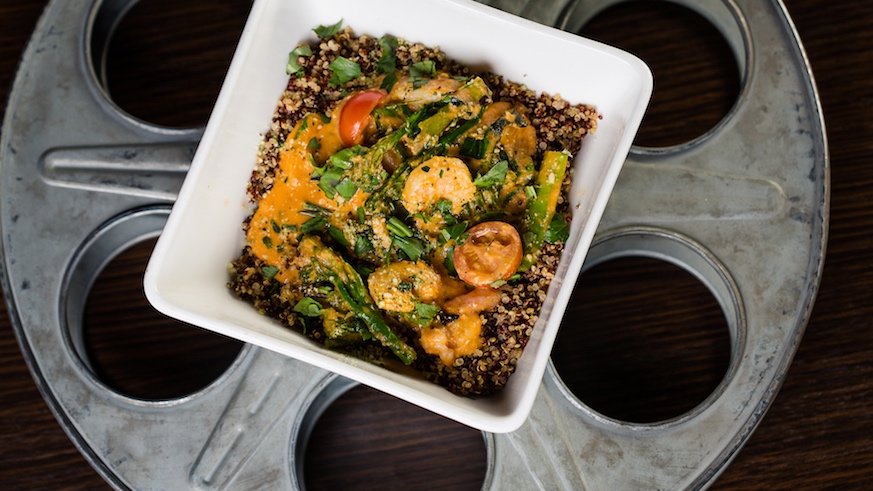 It's not that the meat-avoidant didn't have options on the regular menu — which will be getting a revamp soon — but it was a bit fiddly to write in the dark that the edamame hummus should come with corn tortilla chips rather than wonton crisps, or remembering to denude the (let's be honest, uninspired) Grilled Vegetable Sandwich of its fontina cheese.
So next movie night, try the new vegan options:
Beyond Meat Vegan Burger ($16)
Beyond Meat patty, lettuce, tomato, vegan ranch spread, caramelized onions, served with fries
Avocado Toast ($12)
Smashed avocado, charred corn and basil on ciabatta toast, with baby arugula and lemon
Crispy Buffalo Cauliflower ($11)
Served with vegan ranch and celery
Roasted Vegetable Quinoa Bowl ($14)
Sweet potato, cauliflower, spiced cashews, broccolini and roasted peppers tossed with baby kale and quinoa, tahini-ginger dressing