The freakiest of the freaks won't be at haunted houses, in Sleepy Hollow or hunting for ghosts on Halloween night. Come Oct. 31, the Village Halloween Parade is where thousands of fun-loving ghouls come to turn the streets of Soho into the world's biggest runway to show off their finest costumes.
It's not an exaggeration that even among the amazing events taking place all over the city, the Village Halloween Parade is the best Halloween party in NYC. Why? Because it's totally free to participate for anyone wearing a costume, accessible to anyone whether you're in a stroller or wheelchair, and open to the public to cheer them on.
I walked the parade in 2017 and had the most fun since I grew out of trick-or-treating. Here's everything you need to know about the Village Halloween Parade 2018.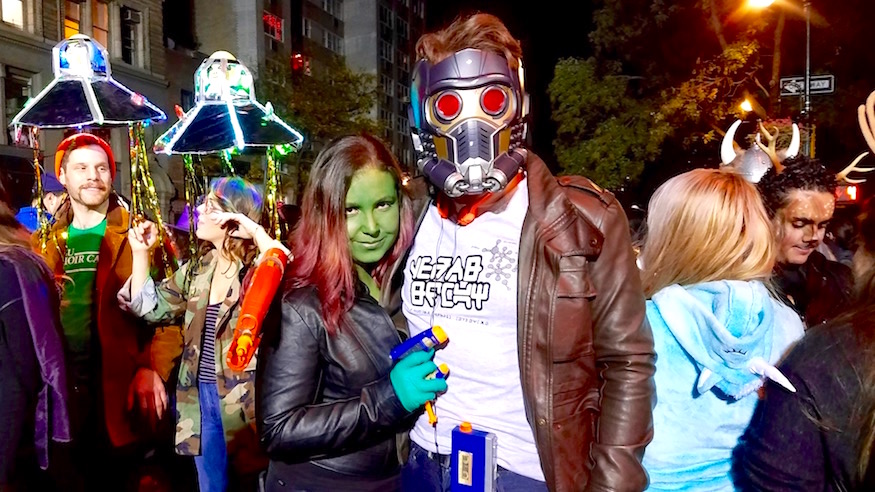 When and where is the Village Halloween Parade 2018?
Whether or not it's a school night, the Village Halloween Parade always takes place on Oct. 31, beginning at 7 p.m. and lasting through 11 p.m. The march begins at Sixth Avenue at Spring Street, and shambles up all the way to 16th Street.
This year's Grand Marshal is "costume designer extraordinaire" Machine Dazzle, who's been jazzing up the streets of NYC since he arrived in 1994. He'll be leading the first-ever VIP section of the parade, which will require costumes that keep to the Village Halloween Parade 2018 theme: "I AM a Robot!" Tickets are $25 and include a special entry point and an in-parade party with a DJ.
"The inspiration for this year's theme comes from our fascination with robots and the increasingly blurred lines between human and machine," according to Jeanne Fleming, the parade's artistic director. "With artificial intelligences learning, adapting, interpreting and reacting as humans do, the times we live in can be overwhelming. This traditional and beloved event aspires to bring folks into their creative imagination — celebrating that quality that differentiates us from robots — and by extension make the world a better place."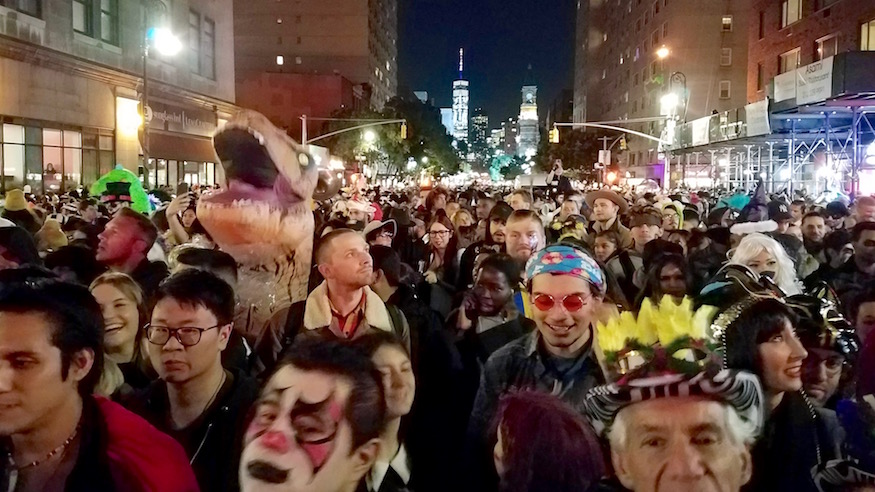 How do you take part in the Village Halloween Parade?
Anyone in a costume can join the fun, and an estimate 60,000 people are expected to in 2018. There are no fees, no registration, no lists — just show up at the parade start at Sixth Avenue and Spring Street in your scariest, sexiest or weirdest outfit between 6:30 and 8:30 p.m. Along with all the happy ghouls, the Village Halloween Parade also includes hundreds of giant puppets, over 50 bands and many dancers.
You can come dressed as anything at all — I went as a character from a Broadway show and gave out sticky buns to those who guessed it — though each year does technically have a theme. The Village Halloween Parade 2018 theme is I AM A Robot, and personally I can't wait to see all the Fembots from Austin Powers and Terminator T-1000s.
Organizers work hard to make the Village Halloween Parade a safe event, with plenty of police officers along the route. While kids are welcome to participate, parents should know the parade crowd can get pretty thick and of course some costumes may be NSFW. That said, the atmosphere in 2017 was joyful and supportive, so if having a good time is your goal, this is the place.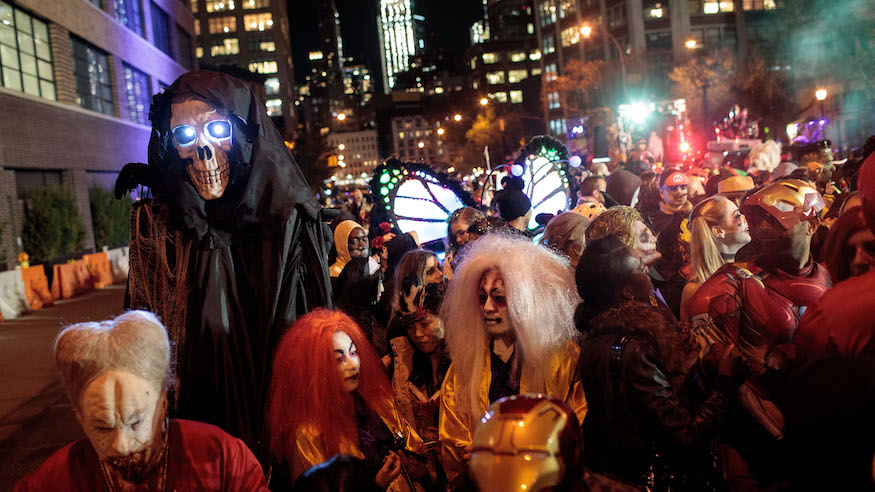 Where is the Village Halloween Parade 2018 afterparty?
If after walking 20 blocks you've still got energy left to dance, the Village Halloween Parade 2018 official afterparty is going down at Performance Space New York (150 First Ave., fourth floor, East Village). The MasCureAIDS Ball starts at 7:30 p.m. and goes until 2 a.m. with an open bar and costume contest with a top prize of $5,000. Tickets start at $75 and proceeds benefit the Research Foundation to Cure AIDS.
How to watch the Village Halloween Parade 2018
An estimated 2 million spectators line up on both sides of Sixth Avenue to watch the Village Halloween Parade. Selfies are welcome, but make sure have an exit strategy ready — nobody can cross the parade route, which is lined with barricades.
Or if it's too cold for you to spend a few freaky hours outdoors, watch the Village Halloween Parade on NY1 from 8-9:30 p.m.