On May 19, Saturday Night Live's 43rd season came to a close. SNL alumna Tina Fey hosted, and Nicki Minaj brought down the house with her standout performances. Now that SNL season 43 has concluded, here's how you can score SNL tickets for the next go-around.
How to get SNL tickets  
The comedy sketch series will be back this fall, and you can score a pair of tickets to a live showing at 30 Rockefeller Plaza.
The SNL ticket lottery for the 2018-2019 season began August 1 at 12:00 a.m. ET and lasts through August 31, 2018 at 11:59 p.m. ET. So, you have a whole month to enter this lottery.
How to enter the SNL ticket lottery
To enter the SNL ticket lottery, send an email to [email protected]. Make sure to include your full name, phone number and mailing address, and explain why you'd like to be a part of the SNL studio audience. You're limited to one email per person and must be at least 16.
"Please note that entering the lottery does not guarantee tickets, and you will only be notified in the event that you are chosen," states the NBC tickets page.
AKA, go for it anyway — what do you have to lose? 
How do I know if I'm chosen for SNL tickets?
If selected by the SNL ticket lottery, you will receive two tickets for a random show date and time. 
Even if you don't get SNL tickets through this lottery, you can still head over to the 48th street side of the building at 7:00 a.m. on show day where stand-by tickets will be distributed (one per person) on a first-come, first-served basis. (Fair warning: the lines are long.)
"You may choose a stand-by ticket for either the 8:00 p.m. dress rehearsal or the 11:30 p.m. live broadcast," states the NBC tickets page.
To receive a stand-by SNL ticket — and at the return time — you must present a valid photo ID. These are non-transferrable and non-exchangeable.
"Please arrive no later than 7:15 p.m. for the dress rehearsal or 10:45 p.m. for the live show," the NBC tickets page notes. "A stand-by ticket does not guarantee admission."
For more information, visit NBC.com/tickets.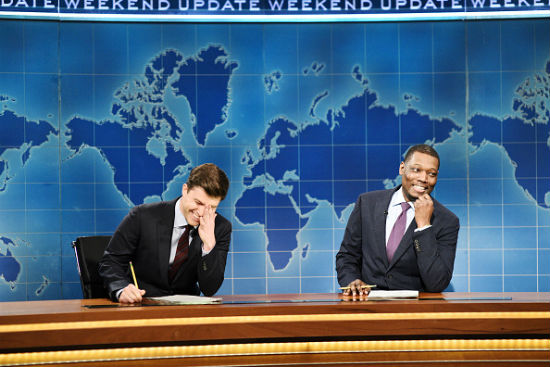 When is SNL season 44 returning to NBC?
Though no official date is set for SNL season 44, the show typically returns between September and October — the fall after its last finale.
Who knows, maybe we'll see Ariana-Grande-lover-boy Pete Davidson come back a married man.