In August, content from conspiracy theorist and Infowars founder Alex Jones was banned from social media sites such as Facebook and YouTube.
Facebook said it was shutting down Jones' pages — that have amassed a huge following — for "glorifying violence, which violates our graphic violence policy, and using dehumanizing language to describe people who are transgender, Muslims and immigrants, which violates our hate speech policies."
"Infowars is under unprecedented attack and is being censored across the internet," reads an announcement on The Alex Jones Show page. "Our podcasts have been removed from iTunes, Spotify, Stitcher and other platforms – along with YouTube banning The Alex Jones Channel."
A Senate Intelligence Hearing with Facebook and Twitter execs on their efforts to prevent foreign meddling in the midterm elections took place today, and Jones reportedly had a front row seat. Representatives from Google did not attend.
Jones founded Infowars in 1999. The conspiracy theories he promotes include the government's involvement in September 11, 2001 as well as the left wing, to allegedly promote gun control, faking the 2012 Sandy Hook shooting that killed 26 total, 20 of whom were children between 6 and 7 years old.
"The manipulation of facts and the slow relentless war on reality is being waged on this landscape of the mind," reads the Infowars website. "When those who seek to control humanity can convince the world that what they say is true, we will rapidly descend into the most oppressive tyranny ever seen. … Alex Jones and Infowars stand against this onslaught. Every day connecting the dots. Peeling back the onion. He digs deeper into the story with the insight of experts, whistleblowers and insiders."
Sen. Marco Rubio (R-FL) was talking to the press outside of today's hearing when Jones confronted him about social media censorship and conservative voices being silenced on these platforms.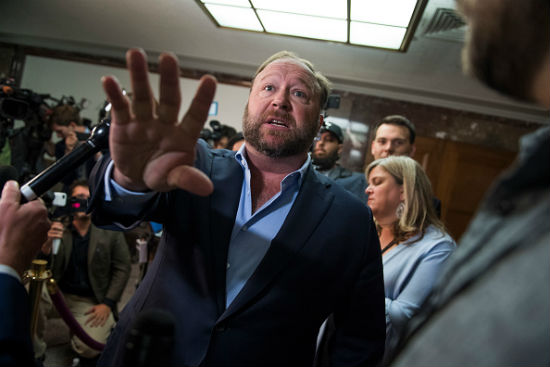 Watch Sen. Rubio and Infowars founder Alex Jones have at it
During this confrontation, documented in a number of Twitter videos, Jones repeatedly interrupts Sen. Rubio and calls him a "frat boy," then a "gangster thug" for saying "I'll take care of you myself." When heckled, the senator claims that he doesn't know who Jones is.
Things escalate fast. Jones touches Rubio. Rubio asks him to keep his hands to himself. Jones heckles, then heckles some more. Watch the full exchange below:
Here's video of the Alex Jones – Rubio spat https://t.co/lGDaHAcZUc

— Will Sommer (@willsommer) September 5, 2018
Here's another angle:
'Don't touch me again, man': Sen. Marco Rubio faces off against InfoWars conspiracy monger Alex Jones in hallway heckle spat https://t.co/d7o4wlvD3w pic.twitter.com/Z9Rj3ufv0O

— CNBC (@CNBC) September 5, 2018
"Alex Jones confronted Senator Marco Rubio during a break in the Senate hearings on social media accountability, with Rubio asserting that he didn't even know who Jones was while claiming he had no knowledge of Big Tech censoring conservatives," Infowars editor-at-large Paul Joseph Watson tweeted.
"They're trying to block me from live streams," Jones is heard saying after he parts ways with Rubio. "We have one more left on Twitter and they took down all the others [that] had millions of viewers, 20 million subscribers. They just took all that, now they're lobbying in these very hearings to take me off final platforms."
Trump has long accused companies like Google of burying conservative news sites.
….results on "Trump News" are from National Left-Wing Media, very dangerous. Google & others are suppressing voices of Conservatives and hiding information and news that is good. They are controlling what we can & cannot see. This is a very serious situation-will be addressed!

— Donald J. Trump (@realDonaldTrump) August 28, 2018
Last week he tweeted, "Google search results for 'Trump News' shows only the viewing/reporting of Fake New Media. In other words, they have it RIGGED, for me & others, so that almost all stories & news is BAD. Fake CNN is prominent. Republican/Conservative & Fair Media is shut out. Illegal?"