When the weather's hot and you're rushing out the door, it's a no-brainer to choose flip flops — they are, after all, the go-to summer shoe. But, your favorite thong slip-ons are one of the causes of heel pain, and they can do damage if you're not careful. We broke down exactly what you need to know moving forward.
Walking in flip flops is one of the causes of heel pain
Although there are many causes of heel pain, including reactive arthritis, Achilles tendonitis and other injuries and conditions, wearing flip flops for extended periods of time can also be one of the causes of heel pain and is damaging to your overall foot health.
Dr. Miguel Cunha, a Manhattan podiatrist who recently told us about infections caused by walking barefoot, explains that flip flops "don't offer any arch or heel support, and you have to grip them with your toes to keep them on your feet."
Lack of support from flip flops leads to longer pronation — the inward movement of the feet to absorb shock and distribute weight as we walk — which, in turn, can increase the progression of "underlying foot deformities such as bunions and hammer toes." 
Dr. Cunha, also the founder of Gotham Footcare, went on to say that wearing flip flops, one of the causes of heel pain, can also affect your posture.  
"Walking with flip flops for prolonged periods of time allows our foot to collapse," he says, "affecting our gait and posture, which can lead to a tremendous amount of stress not only to the foot, but to the rest of the body."
But I like flip flops. Can I still wear them even if they're one of the causes of heel pain?
Yes, but they are "only acceptable for short-term use if they have at least some arch support, a cushioned sole and supportive straps," Dr. Cunha says. "These type of flip flops are appropriate to wear at the beach, around swimming pools, in communal bathing facilities and locker rooms at the gym, or around the house."
"Flip flop use should be avoided for prolonged periods of walking and standing," he stresses, "and in no circumstances should they be worn for activities that involve running or hiking." 
When in doubt, go for summer slide shoes to avoid heel pain
Dr. Cunha states that summer slide shoes should be your go-to for avoiding heel pain. Like flip flops, they're convenient and easy to slip on and off, but unlike flip flops, they're more supportive and won't be one of the causes of heel pain you may experience this summer.
"Summer slide shoes have a thicker and ribbed sole which provides greater traction and stability of the shoe to help minimize injuries," he explains. They are "somewhat similar to a surgical shoe, as they have a harder sole … and can accommodate more uneven and hard terrain."
Also, the "over strap" of these shoes supports the foot and makes it easier to walk comfortably "instead of needing to hold onto a flip flop with our toes." This, Dr. Cunha says, helps reduce the progression of hammer toe deformities, which can be exacerbated by the use of flip flops.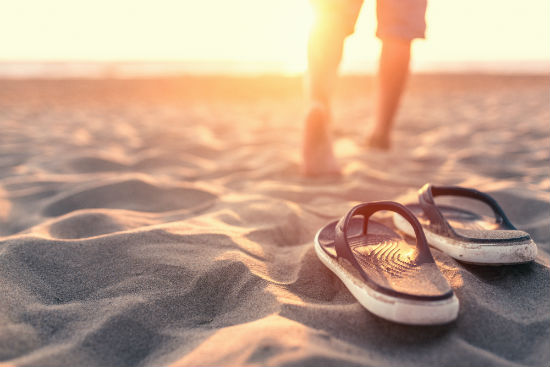 Not all summer slide shoes can stop the causes of heel pain
Dr. Cunha cautions against wearing summer slide shoes that are "completely flat, as they will contribute to [longer] pronation and collapse of the arch, which may [lead] to plantar and posterior heel pain, shin splints, knee pain and back pain."
So, he recommends summer slide shoes that have "an arched footbed" or a wedge "3/4 of an inch," to help support the arch of the foot and minimize discomfort.
Dr. Cunha recommends the following flip flops for people who just can't let go
If you still want to wear your beloved flip flops, but don't want it to be one of the causes of heel pain, Dr. Cunha recommends the VIONIC Bella II Sandals, which have a footbed that "absorbs shock and reduces stress on feet, ankles and knees." (All of VIONIC's shoes are made to promote arch support.)
"These flip flops," he says, "are the only ones to have the approved seal of acceptance by [the] American Podiatric Medical Association."
If these aren't your style, Dr. Cunha recommends the Birkenstock Gizeh EVA Flip Flops or Nike Ultra Comfort Thongs.
You don't have to give up on your flip flops if you'd rather not part from an old friend. But, you do have to be smart about what you put on your feet. They take you far; treat them well.