Former Secretary of State Hillary Clinton's decision to open her national campaign headquarters in Brooklyn Heights is rife with symbolism — right down to the address of the building and the name of two adjoining streets near it.
The New York Times' Mike Grynbaum was among the first to notice that HQ Hil at One Pierrepont Plaza intersects with Clinton Street, which a block away rounds the bend to become Tillary Street.
Metro has found another possible symbol in the names: "Pierrepont" is the name of powerful New York family that helped build the city and the nation.
Hezekiah Beers Pierrepont helped lay out and develop the neighborhood in the early 1800s, when the only way to get to Manhattan was by ferry — the Brooklyn Bridge didn't open until 1883.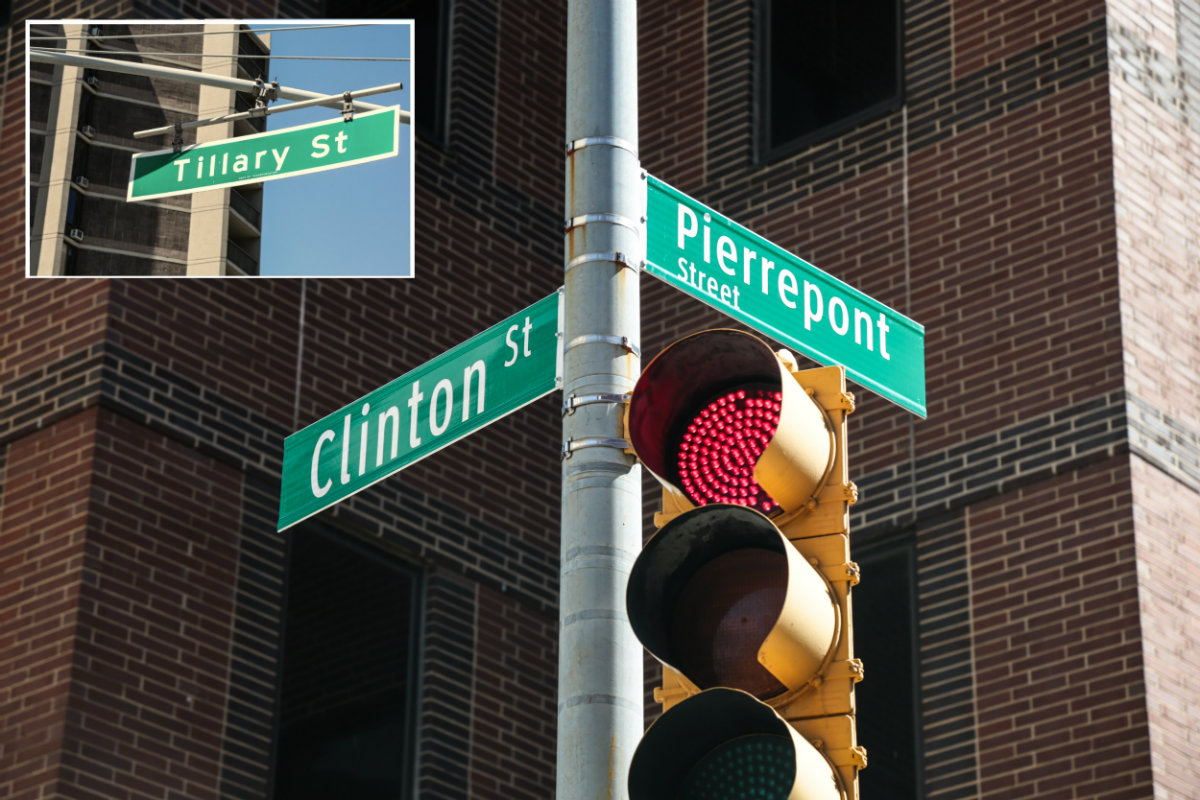 He raised money to campaign in crucial border states to keep them on the side of the North, and crossed party lines in the 1860s to back President Abraham Lincoln, a Republican, in his efforts to heal America after the bloody internecine conflict.
That need for bipartisanship is something both Clinton and Republican Jeb Bush are emphasizing as their campaigns unfold.
"Jeb and I are not just renewing an American tradition of bipartisanship," Clinton said at an awards ceremony in 2013 alongside the GOP former Florida governor. "We're keeping up a family tradition as well."
The choice of Brooklyn Heights had great symbolism for the mayor. Some have called it a pretty decent consolation prize after Bill de Blasio's valiant, but failed bid, to bring the 2016 Democratic nominating convention to the Barclay's Center in Brooklyn's Prospect Heights.
Then there's that uber-hip factor that Brooklyn, a/k/a Kings County, has acquired.
Forest City Ratner, the company that owns the 659,000-square-foot Brooklyn Heights tower that Clinton has rented two full floors in, declares the building to have "Modern Offices. Brooklyn Cool."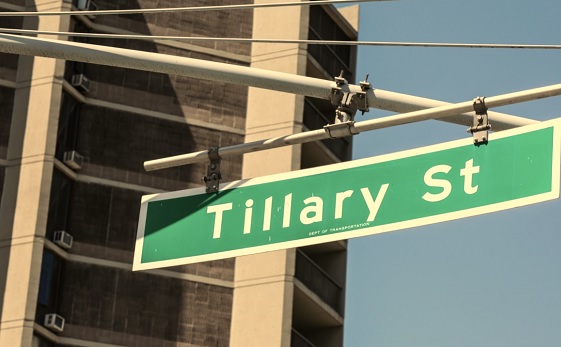 borough president, Eric Adams, sees it through a similar lens.
"Brooklyn is a snapshot of America. Its diversity, its struggle, and its promise are instructive to any leader seeking to advance our nation, especially someone running for our highest office," Adams said.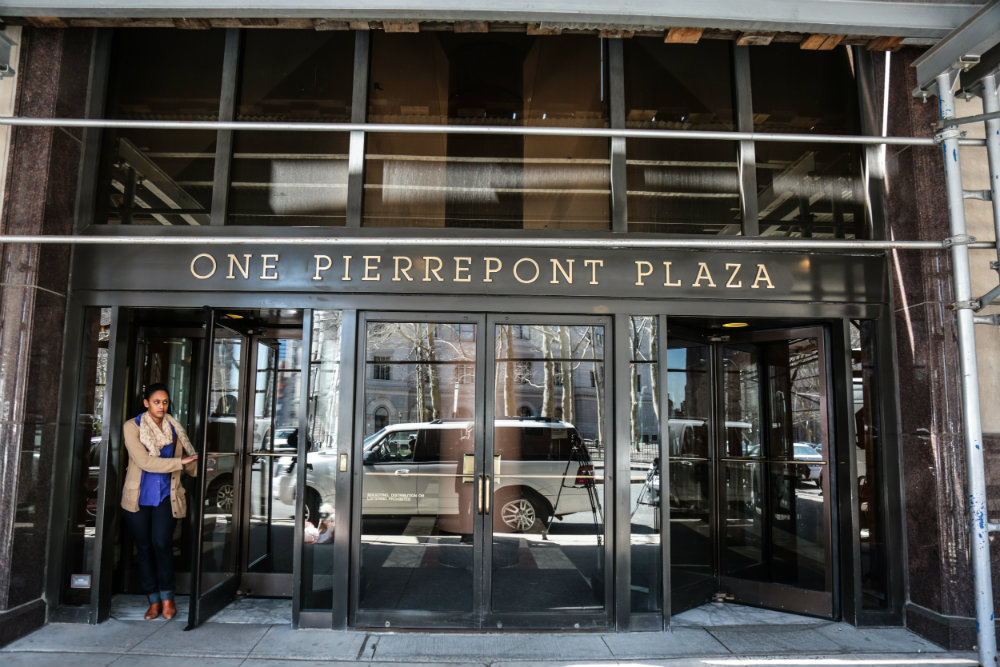 fellow Democrat Markowitz, it makes sense that it ought to be her home political state.
"The reason why, and for the Democratic Party, in particular, Brooklyn is a road map in many ways to the challenges of urban and suburban America," he says. "and for the possibilities that are out there. I really believe that."
Brooklyn Heights, in many ways, has few of the challenges faced in the borough's immigrant and minority communities. For one thing, it is mostly white and the average income in 2011 was $166,346 — far beyond other neighborhoods.
"Not everything in Brooklyn is going well," Markowitz admits. "We have many problems for sure. But from where we've come, to where we are now, it shows that Democratic policies are providing a helping hand in emphasizing the importance of education, job training, and many other areas."
"This is a blueprint for helping to solve some of the ills America is facing."
Clinton has already used Brooklyn as a campaign backdrop of sorts. Two weeks ago, she made a surprise appearance with NYC First Lady Chirlane McCray at a Brooklyn elementary school to announcing the city's "Talk To Your Baby'" public awareness campaign.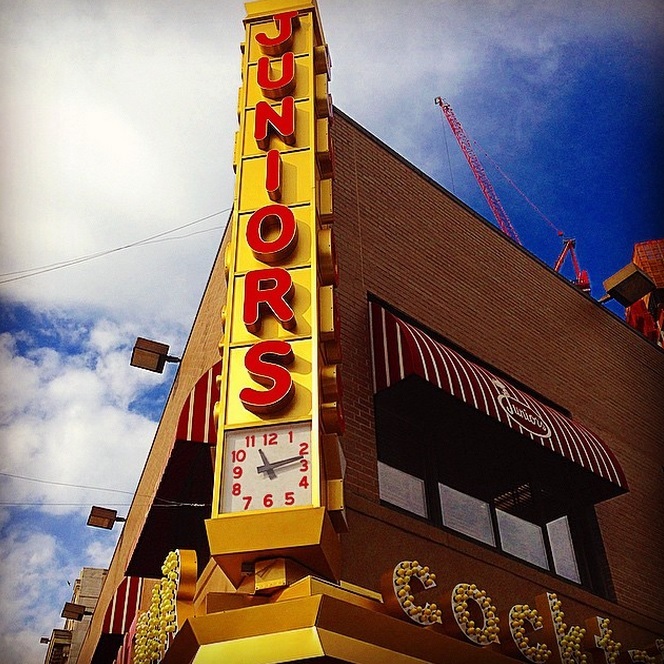 More from our Sister Sites