The White House threw a curve ball on Monday when it announced that first lady Melania Trump went through an embolization procedure at Walter Reed Medical Center.
"This morning, first lady Melania Trump underwent an embolization procedure to treat a benign kidney condition. The procedure was successful, and there were no complications," the first lady's communications director, Stephanie Grisham, said in a statement.
She is the first to go through a serious medical procedure since October 1987 when then-first lady Nancy Reagan had a mastectomy. However, the White House statement was vague on information — and few know what an embolization procedure entails.
What is an embolization procedure?
An embolization procedure is done to cut off blood supply to a part of the kidney. During the procedure, "an interventional radiologist uses imaging guidance to insert a catheter into a primary artery and advance it to blood vessel leading to a tumor or other area where the bloody supply needs to be blocked," Cancer Treatment Centers of America explains on its website.
John Friedewald, M.D., medical director of kidney and pancreas transplantation at Northwestern Memorial Hospital, told Women's Health that the procedure is usually done to prepare for kidney surgery for cancer, or to remove an angiomyolipoma, a type of benign kidney tumor. Two urologists — who haven't treated Trump — told ABC News that embolization procedure was likely to remove an angiomyolipoma. Others have said it could've been caused by a cyst.
How long will Melania Trump be in the hospital?
Grisham's original statement said Trump would spend the week resting in the hospital.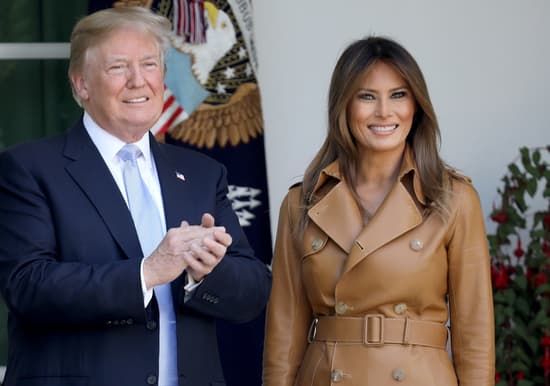 The procedure is typically done laparoscopically and, according to Friedewald, it typically only causes minor side effects like fever or pain in the kidney or injection site. Many patients are up and walking around within hours and go home the same day.
And not everyone is convinced the procedure was "planned," as Vice President Mike Pence said Monday night."
Something doesn't add up. They are keeping her all week? Women go home hours after a hysterectomy and giving birth. Praying it's nothing more serious and just precautionary.

— Karen (@tennisgirl48) May 14, 2018
"Something doesn't add up," tweeted one woman. "They are keeping her all week? Women go home hours after a hysterectomy and giving birth."
President Trump said that his wife was "in good spirits" and will be home within two or three days, not a week. Pence added that the procedure was a "success and Melania is already on the mend."
Our great First Lady is doing really well. Will be leaving hospital in 2 or 3 days. Thank you for so much love and support!

— Donald J. Trump (@realDonaldTrump) May 15, 2018
But why is the first lady staying in the hospital for so long? Dr. Jeffrey Berns, professor of medicine and pediatrics at the Perelman School of Medicine at the University of Pennsylvania, told People that though a hospital stay with an embolism procedure is usually short, it could be longer if doctors had to treat a significant area on the kidney.