When most of us think of Florida's coastline, we think of white sand beaches and crystal blue waters. Not this summer: Florida beaches are red — as in red tide — and it's making people sick and killing marine life.
"Many people will tell you that this is the worst they have ever seen," Jacylin Bevis, a reporter with Fort Myers television station WBBH-TV, told NBC News. "It's our entire south Florida coastline with the red tide and then with the blue-green algae on the rivers and canals."
What is red tide?
Red tide happens when colonies of the sea and freshwater plant algae (known as Karenia brevis,) grow out of control and produce brevetoxins that kill fish and pollute water grasses that marine life consume — and make seafood dangerous for humans to eat, according to the National Ocean Service.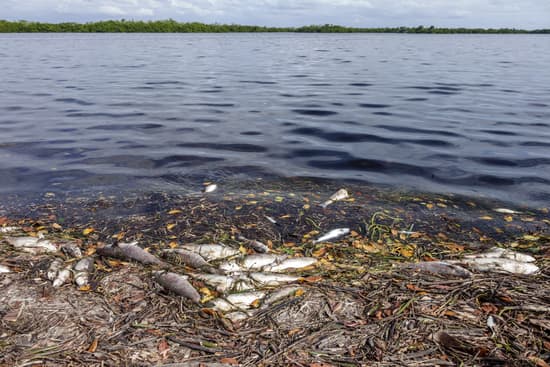 These out-of-control blooms, known scientifically as harmful algal blooms (HABs), often turn the water red and make it difficult to breathe around the water.
Red tide is common along Florida beaches, but experts — and native Floridians — are saying the thousands of dead fish, dolphins, sharks, sea turtles and manatees they're seeing are the worst they've ever seen.
"Here's how bad things have gotten," WINK-TV weathercaster Matt DeVitt in a Facebook post featuring two dozen photos of dead and decaying animals. "Born and raised in Florida and I've never seen it this bad."
The latest stint of red tide started in October 2017 and has affected over 100 miles of coastline in Southwest Florida, leaving beaches — and tourist destinations — empty.
"It's just like a ghost town," Heather Barron, head veterinarian at Florida's Clinic for the Rehabilitation of Wildlife (CROW), told National Geographic. "Anything that can leave has, and anything that couldn't leave has died."
"We've tried and tried to look for the causes of red tide," Richard Pierce, a senior scientist at Mote Marine Laboratory and Aquarium, told National Geographic. "And it just seems to be something that likes the coast of Florida."
Red tide isn't the only thing damaging Florida waters
Florida's inland waters aren't free of contamination, either. A man-made dike is keeping Lake Okeechobee, the largest lake in Florida from flowing naturally into the Florida Everglades. That plugged-up flow — along with runoff from cattle farms and pollution from sugar cane farms — has created a toxic bloom of green cyanobacteria, killing fish and other wildlife.
Many blame Florida Governor Rick Scott for putting big business and money ahead of the environment. He did declare a state of emergency in seven South Florida counties in July, allowing for contaminated water from Lake Okeechobee to be stored instead of released into other waterways. However, many don't think it's enough.
On August 12, a Hands Along the Water event is planned on the Gulf Coast to "show solidarity & join together as one to rage against this created environmental tragedy against our waters, our sea life, our livelihoods, our lives!"
Some are planning to wear respirator masks to the even to "show the nation, even the world, that we are 'suffocating.'"