New Yorkers are going to live a little less free for a few months, a reminder of the life of refugees both here and abroad.
The largest public art project in New York City history, Good Fences Make Good Neighbors brings over 300 artworks spanning all five boroughs to spark more, and increasingly necessary, conversations about immigration.
Created by Ai Weiwei, a prominent Chinese dissident artist and 10-year resident of New York City, the exhibit is a reminder to those feeling safe in our land of the free that most of the world doesn't enjoy the same luxury.
On display from Oct. 12-Feb. 11, 2018, Ai's artfully designed fences don't hold anyone in or keep anyone out. What they do is make three of New York City's best-known landmarks — Central Park, the Washington Square arch, the Unisphere in Flushing Meadows-Corona Park — just a little less accessible.
At the Doris C. Freedman Plaza, which serves as the southeast entrance to Central Park, you can step inside the giant Gilded Cage — if that's not too on the nose for you given the state of our democracy.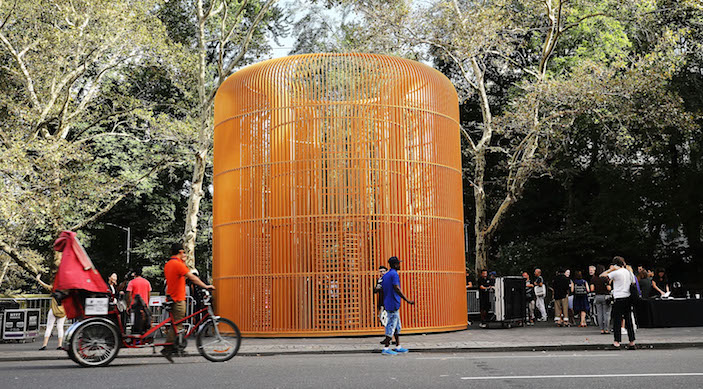 Beneath Washington Square Park's signature arch, there sits a 50-foot-tall fence broken by a mirrored passageway shaped like two human silhouettes. The piece has spurred some controversy from neighborhood groups — objections that Ai welcomes. That fences should make us unhappy is the entire point, after all.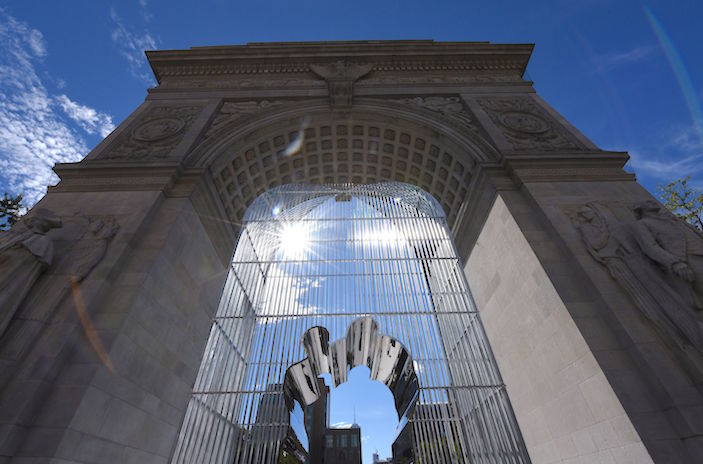 Perhaps most impactful is Flushing Meadows-Corona Park's Unisphere, which is now surrounded in mesh netting. The globe's name is a reminder that the notion of our a truly United States remains a utopian dream. Meanwhile, the netting's double use as seating and hammocks can be seen as commentary on our ready acceptance of the restrictions placed on us by authorities.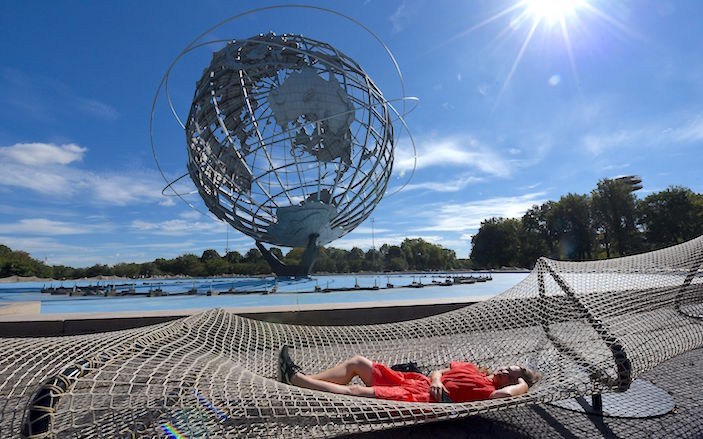 Ai also tips his hat to immigrants by highlighting the role they played in creating New York City's infrastructure, and the freedom of movement we all enjoy because of them. He's added "fences" that double as seating at 10 bus shelters in Downtown Brooklyn and Harlem, and hung portraits of immigrants from 200 lampposts. More than 100 bus shelters, newsstands and Link NYC kiosks now double as an urban art exhibit of famous immigrants and modern refugees.
Ai describes Good Fences Make Good Neighbors, a production of the nonprofit Public Art Fund, as "a love letter to the city and its people." It's a reminder of what we have — and how everyone's life becomes poorer when we build walls instead of welcoming new neighbors.