Looks like ABC is trying a new kind of subject combination with the start of Marvel's Inhumans on the small screen this week. The network is touting the show as a combination of the beloved comic book series and "a new kind of family drama."
But even if you're into the superhero thing already — you see the movies, you know the big names, you even know how the movie adaptations differ from the comic books on which they're based — why should you tune in this for TV version? We break it down.
Who are The Inhumans?
The Inhumans were introduced into the Marvel Universe by Stan Lee and Jack Kirby way back in 1965, and they're a race of superhumans who — like the other superheros you've come to know and love — have singular and unique powers. But Kirby had a habit of trying to explain historic legends and ancient religions with superheros and their universes, which can be seen in the backstory of The Inhumans, who "were genetically altered by the ancient Kree to have an accelerated evolutionary curve compared to pre-historic man," as Polygon reports.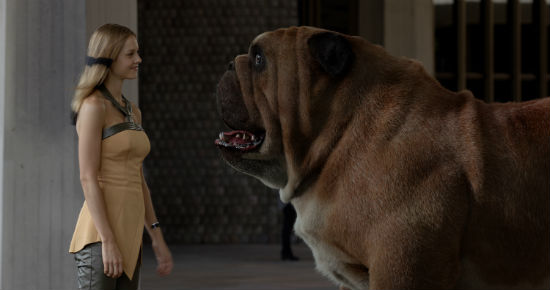 As a side effect of having superpowers when prehistoric man was figuring out the wheel and using rocks as tools, they're shunned and seen as terrifying and somewhat demonic creatures by humans. This leads them to build and isolate themselves within their own hidden city, Attilan, where they live peacefully and don't even try to interact with humans any longer.
If you're only familiar with the characters that hit the big screen, you're probably not familiar with these characters, but ABC is looking to fix that. And it seems like their show picks up right where this explanation of their back story leaves off.
What can you expect from Marvel's Inhumans on ABC?
The show had an IMAX screening last month that failed to really impress fans, but the network's giving a good first impression another go when they air episodes "Behold…The Inhumans" and "Those Who Would Destroy Us" back-to-back tonight, which will include "additional exclusive content."
But you can expect to see royal brothers Black Bolt and Maximus, played by Anson Mount and Iwan Rheon respectively, at war. The series begins "after the Royal Family of Inhumans is splintered by a military coup" according to ABC, and will follow all the members of the family as they try to unite with each other and return home after "they barely escape to Hawaii where they are greeted with surprising interactions with the lush world and humanity around them."
So what time does Marvel's Inhumans start?
You can catch the two-hour premiere of Marvel's Inhumans, adapted from the comic book series, on Friday, September 29 at 8 p.m. EST on ABC. Episodes one and two, "Behold…The Inhumans" and "Those Who Would Destroy Us" will air back-to-back, so don't change the channel in between.