It's April 20, 1999. Eric Harris, 18, and Dylan Klebold, 17, shoot up Columbine High School, killing 12 students and a teacher within about 40 minutes. They then kill themselves. Today, students across the nation will stage a walkout in honor of the 13 lives lost that day. And exactly what time is the National School Walkout today? We've got you covered.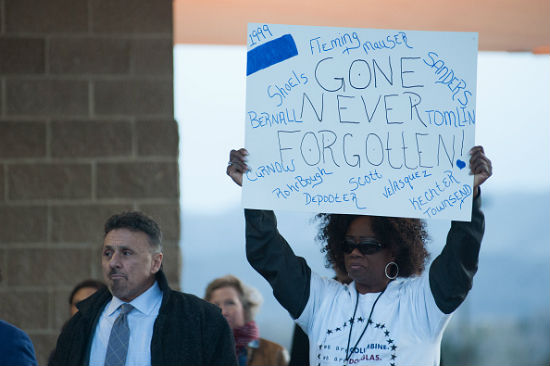 First, a rundown of the National School Walkout
Organized by four Ridgefield High School students, this event comes a little over one month after the March 14 school walkout to protest for stricter gun laws, catalyzed by the 17 who died in the Parkland shooting on Valentine's Day. Then, there was the global March For Our Lives demonstration organized by these Parkland survivors. And today, 19 years after Columbine, students will again take the streets.
"We are walking out for those who lost their lives to gun violence, to talk about the real problems our country is facing, and to find solutions the problems that our leaders have failed to address," the National School Walkout site reads. It names their goal in three parts:
Hold elected officials accountable

Promote solutions to gun violence

Demystify and engage students in the political system
What time is the National School Walkout?
According the National School Walkout website, there are over 2,600 walkouts planned — at least one in every state. What time is the National School Walkout? It starts at 10:00 a.m. in each time zone (as opposed to the March 14 walkout which occurred across time zones). They want the walkout to last until the end of the school day and for students to wear orange and observe 13 seconds of silence for the Columbine victims. 
"After each [shooting], the same cycle takes place: the media spend less than a week on the story, politicians offer their 'thoughts and prayers,' and nothing ever changes. But after the horrific massacre at Marjory Stoneman Douglas High School in Parkland, Florida, young Americans are taking matters into their own hands," the website proclaims. "Together, we will send a message that we won't tolerate any more inaction on this issue. And if cowardly politicians fail to act, young people will show them the consequences of letting so many Americans die by voting them out in November."
To find a walkout near you, click here or follow the directions below: 
You can also click this link for the nearest event: https://t.co/YOkSRXTfGw

— National School Walkout (@schoolwalkoutUS) April 20, 2018